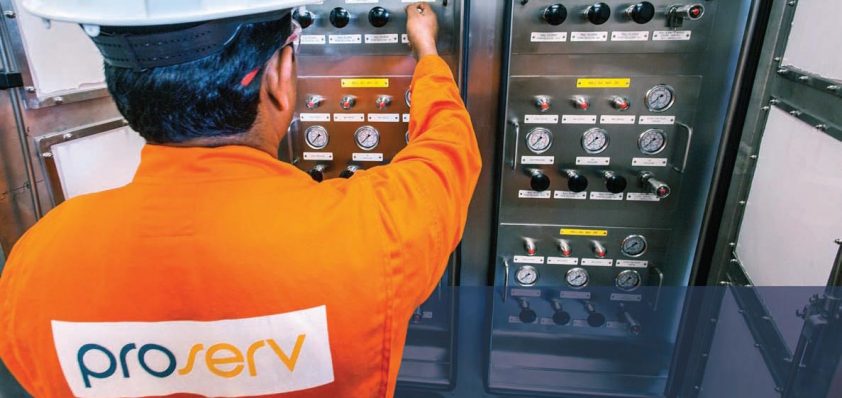 Award winning technology
Proserv is a leading production technology and service provider to the global energy industry with unique offerings in the marine,subsea, drilling and production domains.
Proservhas a large global footprint employing around2200 people in 31 operating centres based in11 countries. "Proserv is celebrating its 40thyear globally this year," says Sam Norris, generalmanager for Proserv Middle East, highlighting 2014's significance for Proserv. "We have three manufacturing/service facilities in the MiddleEast: our Centre of Excellence and HQ forMENA is located in Dubai; and we also have offices and a service centre in Abu Dhabi. Onthe 19th of May 2014 we officially opened our New Service and manufacturing facility in Doha, Qatar. We now have a total of 14,500 sqm acrossour three manufacturing/service facilities in theMiddle East."
It is around one year since Proserv Middle East last featured in European Oil and gas Magazine, and since that time the business has continued to grow in a buoyant market for oil and gas. At the end of 2013 the company was awarded the prestigious Technology Implementation of the Year Award at the Oil and Gas Middle East awards, recognising the innovative nature of Proserv's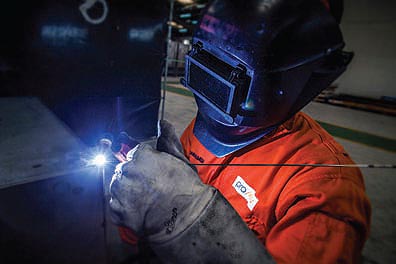 operations.
"We won this award in 2013 for developing the Energy Efficient Chemical Injection System with environmentally friendly features," Sam explains. "It meant a lot to us, really demonstrating our engineering expertise and our ability to innovate. It involved some radical thinking and true supply chain collaboration with Bifold Fluidpower to get this product to market.
"The system itself uses 40 per cent less energy than other conventional methods available on the market operating within the same parameters. It also has integrated remote GSM technology, giving the end users some very effective benefits, such as reduced electrical load requirement, without compromising on the design. The number of compartments and leakage paths has also been reduced to minimise the potential for operational failure. The overall solar system design has been reduced from 190 peak watts to 50 peak watts, without compromising the functionality.
"The Green skid also has GSM technology that sends a critical message by SMS to the operator/service technician when the tank chemical level is low, the pump trips, or other limits are breeched."
Innovation and engineering expertise are a key aspect of Proserv Middle East's success, and alongside the Energy Efficient Chemical Injection System, the business has also developed an energy efficient wellhead control panel. "These have been developed specifically with clients in mind," Sam highlights. "Our core clients based in the MENA region have the fortune of solar energy, but also the challenge of single wells spread across a vast landscape. We applied our 'ingenious simplicity' motto to the opportunity and designed and developed independently powered solar units with bilateral remote monitoring and control through a GSM network. This has taken off with great interest among clients in MENA and now beyond to West Africa and Australia."
As well as this the business has developed a smart PLC based pressure test system that can be used for hydro-testing subsea trees, tools, casings, valves and other equipment. The system works by pre-programming volume, test pressure and test duration, and will automate the process to fill, test, vent and drain the unit being tested. For clients this brings added efficiency during testing processes, and allows the production of test charts that can be logged for traceability.
Last year Proserv successfully achieved accreditation on ASME U&R stamping, ATEX, and CE Marking, providing the company with the ability to work on developing new products to complement its existing capabilities, and using its expertise to help its clients overcome technical and supply chain challenges.
"Proserv has long held a reputation of being client minded, delivering engineering solutions to our customers, often in challenging and complex environments," Sam says. "As a service focused company, we are here for our clients. To give an example of this, we deployed service technicians into Iraq in 2013 at short notice to help the end user start up production and get first oil. Our team stepped up and spent over six months working with the client to install, hook-up and commission our competitor's equipment when they were unwilling.
"We have a lot of engineering expertise and technology available within the organisation and the products we engineer and deliver are of the highest standard and build quality," he continues. "Our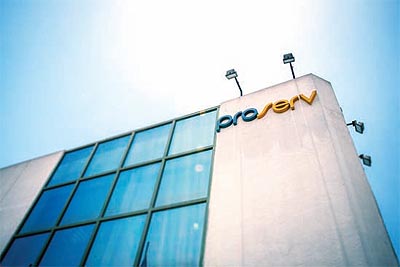 product range exceeds that of our competitors. It allows us to offer complementary product and services and package work-scopes to offer more value to the client. We have built core engineering and project management experience, stable supply chain and lean manufacturing in the Middle East and around the globe, giving us greater leverage in supply chain but also sufficient capacity in and outside of the region if we need it."
In this, its 22nd year in the Middle East, Proserv Middle East clearly remains in a highly reputable position in the market. Naturally, the business is looking to continue to expand on this success. "We were awarded Proserv's biggest order in Kuwait, with 180 chemical injection systems being delivered and commissioned through 2014 and in 2015 we will extend our manufacturing capability into Saudi Arabia and Oman, committing in-country value to our clients and end users in these countries," Sam points out.
"In 2014 we will be focusing on delivering our commitments to our clients. We will be expanding our service team and reach with assignments in Algeria, Egypt, Kuwait and Iraq. Construction work is underway with some of our agents to give us more manufacturing capacity and in Q1-2015 we will go live with capability in Saudi Arabia and Oman, offering both in country value and local services.
"In Dubai we are launching our Monitored Professional Development Scheme for our Engineers and Technicians. This programme has been developed by our learning and development team in the UK and is accredited by the IMechE. This gives our engineering team the opportunity for further professional development and our technicians a route through to the challenging world of engineering. We want people to know they join Proserv not just for a job, but for a career," he concludes.
Proserv
Services: Leading energy services company