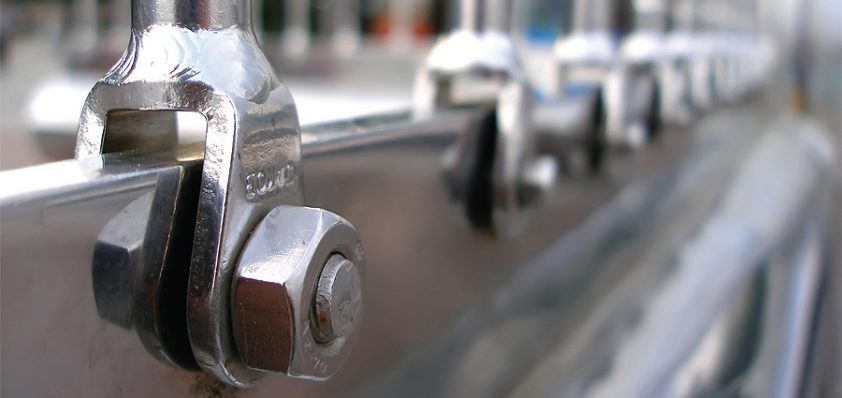 A prosperous future
Prosper Distribution was established in 2006 as a joint venture between the Midsteel Group and the Prosper Group, which is owned by Lithgows Ltd.
The company is a leading supplier of stud bolts and special fasteners to the global oil and gas industry. Its relationship with bolting solutions dates back to 1969, when it began as a development company, specialising in cold roll forming equipment in Ayrshire, Scotland. Prosper then grew to become a world-class manufacturer of stud  bolts through the development of thread rolling machines for the manufacture of threaded bar. Further investment in CNC Machining in the 1980's has allowed the company to enhance its standard bolting range with the addition of specialist
components.
"When the two companies first came together, we focused primarily on the downstream section of the oil and gas industry," explains Martin Boulter, managing director of Prosper. "This originally did not include Prosper Engineering, which operated from a 100,000 sq foot plant in Irving, Scotland, as well as a facility in Aberdeen. Having had a successful run as Prosper Distribution, the Lithgows Board came back to Midsteel and suggested a full merger. In doing this we carried out an extensive review of Prosper's operations in Irvine, and decided to relocate it. It made logical sense to have our principal manufacturing unit close to our distribution warehouse in Kingswinford. We secured a new 76,000 sqft warehouse last July on the same industrial estate for this purpose. Here we can recruit all the necessary skills from our potential employees, in order for us to maintain our reputation as a lean manufacturing unit. This move was completed in November and it has been very well received by our customers, as evidenced by several successful customer audits conducted recently. We operate a strong partnership with our clients, and their opinions have been vital in helping us transform the unit to suit its new purpose."
Prosper has a strong reputation in the industry as a reliable manufacturer, as Martin explains: "We are regarded as a consistent and dependable partner within our sector. This is especially important with the globalisation of our industry and the advent of the internet, which has led to some unusual routes to market. These days many companies want products from low cost countries without having tocompromise on quality or service. In order to achieve this balance, we have observed that there are some very good sources of supply in the Far East, which would probably come into the bottom end of our market. These low-cost items can of course pose a threat to the European marketplace, but as long as we manage them correctly, we can supplement the survival of a European manufacturer, because they take the benefit of having those low-cost resources brought in. The client also benefits from the reduced prices, without compromising on quality, because the whole system is run by Prosper, so we have control throughout  he process. We have also established our own testing facilities at source, so we are able to assess products to establish their robustness and reliability prior to shipping.
"Prosper's approach has always been to put quality first, service second and price third, as we believe that the price generally takes care of itself as long as we look after the first two elements. The philosophy of both the Lithgows and the Midsteel boards is that profit is really a by-product of delivering quality and service. This is a benchmark by which we are all measured, alongside our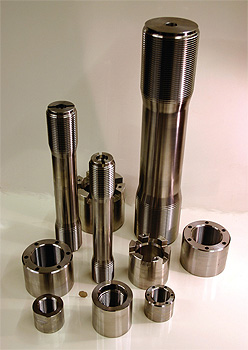 profitability. The maintenance of these standards allows us to invest in the future of the business."
Recently, Prosper's chief metallurgist and its global technical manager, Archie Fleming, returned from an ASTM Committee week in Vancouver. The committee is one of the largest voluntary standards developing organisations in the world. As a not-for-profit organisation, ASTM provides a forum for the development and publication of voluntary consensus standards for materials, products, systems, and services. This puts Prosper at the forefront of any design changes within its industry.
Martin outlines further recent developments in key areas of the business: "In terms of the environment, we have recently completed a two-day audit with the Carbon Trust. Our work with them is ongoing in order to improve the energy efficiency of our business as we move into the green future. We have also worked hard on our HSE commitments, which we have supported through the provision of a range of extensive training for our employees from NVQ'S to forklifts. We believe in investing in our people effectively to strengthen our position within the market."
In terms of the company's future development, Prosper is aiming to raise its on-time delivery rate to above 95 per cent. The company has also recently taken on 50 new employees, so its main aim is to integrate the new staff with the aim of improving delivery targets. In terms of expansion, Prosper is looking at overseas satellites, and it aims to move into the Middle East and Malaysia to provide this service.
As a market leader, Prosper has seen extensive growth in recent years. Martin describes this growth and how the company will continue its development into the future: "We've benefited from the pound/euro relationship so we've found that we're competing very favourably with European manufacturers. The Northern European market has been a consistently strong growth area for us. As we see our exports grow, the main target is for Prosper to remain committed to being a western European manufacturer of high integrity bolting, taking the best we can from our global supply chain to assist us in this aim.
"Prosper is an old-fashioned manufacturing business and the merger with Midsteel has allowed it to update its working practices and attitudes. In this way we can put an increased focus on sales and marketing, without compromising our already established engineering expertise. This has allowed us to give the company a whole new lease of life. Our challenge now for the next 12 months is to market ourselves more actively and ensure that we are well known to companies with which we want to trade."
Prosper Distribution
Services: High Integrity Bolting for Global Oil, Gas, Power and Petrochemical industries at all market levels.