Tank commanders
As a boutique group of specialist engineers, consignors and constructors, ProtankGrüp is able to offer services in fluid systems, fluid handling, liquid packaging, fluid control measurement and simulation.
"Our primary products are offshore tanks and containers, and the fluid handling and process systems that accompany those tanks. In offshore and naval aviations we design and build aviation fuelling packages used on board FSOs, oil rigs and war ships," highlighted Esham Salam, president, ProtankGrüp.
He continued with some details of the company's key strengths: "Because we are small but very focused, we are very agile. And as a result of our in-house design and prototyping capabilities, our time to market is short. This speed, and the ability and flexibility to customise, is everything to many customers and sets us apart from our competitors. But of course, we also have a manufacturing line that offers standard solutions."
He continued: "We design and manufacture our own products to internationally accepted standards – in fact to the highest standard in the industry, as all of our products are DNV certified following European EN standards."
This level of quality is essential when working with offshore customers, who have to adhere to high specifications and require robust solutions. ProtankGrüp's key clients are oilfield service operators, including recognised names such as Schlumberger, Halliburton, MI, Clariants, Murphy, Petronas, Statoil, besides the established 'seven sisters'. "For the aviation refuelling packages the FSO builders inSingapore, China and Korea are our customers," added Esham.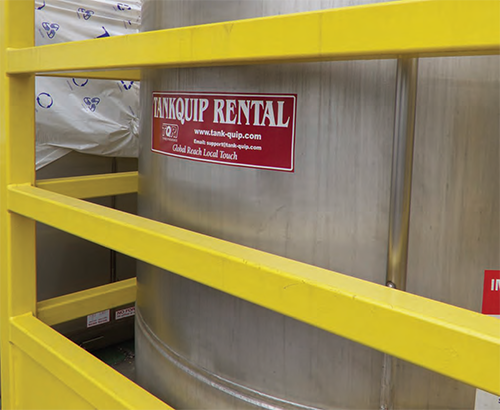 The level of quality is also closely linked with safety. With oil exploration moving into deeper waters, material handling becomes moredangerous. "In an industry that sets safety asparamount, the packaging and transportation of hazardous fluid has become a specialised field," said Esham. "We have the expertise to provide that solution. Our liquid containers are all DNV 2.7-1 and EN12079 certified from as small as 1000 litre to the 8000lt, and this offers peace of mind to our customers.
"But that is not the whole story," he continued. "Clients need consultancy and advice on making sure they are purchasing the right tanks for the products. They also need someone to maintain the validity of the certification. We do all those."
Finally ProtankGrüp also offers offshore containers for sale or for rent under its business unit TankQuip Rental. "Containers for rent are available for spot as well as long-term," added Esham. "Not many operators offer spot rental so this makes us stand out from the competition."
The containers mentioned by Esham are created and manufactured in-house. Its products are continually evolving, thanks to significant investment into research and development, and as the company president states, the staff and products have a symbiotic relationship: "Every bespoke product is unique and this means that the roles played by competent engineers and innovators could not be more important. We invest in maintaining a team of engineers and designers, as well as allocating dedicated space on the production floor to the fabrication and testing of new products."
One of the most recent innovations to be developed in this department is a new system for aviation refuelling. Esham gave some details: "We are currently in the final stages of this project. It is the development of an aviation refuelling system to be incorporated into the newly built Littoral Combatant Ships (LCS) being designed and built by DCNS of France for the Royal Malaysian Navy. It is a classic case of a tailor-made solution to fit into a limited footprint and space in a demanding warship environment to military standards. "We are indeed excited to be involved in such a high end project." He added: "However, orders don't have to be on this scale to get our full attention. Every order – even for a single container – is an exciting contract for us."
ProtankGrüp's dedication to creating the right solutions to solve clients' problems has positioned the company well for the future. Esham noted that it's an exciting time in the industry particularly in South East Asia, and he sees good growth opportunities ahead: "The new deepwater platform has just been launched after a two year delay, and there are Enhanced Oil Recovery Projects and the under-tapped potential of Indonesia for us to explore," he said. "China is hungry and we will see more storage facilities appearing in different locations. The 15 billion euro Malaysian Petronas Rapid (Refinery and Petrochemical Integrated Project) is also looking to be a promising proposition."
He concluded with some ideas on where ProtankGrüp will be going in the future: "Just like any top brand boutique we need to explore new territories," he said. "We are strong in South East Asia but there are exciting things happening in East Africa and the Pacific and we want to be involved in them. To be competitive we also need to build links with the more established European market for components and materials, and that is also on our agenda going forward."
ProtankGrüp
Services: Liquid systems and offshore tanks and containers