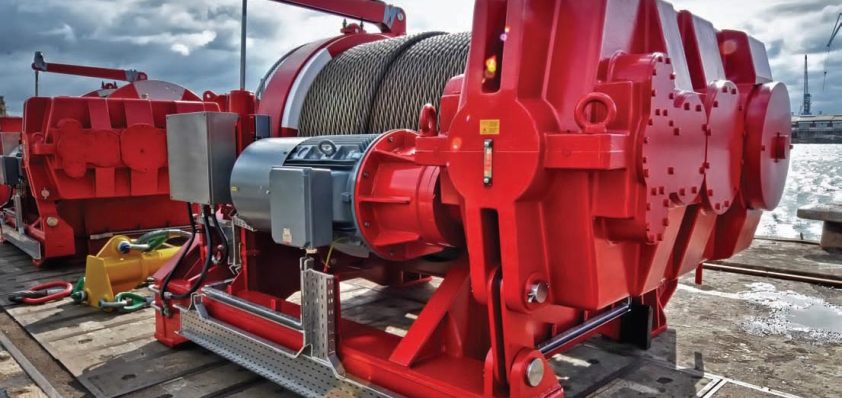 Industrial strength
Established in 2001, Protea S.p. z.o.o has developed an industry leading reputation for the supply of high quality offshore handling equipment, including cranes, winches and specialist handling systems.
To support its drive to become a premier equipment supplier in its target markets, Protea has continuously invested in its facilities and capabilities. Following a strong entry into the market, the company merged with NTD Olesno during 2004, which greatly increased its design and engineering capabilities.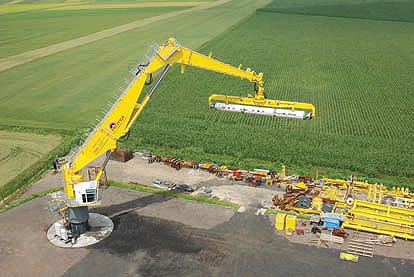 As Protea continued to grow, and to supply ever more complex and varied equipment, it focussed on reducing its reliance on subcontractors – this in due course led to the construction of an all new manufacturing facility in 2008 at Kluczbork, southern Poland. Having its own production facility ensured tight control of both quality and production costs and resulted in a production capacity in excess of 1000 tonnes of steel fabrications per year.
Five short years later a second new assembly workshop was opened at Kluczbork site in April 2013. The 900m2 extension of the existing fabrication hall has a ceiling height of 26 metres and allows final assembly and testing of large equipment to be completed undercover.
As of 2014 Protea continues to design, develop and manufacture a wide range of equipment for the offshore industry. "Protea is a material handling systems provider," says marketing specialist, Slawomir Przewozniak. "Not only do we make state-of-the-art cranes and winches for the offshore industry, but also complete handling system packages. For example, Protea recently supplied a handling system for well intervention comprising five winches, active heave compensators and power and control equipment – this system was installed as an upgrade package on the Skandi Constructor, a well intervention vessel owned and operated by Helix Energy Solutions."
Another high profile project recently delivered was a new Proteus FSU crane for Statoil, which was showcased to the industry at an open day earlier in 2014. Visitors were able to witness first hand the cranes impressive capabilities with a full technical demonstration of the 50 tonne SWL unit.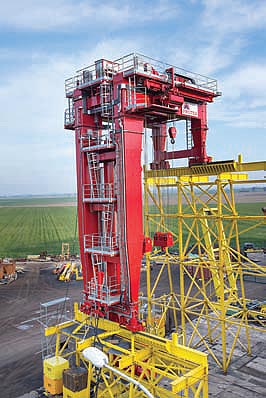 The Proteus design stands apart from other cranes on the market in a number of ways; for example, it features a box boom construction (rather than the more complex lattice boom design), has two hydraulic cylinders for RAM luffing and can tackle loads of up to 50 metric tonnes whilst still remaining weight efficient.
"The new Proteus crane design draws on the knowledge that my colleagues and I have gained from over 25 years of designing, building and operating offshore lifting equipment," explains Tomasz Paszkiewicz, Protea's CEO. "We have achieved exceptional performance whilst minimising overall weight, and complying with EN 13852-1 Offshore Cranes standard, DNV N Class standard, the latest NORSOK regulations and Statoil's internal requirements – it is probably the highest specification offshore crane that has been delivered to date."
In addition to the crane demonstration, visitors were given a full tour of Protea's production facility as well as the opportunity to learn more about some of the company's other recent developments including the supply of BOP cranes, pipe handling equipment, vehicle launch and recovery systems and heave compensation systems.
Although the company has enjoyed great success in the past, it remains ambitious for the future and is focussed on further developing its relationships with existing clients, as well as making the company known to new customers.
"Generally Protea exhibits at two major biannual exhibitions regularly – Offshore Europe in Aberdeen and ONS in Stavanger. These events bring many new contacts and business opportunities. At the moment we are also planning to include new events in our calendar for the end of 2014 and 2015, which will allow us to further develop our business in the Middle East, Asia and Australia."
Protea equipment is available globally through Protea and its subsidiary company Protea Norge AS, Norway, as well as through representatives in several European countries, the Middle East, Venezuela, the US, South Korea, Singapore and Australia.
Protea S.p. z.o.o
Services: Heavy machinery, cranes, winches and underwater handling systems