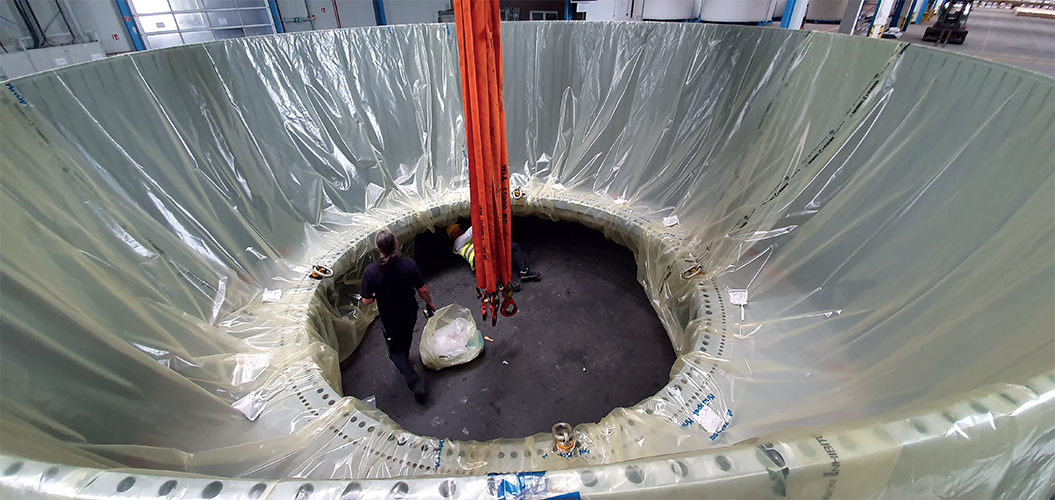 Protection from the elements
Zerust® UK are a leader and innovator in the development and manufacture of corrosion protection solutions for the renewable energy sector.
Part of the global Joint Venture network of Northern Technologies International Corporation (NTIC), our solutions provide protection to metals in highly corrosive and harsh environments. Wind turbines can be susceptible to corrosion during their working life, due to a number of factors from being shipped for assembly and extreme temperatures to the salt spray in the wind itself. This means wind turbine coatings need to work against the challenges created by the combination of environment and use.
At Zerust® UK, we understand that corrosion protection systems are crucial to maintaining the state of corrosion free components and surfaces as well as functionality as component failures can lead to high maintenance costs, downtime and effect the overall energy output.
We were approached by a global wind engineering company who was experiencing issues with its Complete Knock Down (CKD) parts for new mega-watt windmills. The former product they were applying to the friction rings and connector rings to prevent corrosion was a heavy grease and was labor intensive to remove and clean off and often resulting in damage. In addition, each ring has plenty of threads and plugs on each side and the plugs were difficult to remove due to the sticky residue left by the grease. The company trialed a packaging concept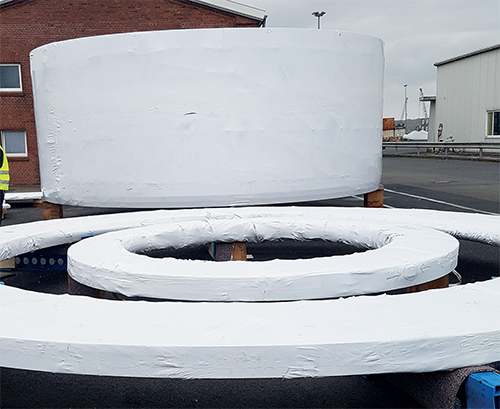 journey from Asia to Europe which didn't work – they applied the heavy grease to the components and wrapped them in Polyethylene. At their destination the rings were cleaned to remove the grease, but brownish stains were left on the painted surface and there was corrosion in the threads which had an unpainted surface. The rings had also been stacked using wooden blocks to sperate them which caused further issues as organic materials hold moisture and form acids which are aggressive and corrosive.
We worked closely with their team and went through a prototyping process to identify the best products to protect their components. Our Zerust® VCI (vapor corrosion inhibitor) products work by releasing a harmless, non-toxic, odorless, colorless vapor in the air around the metal item. Protective molecules settle on all exposed metal surfaces, forming a very thin protective layer that is just a few molecules thick. This molecular layer inhibits electrochemical reactions on the surface of the metal that cause corrosion. Exposed metal surfaces protected by Zerust® benefit from a long-lasting shield against rust, tarnish and corrosion.
We replaced the polythene with Zerust® Outdoor Preservation Shrink Film which offers the perfect protection against the elements. It combines a superior shrink film product with proprietary Zerust® VCI technology. The film shrinks and conforms to objects when heated to repel moisture and contaminants. Zerust® VCI saturates the interior of the packaging to protect hard to reach spaces and voids from corrosion.
In addition to the VCI film solution, we selected our Axxanol range of liquid and grease corrosion protection coatings, which offer an additional barrier against aggressive environments such as salt air and high temperatures. The Axxanol Z-Maxx LV provided the ideal solution; it's a lower viscosity NLGI 0 grease, easy to apply and even easier to remove – saving labor and maintenance costs. When applied in a thin uniform layer it creates a translucent film that allows visibility of the metal surface. It also offers extreme corrosion prevention for ferrous and non-ferrous metals and compatible with synthetic rubber and plastics. Finally, we replaced the rubber protection plugs with multi-use VCI plugs and Axxanol Z-Maxx. The plugs as well as all VCI film and bag products have also been offered in their compostable, completely green version for a sustainable circular solution.
We initially supplied our products to the company's base in Denmark and over the past five years we have also started work with its bases in Spain, Germany and other sites in Europe. The changes we implemented resulted in a reduction in labor and maintenance costs for the company as the cleaning of the components was no longer needed and the plugs could now be easily removed.
ZERUST® For more information on Zerust® products or to discuss your corrosion issues, contact the company on 01388 420 333, email enquiries@zerust.co.uk or visit www.Zerust.co.uk