Pryme candidates for growth
With its headquarters located in the city of Dundee, and operations spanning across the UK, Pryme Group is able to trace its roots back over 40 years. The group under its present guise was formed in 2014, initially comprising of the three GA Engineering companies, GA Scotland, GA Sliding Head and GA North West. It was later joined in 2015 by MKW Engineering, Stargate Precision Engineering and TME Hydraulics. In November 2016, the business would go on to purchase subsea engineering specialist SengS, before then completing the acquisition of Hydratron – a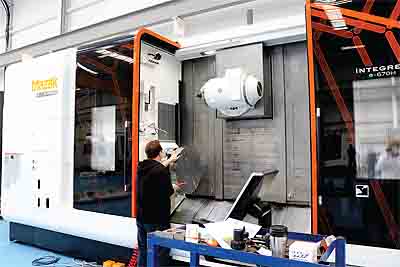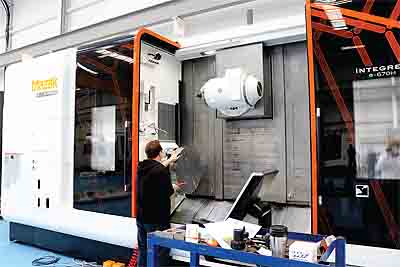 leading supplier of high pressure and flow control equipment – in June 2018.
Today, the company is a leading provider of integrated manufacturing solutions for the oil and gas, aerospace and defence industries, offering a broad range of complementary contact and sub-contract capabilities. "With the support of our sister companies across the group, we possess extensive knowledge and expertise in design, engineering, fabrication, CNC machining, coating and testing, which we use to offer clients a genuine end-to-end service," explains Pryme Group's Chief Executive Officer, Angus Gray. "This unique approach has been a major contributing factor to our recent successes, and has allowed us to develop extremely cost-effective and innovative solutions that allow our clients to stay on budget, while still receiving a premium product."
While the group's own operations are predominantly focused on Scotland, the north-west and north-east of England, many of its oil and gas clients work across all disciplines in international locations such as Norway, Azerbaijan and West Africa. Through SengS, the group is increasingly working with operators and tier one contractors, as well as service companies, while Hydratron boasts a comprehensive partner network in key oil and gas producing regions, from North America and the Middle East, to Southeast Asia and Australia.
"Against the backdrop of the global oil and gas downturn, we have successfully delivered increased efficiencies for our clients through a winning combination of technical capabilities and innovation," Angus continues. "In recent months, we have also signed several new contracts with energy sector players, totalling more than £3.5 million, for fabrication and machining services, with all work to be carried out at our Centre of Excellence."
Significant boost
Said Centre of Excellence, a newly constructed, state-of-the-art facility located at the Tyne Tunnel Estate, was officially opened in November 2018 by the elected mayor of North Tyneside, Norma Redfearn CBE. Measuring 58,000 square feet in size, it has benefitted from £10 million worth of investment to date, including support from UK Land Estates, North Tyneside Council and the North East Local Enterprise Partnership (LEP).
"The Centre of Excellence was formed following the amalgamation of MKW Engineering, Stargate Precision Engineering and TME Hydraulics, and houses bestin- class machinery alongside fabrication services to allow Pryme Group's customer base to bring innovative products to market," Angus states. "In the long-term, the Centre of Excellence will not only provide a significant boost to the group's existing capabilities, but it will also create enhanced opportunities for our clients operating not only in the UK, but internationally as well."
At the Centre of Excellence alone, Pryme Group has invested approximately £4.2 million in equipment and CNC machinery, with new technology and increased efficiencies expected to result in improved on-time delivery and enhanced revenue. "Continuous investment in new equipment across the entire group has added to our already extensive suite of market-leading technology, bringing a range of benefits, including greater speed and project efficiency, and allowing the business to cater for 'exotic' materials such as super duplex, titanium Inconel, and other nickel alloys," Angus details. "Furthermore, we are a proven, trusted provider of CNC machined components for many of the world's leading manufacturers. With a total of 140 CNC machines available across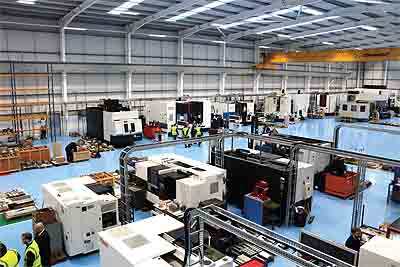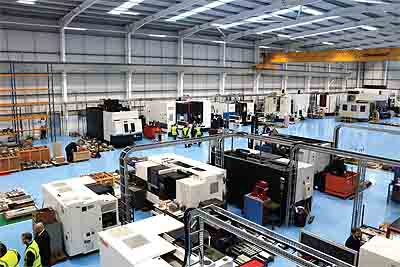 the group – ranging from 0.3mm to 2.0 metres diameter – we have one of the largest arrays of sliding head machines in the UK, and can offer up to nine-axis machining capability in a wide range of materials."
Transformational change
A long-held strategy within the group has been to reward and retain highlyskilled operators, offering them career progression and high-quality manufacturing opportunities. Such is its commitment to this, that it expects to double its current workforce in North Tyneside to 150 in the next five years, and increase total headcount across the group to more than 325.
One of Pryme Group's recent additions to its ever-growing team came in the form of the appointment of Terry Larkin to the post of Managing Director at its Centre of Excellence. "A highly-respected industry figure, Terry brings a wealth of expertise in the aerospace, automotive and manufacturing industries, and has more than 25 years' experience in senior management positions," Angus says. "He also has a strong track-record in successfully managing transformational change projects, establishing positive reporting procedures and achieving double-digit growth yearon- year. Terry is extremely well versed in growing companies through effective leadership and proven experience in bringing about positive cultural change, and at this exciting juncture for our North Tyneside operation, we believe that his knowledge and credentials are the perfect fit for Pryme Group and our ambitious growth objectives."
Expanded capabilities
Pryme Group's goal is to offer customers a seamless, efficient, integrated manufacturing solution which is delivered by the group companies working closely together. In recent times, Pryme has invested significantly in harmonising E-Max ERP, Quality and HSE systems across the group alongside improving group communication.
"There is great potential for the business to work collaboratively and capitalise on the opportunities presented by the current market conditions, particularly given our focus on delivering efficiencies through innovative services and technologies," Angus adds, before going on to conclude with his outlook for the immediate future. "Beyond 2019, we aim to expand Pryme Group's combined capabilities by building upon the many positive inroads already made. Meanwhile, we continue to grow our revenues from oil and gas customers in line with the wider market recovery, expand our aerospace customer base, and we look forward excitedly to some of the new product development that is anticipated within Hydratron over the next 12 months or so."
Pryme Group
Services: Integrated manufacturing solutions