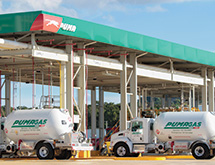 Puma Energy – Puerto Rico operations
Puma Energy has greatly expanded its operations in Puerto Rico since it arrived on the island in 2008. The company has evolved from a wholesale provider to independent service stations to become one of the island's largest oil retail and storage providers.
"We've come a long way in a short period of time," General Manager Victor Dominguez says of the company's diversification and growth, which began in 2010, when it purchased and rebranded six of the independent – or "white flag" – service stations it supplied. The company the following year finalized the acquisition of the assets of Caribbean Petroleum Corporation (CAPECO), which had entered bankruptcy following the 2009 explosion of its oil refinery in Puerto Rico. CAPECO's assets included 147 service stations and a terminal in Bayamon, Puerto Rico, which Puma Energy environmentally remediated and improved as the result of voluntary agreements it had made with the U.S. EPA and Puerto Rico's Environmental Quality Board.
Puma Energy followed that acquisition with the 2012 purchase of Chevron's business on the island, which included 192 service stations in Puerto Rico and seven in St. Thomas in the U.S. Virgin Islands.
Today, the company operates 344 service stations in Puerto Rico and four terminals on the island, including the terminal at the Luis Muñoz Marín International Airport. These terminals give the company the ability to store as well as blend oils, a capability it has used to introduce specialized products into the market such as ethanol fuels.
"We have a very strong position because our terminals have enough storage capacity and flexibility to adjust to demand cycles," Dominguez says. "We have a very strong position in the segments we serve." The company has roughly a third of the retail oil business on the island.
The Puerto Rico holdings – known as Puma Energy Caribe – are just a portion of Puma's portfolio worldwide. Formed in 1997, Puma Energy International is an integrated midstream and downstream oil company with operations in 48 countries on five continents.
The company's midstream operations include storage at its terminals and importing and exporting via its marine facilities. Puma Energy's downstream business lines include supplying gasoline, diesel, bitumen and lubricants to retail and B2B customers.
"Our ability to integrate our operations sets us apart," Dominguez says. "We are very agile in the market in order to manage our customers' needs. We also have a very attractive and appealing brand, and a great group of professionals who give us an edge in the market."
Expansion Plans
Puma Energy's Puerto Rico operations continue to evolve. The company in 2014 launched PUMAGAS, a division that imports and distributes liquefied petroleum gas (LPG).
In July 2015, the company purchased British Petroleum's fueling and commercial fuel supply business at the San Juan International Airport. "We are proud to have expanded and diversified our business portfolio to include aviation," Dominguez says. The company serves more than 53 airports around the world, seven of them in Latin America.
The company's future plans include expanding its exporting and retail operations beyond St. Thomas to other Caribbean islands including St Croix, Antigua and St. Maarten. "Now that we've consolidated our acquisitions, we want to optimize the assets and investments we've made," he adds. "We are now in as many lines of business as are possible on [Puerto Rico], so now it's a matter of optimizing our operations, becoming more efficient, and expanding throughout the Caribbean."