A new kind of major
Operating as a fully integrated global energy company unlike any other, Puma Energy UK represents a new breed of oil major with a comprehensive base of activities that enable the business to deliver safe, secure and affordable fuels, lubricants and other oil products to millions of business and retail customers every day. The Puma brand was established in Argentina during 1929 by Compañía General de Combustibles (CGC), which was founded in 1920 to transport and market crude oil and its by-products around the country. Over the subsequent years Puma Energy has grown into a truly global business, operating in 47 countries across five continents. During its history Puma Energy has built trusted relationships with in excess of 20,500 customers and as of 2015, had grown to generate a turnover of $12.68bn.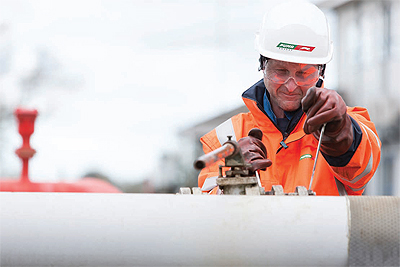 Puma Energy has established an impressive global presence by operating in accordance with its five-point strategy to expand into markets with a high demand for oil products; develop strategic terminals and storage infrastructure; integrate transportation and storage; maximise its expertise in integrating midstream and downstream operations; and to maintain local stakeholder trust. To allow the company to expand into new regions, Puma Energy looks for markets with rapid growth and strong signs of potential.
During March 2015 it was announced that Puma Energy had made its first acquisition in the United Kingdom, through the purchase of several former Murco Petroleum sites including a terminal facility in Milford Haven, Wales and a further three sites at Westerleigh, Theale and Bedworth. The deal further included Murco's wholesale and distribution business within the UK and added a total of approximately 1.4Mm3 bringing the global storage capacity to approx. 7.9Mm3. This acquisition mirrors the wider strategy of Puma Energy globally to undertake disciplined investment operations and signified an important strategic entry into the UK market for the supply of a full range of fuel products.
The result of the company's decision to purchase the Milford Haven site was to give Puma Energy an immediate presence in the UK wholesale and distribution market. In addition to acquiring several key infrastructure assets, under the terms of the agreement Puma Energy UK was also delighted to welcome the site's terminal and distribution employees into the Puma business. The port facility is an ideal entry point for the delivery of energy products for the UK market and although the site was not economically viable for continuing refining operations, its conversion into a state-of-the-art storage facility has been widely welcomed by the local community as well as the Welsh Parliament.
Milford Haven today represents one of the deepest natural ports in the world, capable of handling even the longest vessels and is today one of the largest terminals in North Western Europe with a capacity of 1.4Mm2. "The acquisition of the Milford Haven terminal has enabled us to not only operate one of the best large capacity storage terminals in Europe, but to also leverage its infrastructure to supply imports into the UK by utilising a wide range of vessel sizes, resulting in optimal import and supply economics," elaborates Puma Energy, UK General Manager, Roy Brooke. "Since taking over the former Murco Petroleum Limited facilities, we have more than doubled the throughput of clean fuels passing through our terminals. We currently have clean fuels offerings out of Milford Haven, Westerleigh, Theale, Bedworth, Immingham and Eastham, with Belfast offerings coming online in August."
At the same time that Puma UK began operations at Milford Haven, the wider Puma organisation announced that it had acquired BP Australia's bitumen business – representing an
important milestone in the global company's history as it continues to extend its presence within the market for bitumen. "In tandem with acquiring assets such as Milford Haven we have also entered into the UK bitumen market, with a long term lease on a custom built facility in Dagenham that is further supported by our unique 'barge to truck' loading operations that provide us with a comprehensive bitumen supply chain from both Cardiff and Glasgow. Puma Energy has a strong global footprint in bitumen, with very strong technical and logistical operations and the largest new build fleet of bitumen vessels in the world. With this support we have been able to become a significant supplier within the UK market over the past 14 months," Roy reveals. "If you look at how Puma Energy operates globally, we typically enter a country and grow our market share through working with our customers to better understand their business needs, and respond accordingly. Customer retention is key – you will not see growth in the market unless you can not only maintain the loyalty of your customers but also help them grow their own businesses."
Following the success of its entry into the UK market during 2015, Puma UK further continued its rapid expansion throughout 2016 through the acquisition of Puma Energy's 100th terminal in Belfast. This demonstrates the company's continued ambition to work with its clients to deliver a market leading service offering for energy storage and bitumen supply across the UK and Ireland over the coming years. "We view the Belfast facility as the best terminal in Ireland for development and importing goods onto the island. We took over the site on the 1st of February 2017 with a very smooth transition from BP, keeping on all the staff and our focus there is to invest in the terminal to bring it up to more modern standards and increase its flexibility. Ultimately the approach is the same as on the mainland – focusing on volume growth by providing a reliable supply of quality, competitively priced fuel across the range to our customers. We will also work to build our reputation for reliability and responsiveness to needs of our clients," Roy concludes. "During the coming years we will be focused on further growth and integration of the company's assets. We are working with a range of key customers to help them further develop their businesses through such things as differentiated fuel offerings that will further support this growth model."
Puma Energy UK
Services: Integrated global energy company