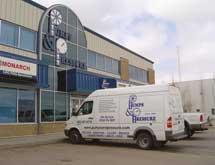 Pumps & Pressure Inc. President Jack Tremain attributes the firm's longevity and ability to thrive despite economic downturns to one thing. "A key to our being 27 years old is our diversity," he says of the company's wide range of products offered and industries served. Since 1984, Pumps & Pressure has evolved into a full-service shop equipment supply company offering pressure washers; air compressors; sump, sewage and well pumps; custom car washes and hydraulic systems. In addition, the company offers design, fabrication and consultations for car and truck washes and other specialized equipment.
Industries served include the oil and gas markets in Alberta's oil sands as well as agricultural, industrial, commercial, municipal, residential and transportation. In addition to its headquarters in Red Deer, Alberta, Pumps & Pressure has five other locations in Western Canada, including retail sites.
The range of its products and client base gives it both a competitive edge as well as some insulation during the current down economy.
"Usually if one of the industries we serve is down a little, another will be up, so there's no low valleys or tall peaks," Tremain says. "We have very few competitors with such a diverse product and service offering."
Hydraulic Services
Pumps & Pressure's mobile hydraulic parts, service and full system engineering solutions primarily support the local oil and gas industry. It is an authorized distributor of Parker Hydraulic products, Oilair and others. Major customers for these components include Halliburton, Schlumberger, Calfrac Well Servicing, Trican Well Servicing, Precision Well Servicing and Badger Daylighting Inc. Badger Daylighting, a specialist in hydrovac excavation – used primarily in pipeline installation and utility line locating – manufactures rigs in Red Deer.
Pumps & Pressure's Red Deer facility includes a 16,000-square-foot hydraulic fabrication and machine shop where repairs can be completed on industrial or agricultural equipment.
The Red Deer facility also features a hydraulic test bench for equipment of up to 350 horsepower.
Recent Developments
Major recent company developments include the sale of a large automatic bus wash system to Brewster Inc., a tour bus operator based in Banff, Alberta. Pumps & Pressure manufactures and sells its own line of pressure washers, chemicals and commercial wash systems under the HOTSHOT brand, Tremain says.
The company also continues to grow its business by offering lubrication equipment manufactured by SAMSON Corp. The manufacturer offers bulk fluid dispensing equipment, control handles, oil drains, hose reels, extraction and evacuation equipment, specialty fluid dispensing roll-a-round units, shop furniture and other related equipment.
Pumps & Pressure also was recently named as an official distributor of Turtle Wax car care products for Alberta and Manitoba. "We're always seeking new products to enhance our offerings," Tremain explains.
Pumps & Pressure places an emphasis on building relationships with its customers and vendors. The company's five top vendors have been supplying it for more than 20 years, Tremain says.
"The customer comes first in all cases, and what drives us is customer satisfaction," he adds. "Everything comes down to relationships with customers, employees, vendors and everyone else."
The company also keeps a high profile among its industry peers and in its communities. Pumps & Pressure is a member of the Cleaning Equipment Trade Association and the Red Deer Construction Association. Additionally, it is involved in supporting youth hockey and baseball teams and other causes. "Whatever is going on in the community we try to be involved in," Tremain says.
Company Growth
Initially, Pumps & Pressure operated a small service shop for repairing pressure washers. The addition of more product lines and expansion through acquisition of similar companies allowed the company to expand its reach.
Today, the company is among the largest suppliers of CAT Pumps, DV Air compressors and SAMSON lubrication equipment in North America. Pressure washer manufacturer Karcher recognized Pumps & Pressure as its largest commercial equipment distributor in North America in 2009.
Companies acquired by Pumps & Pressure retained their management and much of their staff. "We didn't look for anybody in dire straits; we looked for companies we felt we could work with and grow," Tremain says.
One acquisition, D&T Inspections, allowed the company to expand its capabilities to include inspection and repair of tankers and tanks. Tank shop inspectors are certified and accredited under Transport Canada regulations. Transport Canada is the government agency regulating transportation policy.
Pumps & Pressure's growth was noted in 2006 when it was named one of Canada's fastest-growing companies by Profit magazine, Tremain says.
The company is seeing growth again after enduring last year's downturn in the oil industry. "We consider ourselves a Western Canadian company, as most of our locations are in Alberta, but we're seeking expansion opportunities," Tremain notes. "We always have our radar going in the event that something comes to our attention."