Putzmeister Solid Pumps GmbH
High-pressure system
Putzmeister is an industrial pump manufacturer based in Aichtal, Germany. It began in 1958 as a plastering machine builder and moved into pumps in 1966 with the release of the Mixoscreed floor pumps.
Since that product, pumps have grown to become Putzmeister's core product range. The company produces pumps specifically for applications with high solid contents and therefore works with the mining, concrete and construction, wastewater, and biomass sectors. It counts oil and gas as a core market, with a high demand for its pumps in drill cutting management.
Oil and gas sales director Hector MacIntyre talks about his market in greater depth: "The main application for our products is the handling of drill cuttings, both onshore and offshore. This includes transporting them from the shale shakers at the drilling site to a vessel or truck, storage and handling of them in a vessel and pumping them onshore to a treatment plant. This is a major environmental issue today so we are seeing a massive growth opportunity. Around the world there are varying legislations: in the UK and Norway, for example, drill cuttings must be treated and the oil taken out of them; elsewhere in the world, the cuttings can just be dumped beside the drilling site, untreated. Our core product is deeply tied to this environmental solution and we anticipate a rapid increase in business as a complete solution provider."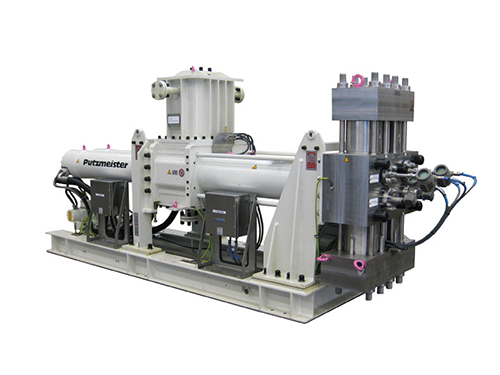 The nature of drill cuttings means that pumping and transportation is a very challenging application. Putzmeister therefore undertakes research, development and testing on its products to ensure they present high corrosion and erosion resistance, minimising lifecycle maintenance and repair costs. Its pumps, for example, use piston rather than rotation to create vacuum because this is less susceptible to damage. "The piston pump can pump very high solid content at high volume and high pressure. A good example of this is in the construction of the worlds tallest building in Dubai, where our products pumped concrete in excess of 600m in height," Hector adds.
Putzmeister is able to provide a comprehensive range of products and services, offering a turnkey package that includes pumps, hydraulic power packs, drive units, tanks, sliding frames, feeders, control systems, installation, project management and commissioning. The care taken as a solution provider equals the quality of the company's pumps. Pipe interiors, for example, can be injected with a boundary layer to reduce friction and extend lifetime operation. Additionally, the company works closely with customers after installation, providing continuous evaluation and spare parts when necessary.
One recent project that illustrates the extent of Putzmeister's experience is the supply of turnkey pumping systems to two of Statoil's supply vessels. Based on the manufacturer's experience in material conveyance and successful drill cutting pump tests carried out in 2007 and 2008, Statoil chose it to provide a customised pump and storage system – including oil recovery operation (ORO) pumps in case of accident – for the Rem Hrist and Rem Mist. The system was installed in a very limited space on time and within budget.
Even an accomplished company such as Putzmeister meets challenges in the market though, as Hector points out: "Our biggest challenge in certain areas is market price. We've got a product that works, that has been tried and tested in various countries throughout the world such as Norway, the UK, the US and Russia, but still faces a tough reception due to price. Pumps are complex devices and it is only possible to cut costs to a certain extent. We therefore must make known the additional benefits of pumps like ours with higher initial costs, and the savings that can be obtained by the low maintenance cost and high availability of the complete solution."
Putzmeister is positive about the future with environmental concerns now at the forefront of much of the oil and gas industry, and drill cutting pumps providing a crucial piece of the puzzle, Putzmeister's recognition in the sector will give it a head start against competition. It has already forged close relationships with names in the industry such as Statoil, with which its partnership continued through a bespoke manufactured zero emissions pump for conveying process water with a cocktail of different mixes and a high sand content, and its history in the industry will set it apart from new entrants.
"It is a niche market at the moment," Hector says. "The key is to sell systems and not individual products. Putzmeister is not in competition with other pump manufactures but with other conveyance systems on the market pumping as the best solution for the transportation of drill cuttings, and that is why we offer not just a pump but also a completely turnkey solution where necessary. As environmental legislations around the world become stricter, we will be well ahead of the market in terms of experience. Tapping into the environmental market will be the key to our future."
Putzmeister Solid Pumps GmbH
Products: Pumps and turnkey installations