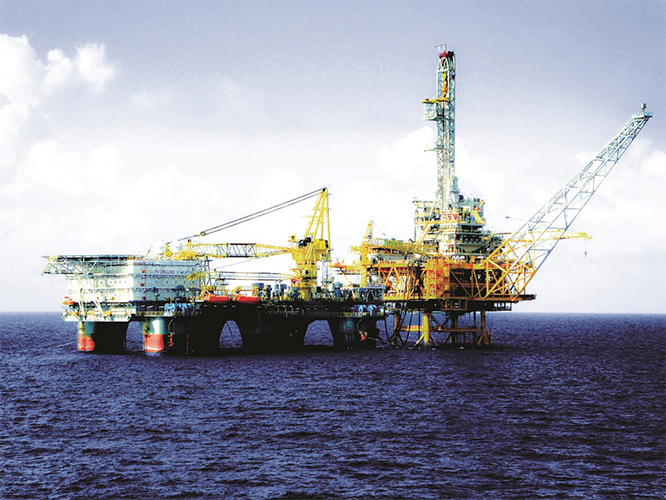 Prestigious service
Established in 2001, PV Drilling operates as a subsidiary of the Vietnam Oil and Gas Group and member of the International Association of Drilling Contractors.
The company was formed with a clear desire to become the leading drilling contractor in the region as well as offering prestigious services to the global market. The company provides a wide range of services in oil and gas exploration and production activities but broadly speaking is able to divide its operations into two main areas. The first of these is the management and operation of onshore and offshore drilling rigs, which is an area that plays a vital role in yielding revenue and profit for the company. During 2012 PV Drilling gained over $300 million through the safe operation of its rigs as well as the chartering of three other jack-up rigs through strategic partners Transocean, ENSCO and Diamond Offshore to meet demand in the domestic market.
At present the company owns and operates a fleet of three jack-up rigs, one land rig operating in Algeria and one semi-submersible tender assist-drilling (TAD) rig. All of its rigs are the latest generation of their kind including its jackup rigs, which are Keppel Fels MOD V B Class models able to operate at 400ft water depth and capable of drilling at a depth of up to 30,000ft. Its state-of-the-art semi-submersible TAD drilling rig is a Keppel Fels SSDT 3600E HP design with a max drill depth of 30,000ft while its land rig is of 2700 HP design and able to drill to a maximum depth of 18,000ft. With these assets PV Drilling currently occupies almost 50 per cent of the drilling market in Vietnam and in the coming years is committed to adding several advanced jack-up rigs to its fleet, as well as an additional semi-submersible rig. The acquisition of further assets reflects an ongoing response to the rapidly moving market and the company's intention to realise a strategy of expansion in the near future. Included within this strategy is the delivery of a new 400ft jack-up rig from Keppel Fels, which is due for completion in February 2015. The rig, named PV Drilling VI, will be furnished with the most advanced technology in its field and primarily serve the global market operating from Southeast Asia, the Middle East and the Gulf of Mexico.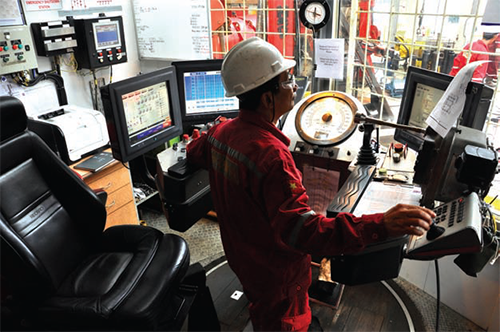 Complimenting its offshore and onshore rig operations, a key second strand for PV Drilling is its ability to deliver both traditional and hightech well and drilling related services. These include, but are not limited to mechanical services, fabrication, tool rental, tubular running, well testing, mud logging, wireline logging, well completion, cementing and directional drilling. In conjunction with its fleet expansion operations, the further development of theseservices is a key priority for PV Drilling. To ensure that it is able to offer a comprehensive package of services the company is in close co-operation with its reputable partners worldwide to develop all-inclusive integrated solutions, which are unprecedented in Vietnam's domestic market.
To help it pursue its goal of promoting its reputation as a leading contractor in the region, PV Drilling relies on a number of strengths that give the company the means to achieve its strategic vision. The skill and dedication of its workforce is of paramount importance to the company's operations. According to PV Drilling's president & CEO, Pham Tien Dung: "Starting the business with very limited resources, in both financial terms and in infrastructure, PV Drilling relied on nothing but the persistence and competence of its own initial staff. Today we have a staff of approximately 2000 and are proud to possess a crew of highly skilled engineers and experts at all functional and managerial levels. Thanks to them, the rig fleet has been operated with excellent efficiencies, absolute safety and greatly appreciated by our clients."
Likewise, the company's fleet remains an integral ingredient in its ongoing success. Its advanced rig fleet is supported by reliable machinery and intelligent integrated control systems supplied by respected manufacturers such as NOV, Cameron, Hydril VAM Drilling, Siemens etc. The fleet is also put under a strict reliability-centered maintenance (RCM) programme to ensure the maximum performance and eliminate downtime. The overall aim of the company's focus on the performance of its fleet is to maintain a market edge and offer a level of service that is unparalleled in the region.
Moreover, PV Drilling can rely on the support of a large number of strategic partnerships and joint ventures worldwide with renowned oil and gas companies including Baker Hughes, BJ, Expro, Marubeni Itochu and Oil States Industries. These joint ventures have allowed it to expand its scope of high-tech services, gain access to the latest advances in technology and absorb valuable experience allowing PV Drilling to further develop and refine the high level of service it is able to offer. Furthermore, the company has a firm financial foundation and a dedicated management board who, along with the support of its parent business PetroVietnam, are able to expertly guide the company through challenging times.
PV Drilling enjoys a diverse customer base with which it seeks to maintain close professional relationships to encourage successful current and future business. The core of its business is divided between subsidiaries of PetroVietnam and well known global operators in the oil and gas industry. Subsidiaries of PetroVietnam include PVEP, PVEP POC, and Bien Dong POC, while some of PV Drilling's global customers include Chevron, Gazprom, Petronas, Premier Oil, Salamander, Talisman, Idemitsu, Soco, Perenco, JX Nippon Oil, Sonatrach. To consolidate its relationships with all of its valuable clients, PV Drilling has implemented a customer relation management programme to ensure that it is able to match up to its customers' expectations and respond to their requests in a timely fashion.
Moving into the future PV Drilling has a wealth of determination, proven track record of success and technical knowhow to carry it forward. The company offers an energetic outlook and is keen to demonstrate its talents to new customers as Pham Tien Dung explains: "We are building an image of PV Drilling as a young and dynamic drilling contractor, differentiating our corporation from competitors by optimising the operational cost and diversifying our scope of services. PV Drilling aims to define itself as a one-stop drilling services provider with unique bundled services that facilitate oil and gas operators in deploying their drilling campaigns by better synchronising workflows and reducing overlapped processes and procedures."
PV Drilling
Services: Professional drilling solutions