Modern explorer
Established in 2001, PV Drilling has worked tirelessly to develop the position it holds in the market today. Originating from the formation of PTSC Offshore – a division of PTSC, the establishment of PV Drilling was based on the strategy of building and developing oil technology. Formed with a clear strategy of becoming the leading drilling contractor in Vietnam, as well as serving the global market, the ISO 9001:2008, OHSAS 18001: 2007, ISO 14001: 2006 certified company has diversified its portfolio to provide customers with a wide range of services.
At present, the main role of PV Drilling is the management and operation of onshore and offshore drilling rigs, which yield significant income for the corporation, contributing to 60 per cent of its total revenue and 70 per cent of its net profit. In 2004, the business successfully began implementing high-tech services such as mud logging, slickline and well testing, contributing to the common goal of its strategy. With its vision to be an internationally reputable and reliable drilling contractor and drilling-related services provider in the oil and gas industry, it continues to create value added opportunities for clients by delivering premium services at competitive prices. To ensure the provision of integrated, optimum solutions, PV Drilling acts both independently and via its reputable partners such as Baker Hughes and BJ Services.
After more than a decade of development, PV Drilling is in a phase of expansion across areas that include drilling services, the provision of professional human resources, oil and gas wells and pipeline inspection. It is the delivery of these important services for the industry that the company credits for much of its development.
While many sectors have been faced with the economic woes brought on by the financial crisis, the global drilling market has until recently been resilient thanks to strong exploration and production (E&P) activities, which has resulted in a number of medium and long-term contracts for rig operators. Simultaneously, numerous older-generation rigs are being gradually replaced due to stricter safety requirements. The construction capacity for new and high-tech rigs is currently limited to meet both replacement and higher drilling demand, which has led to increased competition in the search for high-spec rigs, creating opportunities for prestigious and capable drilling contractors. Furthermore, through its professional competence and long experience in the field of drilling and wells, PV Drilling is one of the leading suppliers to be able to take on the oil spill treatment services levels one to three.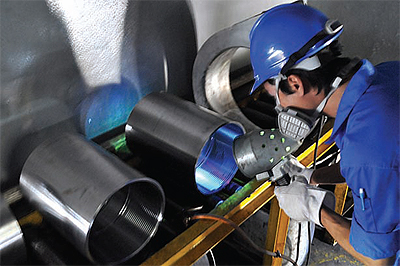 Not only is the company operational as an effective business unit, it is also playing a role in contributing to the protection of the marine environment in Vietnam. Taking advantage of its position and the promising activities still available in the market, the business looks to expand its operations overseas. Developing both steadily and sustainably, PV Drilling is strongly aware of the importance of effective risk management; integrating management systems to ensure each operation's safety; the importance of financial management and human resource development; and in building a working environment which encourages employee commitment. Furthermore, ensuring transparency between the corporation, shareholders and the public is essential.
As its vision suggests, the corporation is keen on developing drilling services as its core business, as well as encouraging its competitiveness in drilling-related services, distinguishing itself a first-class provider of full-scale packages for upstream activities. Accompanying the company's services is its fleet of three high quality jack-up rigs, one land rig in operation in Algeria and one semi-submersible tender assist-drilling (TAD) rig.
Through providing five of its assets on hire to international drillers in offshore Vietnam, PV Drilling currently occupies more than 50 per cent of the local drilling market; this percentage is likely to grow in the coming years as the company looks to add several advanced jack-up rigs to its fleet, as well as an additional semi-submersible rig. The acquisition of further assets reflects an ongoing response to the rapidly moving market and the company's intention to realise a strategy of expansion in the near future. Included within this strategy was the delivery of a new 400 ft jack-up rig from Keppel Fels, received in March 2015. The unit is based on Keppel's standard B class jackup rig design, able to operate in water depths of 400ft and drill down to a maximum depth of 30,000ft. In January 2015, PV Drilling announced that the unit has been contracted for two years by PetroVietnam Exploration Production Company (PVEP) to carry out drilling operations in Vietnam. A prime example of the company's commitment to continuous investment and improvement of its assets, the rig, named PV Drilling VI, is furnished with the most advanced technology in its field, primarily serving the global market operating from Southeast Asia, the Middle East and the Gulf of Mexico.
Despite the current climate, the business looks set to continue flourishing in a market with strong exploration and production (E&P) activities, and as older-generation rigs are gradually replaced following stricter safety regulations coming into effect, the quality conscious company is in an enviable position as the market searches for high-spec rigs. Supported by a wealth of determination, proven track record of success and technical knowhow to carry it forward, PV Drilling moves into the future offering an energetic outlook and is keen to demonstrate its talents to new customers. Whilst building an image of PV Drilling as a young and dynamic drilling contractor, the corporation differentiates itself from competitors by optimising the operational cost and diversifying its scope of services.
PV Drilling
Services: Drilling and well services
Issue 122 July 2015