Commitment to quality
Established in 2001, PV Drilling has developed its services significantly over the last 13 years to become one of Vietnam Oil and Gas Group's leading subsidiaries.
Operating as a member of the International Association of Drilling Contractors, the company is a well-reputed provider of drilling rigs and drilling-related services, while also supplying manpower for onshore and offshore drilling projects.
Formed with a clear strategy of becoming the leading drilling contractor in Vietnam, as well as serving the global market, the ISO 9001:2008, OHSAS 18001: 2007, ISO 14001: 2006 certified company has diversified its portfolio to provide customers with a wide range of services that are divided into two main areas. The first of these is the management and operation of onshore and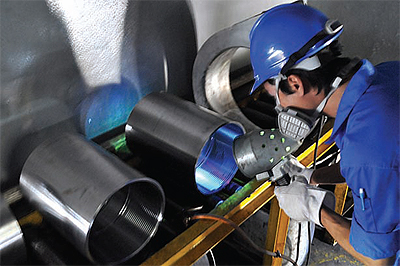 ukoffshore drilling rigs, which plays a critical role in yielding revenue and profit for the firm and contributes to 60 per cent of its total revenue as well as 70 per cent of its net profit. Meanwhile, the second strand for PV Drilling is the delivery of both traditional and high tech well and drilling related services such as well testing, mud logging, MWD, LWD and directional drilling. To ensure the delivery of integrated, optimum solutions, PV Drilling acts either independently or via its reputable partners such as Baker Hughes and BJ Services.
Accompanying the company's services is its fleet of three high quality jack-up rigs, one land rig in operation in Algeria and one semi-submersible tender assist-drilling (TAD) rig. All of these rigs are the latest generation of their kind, including the jack-up rigs that are all Keppel Fels MOD V B class models, capable of operating at up to 400 feet water depth and drilling at a depth of up to 30,000 feet. Built in 2007, the PV Drilling I is an ABS/A1 self-elevating drilling unit, with an overall dimension of 234 ft x 208 ft x 25.5 ft; can accommodate 110 persons and is currently drilling for the next discovered oil and gas field, known as Ca Ngu Vang. The remaining two jack-ups were delivered in the first and final quarter of 2009 respectively.
Meanwhile, its land rig, PV Drilling 11 is a 2700 HP design VFD type rig that is capable of operating under ambient temperature conditions from 0 degrees Celsius to 50 degrees Celsius; able to drill to a maximum depth of 23,000 ft, the land rig is currently drilling for the developed oil and gas field MOM-3 of PVEP in Algeria. The last rig in the company's fleet is its semi-submersible rig, PV Drilling V-TAD, the eighth tender assist-drilling rig in the world and the latest generation of its kind.
Boasting state-of-the-art technology, the PV Drilling V is considered the most modern TAD rig to use Keppel Fels' revolutionary SSDT 3600E HP design; developed by Keppel O&M's deepwater technology group (DTG), the ground-breaking design enables the rig to be deployed alongside deepwater floating platforms for the first time. Furthermore, the enhanced design enables the rig to work in harsher environments and work on high pressure high temperature wells via its BOP control system, which has a working pressure of up to 15.000 psi; the PV Drilling V is also the first TAD rig to be capable of operating at 30,000 feet maximum drill depth, at a water depth of up to 4000 ft.
Through providing five of its assets on hire to international drillers in offshore Vietnam, PV Drilling currently occupies more than 50 per cent of the local drilling market; this percentage is likely to grow in the coming years as the company looks to add several advanced jack-up rigs to its fleet, as well as an additional semi-submersible rig. The acquisition of further assets reflects an ongoing response to the rapidly moving market and the company's intention to realise a strategy of expansion in the near future. Included within this strategy is the delivery of a new 400 ft jack-up rig from Keppel Fels, which is due for completion in February 2015. A prime example of the company's commitment to continuous investment and improvement of its assets, the rig, named PV Drilling VI, will be furnished with the most advanced technology in its field and primarily serve the global market operating from Southeast Asia, the Middle East and the Gulf of Mexico.
Held in high prestige, PV Drilling believes its success stems from the commitment and quality of its human resources, who constantly strive to enhance their knowledge and skills in mastering the technology and services within the drilling sector, which thus adds value to clients. It will therefore come as no surprise that the company views the development of personnel as a top priority in its strategy for growth and is dedicated to the development of its highly skilled personnel through a suitable recruitment policy, a systematic career development plan and competitive compensation and benefits scheme.
Having earned over $330 million (total revenue of $480 million) in revenue from its own rigs by the third quarter of 2013, PV Drilling looks set to continue flourishing in a market with strong exploration and production (E&P) activities. Furthermore, as older-generation rigs are gradually replaced following stricter safety regulations coming into effect, the quality conscious company is in an enviable position as the market searches for high-spec rigs.
PV Drilling
Services: Professional drilling solutions