Leading the field
Established in the 1980's on the recognition that the region in which Kuwait is located boasts up to 75 per cent of the known world's oil reserves, Kuwait Petroleum Corporation (KPC) went on to become a major global entity with its own highly recognisable brand and international subsidiaries.
With an estimated 190 years of reserves, Kuwait is one of the long-term interests in oil production with its first ever successful well, the Burgan-1, drilled in 1938, being the second largest developed oilfield in the world today. Over 30 years ago, the state's oil industry was revolutionised when four state owned companies active in oil production, processing and transportation came together under the control of KPC – a new independent organisation created to safeguard and promote Kuwait's oil interests in an ever-evolving global oil industry. Responsible for the integrated planning, finance, purchasing and marketing of Kuwait's oil activities, the organisation soon expanded and developed its interests to cater for a substantial and persistent increase in demand.
Today, the Kuwait Oil Company (KOC) is responsible for all oil and gas exploration inside the state and Kuwait National Petroleum Company (KNPC) oversees the local refining and marketing of petroleum products while controlling a domestic service station chain. Petrochemicals Industries Company (PIC) manages the production of fertilisers and petrochemicals, while the Kuwait Oil Tanker Company (KOTC) is the state authorised carrier of crude oil, petroleum products and liquefied gases. The establishment of three new subsidiary companies in the early 1980's made KPC a truly multi-faceted entity while launching it into the international market. Kuwait Foreign Petroleum Exploration Company (KUFPEC) is responsible for all overseas investments in petroleum exploration and utilisation, GlobalSantaFe Corporation is a specialist in the global exploration and development of oil and gas reserves as well as worldwide contract drilling services, whereas the addition of the Kuwait Aviation Fuelling Company (KAFCO) in 1987 completed the collection.
The most notable development in KPC's long and eventful history, was the creation of Kuwait Petroleum International (KPI) in 1983 and with it the distinctive 'Q8 Sails' logo. As the international arm of the corporation, KPI refines and markets fuel, lubricants and other derivatives to a wider demographic and customer base throughout Europe. An impressive network of 4000 Q8 branded service stations operate across the seven European countries of Italy, Sweden, Denmark, Holland, Belgium and Luxemburg, serving the needs of local communities and motorists. Wherever possible, the organisation looks to found lucrative local partnerships with other business entities, for example in the Benelux region KPI works in conjunction with the supermarket chain Delhaize to offer additional mini-supermarket services to its customers.
Car washing services are another element of its offering with its advanced carwash operations making it market leader for this type of facility in Denmark. A series of 24-hour outlets that act to supply diesel to large national and international road transport users across Europe are also managed and owned by KPI through the company International Diesel Services (IDS). Having targeted the international markets, Q8 is now reaching a comprehensive customer base of large corporate users, public utilities, local authorities, transport companies, light industry and farmers, as well as private consumers that utilise its services for diesel products and domestic heating oil.
As well as local services, the KPI brand serves industrial markets with Q8 Aviation supplying jet fuel to a number of the world's major and regional airports. While the KPIAC element of the corporation provides fuel to 50 airports and over 200 airlines in Europe and the Far East, in the UK Q8 Aviation serves the four main airports of Heathrow, Gatwick, Stansted and Manchester, and the regional facilities of Edinburgh, Glasgow, Bristol and Cardiff. Another sector is marked by Kuwait Petroleum International Lubes (KPIL), which produces and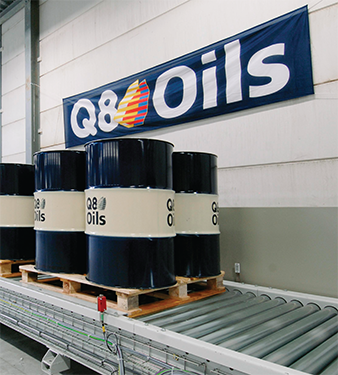 markets lubricants under the Q8Oils brand name and Roloil in the United States. Utilising KPC's now worldwide operations, the basic raw material for the lube division comes from KPI's Europoort Refinery in Rotterdam, where Kuwaiti crude oil is processed into high quality lubricant base oils before being manufactured into finished lubricants at four individual blending plants in Belgium, Italy, Sweden and the UK. The rigorous specifications for these products are set and monitored by KPI's independent research arm, Kuwait Research & Technology (KPR&T). Whilst persistently investigating further growth opportunities in areas such as the near and Far East, KPI currently markets over 380,000 barrels a day of product across 4000 retail stations throughout Western Europe.
With all subsidiaries benefiting from KPC's international prowess in the global oil and gas market, Q8Oils is a successful combination of financial and corporate muscle, as well as cutting edge lubricant technology. The organisation bases its operations around a philosophy of getting 'closer to the customer', a value that has lead it to become a significant player in the global marketplace and is shared by Giuliano Franzi, Q8Oils managing director, who commented: "The philosophy for working with our customers is simple – stay close.Our approach is to make sure we understand our customers' business, their processes and applications. We want to be regarded not as product providers, but providers of improvements and solutions. This is something we are very passionate about."
In 2008, before the full effects of the global economic crisis hit the industry, Q8Oils achieved its best results since its inception with a 70 per cent increase in net profit to the previous year. Partly attributable to its network of international clients in 75 countries, this accomplishment is made even greater by the fact that the European lubricant market is still in decline. Two of Q8Oils' largest blending plants in Leeds, the UK and Antwerp, Belgium added to this success by reaching their highest ever annual volumes in 25 years, an accolade that will only increase following a multi-million dollar investment in the Antwerp facility.
On the 24th June 2010, Q8Oils welcomed the installation of an impressive 24 new oil storage tanks into the Antwerp lubrication blending plant. Each of these tanks has a storage capacity of over 36 million litres and is part of a five-year plan to replace the old tanks and increase Q8Oils' lubricant production capacity to 250 million litres per annum. Situated in the southern part of the city of Antwerp, on the bank of the river Scheldt, the Belgian production facility is of great importance to the company hosting strategic links to the sea, while its central location in Europe makes it an important trade partner for the Kuwaitis. Such credentials were a key part of the decision to house KPIL's headquarters at the Antwerp blending plant, while its position as the largest of the four facilities and its ability to supply the majority of Q8Oils European customers as well as third parties were equally important.
Established in 1905, the Antwerp blending plant has received increasing amounts of investment over the last century and these new tanks are only the tip of the iceberg when it comes to improvements. The first phase of the five-year plan was marked by the extension and further automation of the container filling hall and with the installation of new robots, automatic conveyor belts and packaging machines, the filling capacity was increased to a remarkable 62 million litres a year. The harbour jetty loading facilities were also subject to a revamp with thorough refurbishment and the construction of a new water treatment plant both being carried out to the highest environmental standards. It is hoped that by 2013 the blending plant will have a fully automated production area at its disposal including new blending vessels and bulk storage facilities for additives and lubricants. The increasing complexity of lubricants renders such investments not only necessary, but also vital for the future international success of the organisation and it is Q8Oils' ambition that this site will become one of the top five production sites in the European petroleum industry.
The purpose built Leeds plant, on the other hand, is part of the company's ongoing development. Built in 1979 specifically to accommodate KPIL's growth strategy, the plant operates both large and small-pack filling lines with two blending sections for conventional neat oils and the production of specialist soluble metal working fluids. The site also houses Q8Oils' UK sales office, product development facilities and associated staff, as well as the organisation's R&D centre of excellence, in co-operation with their development colleagues in Italy, which focuses on soluble metalworking and wire drawing fluids. The company's proficiency in this field has over a century of experience to its name following the acquisition of UK based Germ-Allcard in the 1990s.
With premier product research and development also taking place at the main base oil refinery based at Kuwait Petroleum Europoort in the Netherlands, Q8Oils range of solutions covers nearly all automotive applications and industrial sectors. From passenger cars and road transport to civil works and agriculture, paper mills and wind turbines to aerosols and bitumen – Q8Oils has it covered. The Q8 Mahler range of gas engine lubricants have become synonymous with high levels of protection and the extension of operating levels, while the Q8 van Gogh range of gas and steam turbine lubricants are utilised by several OEMs and nuclear power generators in Europe. Metal rolling lubricants are a further area where Q8Oils engineers have excelled in their field. One of its most recent successes was a contract to supply one of the world's largest rolling mills in Alabama. At a cost of $3.7 billion this plant, which is owned by ThyssenKrupp, is the newest of its kind and is due to be one of the most sophisticated carbon and stainless steel processing facilities available. Q8Oils is now market leader for metal rolling products in Germany and is developing its influence in China. In the last year alone, the company has supplied over 1000 tonnes of product to Saudi Arabia, while gaining additional customers in Bahrain, UAW, Oman and of course, Kuwait.
Subscribing clients benefit from a series of value added services that include used oil analysis and oil condition monitoring. By employing only the highest trained research scientists, chemists and product application engineers, Q8Oils is able utilise its extensive knowledge base to thoroughly analyse clients oil samples and create an individual oil condition report and subsequent recommendations. Advancements in information technology also mean that international clients are able to receive a copy of their report by email, and can also review oil condition and historical trends for their equipment or fleet online, increasing efficiency and transparency.
Though bold in its strategic goals moving forward, Q8Oils has always regarded the safety of its employees, contractors, suppliers, communities and the environment of the utmost importance. The consistently high standards of Q8Oils products are maintained through stringent international quality certifications and meticulous testing procedures. All plants hold ISO 9002 accreditations, or the regional equivalent and are dedicated to world-class safety, health and environmental (SHE) performance in line with Q8Oils industry leading practices. The organisation maintains transparency throughout all of its activities, adhering to fundamental SHE principles and minimising the overall environmental impact of its operations.
With a tradition of innovation and persistent investment to rely on, Q8Oils is continuing to follow the proactive strategy of its mother company KPC and its own mission statement that revolves around the maintenance and further development of a secure, diverse, profitable, significant and sustainable lubricants business. The continued development of existing facilities, while tracking down new international markets and customers are essential elements of its expansion plans. Though actively seeking product advancement and technological development, the organisation prides itself on the core values and ethics on which it is founded. A deeply held belief that the continued success of the business will come from managing affairs in a highly professional, ethical and business like manner is at the heart of the company's progress and it is vital that employees, suppliers, customers and shareholders have confidence and pride in the Q8Oils brand.
Q8Oils
Products: Industrial and domestic lubricants