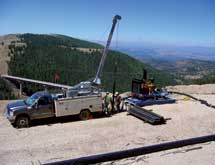 Customers come to Quadna – A DXP Company early in a project – for example, when they need to expand a mine site or add more wells. This is because Quadna – A DXP Company becomes a true asset and consultant to its clients due to its expertise and the insight it provides as a fluid-handling expert, explains Jeff Wright, vice president and general manager of DXP West Region, Quadna's parent company.
"Customers look for full-solution providers, and that's what we are," Wright says. "We really support equipment from the design phase to installation, operation, maintenance and replacement. We provide true expertise in the equipment they need and the systems they are operating."
Quadna – A DXP Company has more than 35 years of expertise in the design, engineering, manufacturing and service of fluid-handling pumps and systems. The company engineers custom solutions for a range of oil, gas, power, water, sludge and chemical applications for industrial customers while remaining dedicated to first-class in-house and field service to maintain its products and package systems it engineers.
"The breadth of product and expertise we offer sets us apart in this market," Wright says. "DXP also has a wide range of fluid-handling product, and also is a full-line supplier of safety products and services, bearing and power transmission, metalworking equipment and supplies and general mill supply products. We focus almost exclusively on an industrial customer base and we use our expertise to meet their needs."
Turnkey and Custom
Quadna – A DXP Company works with its clients to serve a range of needs and solve a variety of issues. A coal mining operation in Rangley, Colo., for example, needed a fire-suppression solution. The company's site was near a pond, so Quadna – A DXP Company helped to build a barge that would house pumping equipment and force water from the pond to a water tank three miles up the side of a mountain.
With the barge, the coal company also wouldn't have a problem with fluctuating pond levels, which can damage pump stations.
"The barge was fabricated in Phoenix per our design/drawings then fully assembled to ensure everything fit properly," says Nancy Manelski, applications engineer. "The barge was approximately 17 foot by 17 foot square with 4.5-foot legs to prevent the pumps from bottoming out. The walkway was 12 feet and included a 20-foot stairway with a 3.5-foot landing to the shore. The walkway, which was pinned to the stairway and the floating barge, will allow for varying pond levels.
More than A Distributor
"Working with an oil and gas company, we recently provided a LACT unit, which can help meters flow at well sites," Wright explains. "With mining customers, we are a full fluid-handling solution provider. We provide the equipment and controls, and integrate the system for customers. We offer a full turnkey solution."
He notes that Quadna – A DXP Company can maintain this full-service focus and comprehensive approach to customers' needs because of its talented people.
"Because of our people, we are more than just a distributor of equipment – they can take a product and make it part of a bigger package," he explains. "This is a people-based company, not product-based, and we are lucky to have a low level of turnover. Their expertise is imperative to our success, and we appreciate it very much."