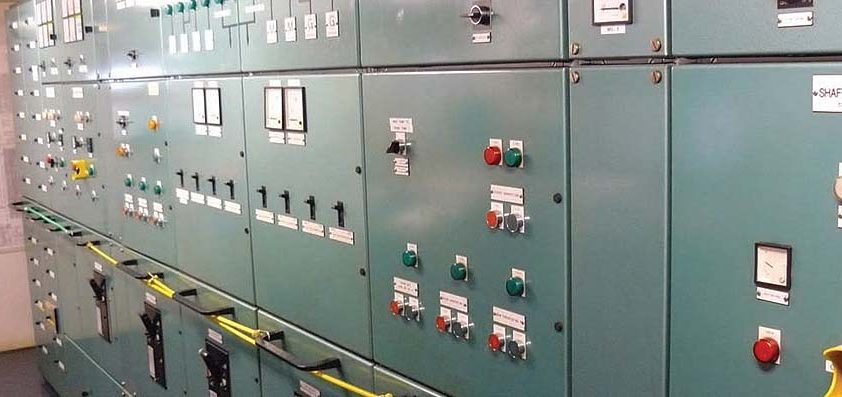 EM'Powering the oil, gas and marine markets
Quartzelec's workforce delivers its competitive edge
Electrical machines feature prominently in almost every industrial sector around the globe; and are the driving force behind these businesses. The oil & gas and marine sectors are no exception; simply look at any aspect of any business operating in one of these areas and there will be a bespoke electrical motor or generator at the centre of every critical capability, process or service.
The rating and cost of these machines varies significantly in line with the machines duty, as does the diversity and number of companies that design and build them. At one end of the spectrum
there are the relatively 'inexpensive' low voltage motors that are often regarded as 'disposable / replacement' items when faults occur; supplied to a set price point and with a given life expectancy. However, transition into the high voltage sector and it becomes a different matter. Here a much smaller number of specialist global manufacturers are involved. Typically costing tens or more commonly hundreds of thousands of pounds to purchase, these large motors are inevitably in constant operation and due to constant moving parts are subject to progressive wear. Machines typically rated at 3.3kV and above would have specific and ongoing monitoring and maintenance to keep them operational.
While a number of OEM equipment providers offer 'through life' support, often at a price, there are some instances where the original manufacturer is no longer in operation or they no longer support particular categories of equipment. This has resulted in the establishment of specialist companies like Quartzelec, a leading international and independent electrical engineering group that provides a comprehensive range of support services for rotating electrical machines. Created in 2009, through a management buy-out, and with a turnover now approaching £60 million, the company can trace its lineage back over 80 years. Its impressive heritage includes several of the great names in electrical design and fabrication including British Thomson Houston (BTH), AEI, GEC Machines, GEC Alsthom Large Machines, ALSTOM and Cegelec.
With a highly skilled, experienced and knowledgeable workforce, Quartzelec has multiple UK and overseas locations, however, the company's HQ and flagship workshop is located in new, purpose built facilities in Rugby from where it can manage the repair, overhaul and maintenance of rotating electrical equipment. In addition to these extensive workshop facilities, the team also has access to an extensive library of design drawings and a full design department which means it can manufacture strategic replacement parts or reverse engineer complete machines (electrical and mechanically interchangeable) to meet growing customer requirements.
With a customer base that's spread throughout the marine and oil & gas industries, a core Quartzelec strength is in having highly experienced teams located close to key operations. Aberdeen is a perfect example and is playing a key part in the company's success and the drive it has for expansion today.
"Our engineers and electricians undertake general maintenance, repair and installation work on an array of vessels, rigs and land based facilities across the region," explained Jamie Burns, the recently appointed general manager for the Aberdeen operation. "Quartzelec has been the supplier of choice to many businesses within the oil & gas and marine sectors for many years, working on high voltage generation on platforms in the North Sea and the vessels that support them, and we have our own large repair facility situated at the harbour side.
"For many years we've been used as a main support channel, keeping high voltage machines up and running, but without much forward planning. When a machine 'broke down' we would mobilise a team and head straight out to site. Now we increasingly undertake more pro-active project based work and have invested time and money into people and equipment to become a better solutions provider – effectively empowering our customers to take more control of their requirements when it comes to electrical machines. Planned maintenance is becoming increasingly important so in
response to customers' requests, we've developed a full condition monitoring package – Lifeview®; through our Swiss based business Quartzteq. We now offer mobile and fixed monitoring solutions and can subject equipment to processes such as partial discharge checks and vibration analysis, with the aim of preventing breakdowns. This in turn means less downtime for our customers and better management of overall costs."
Operating in such a niche market, ensuring the right people, with the right skills set and accreditation is vital, so Quartzelec has focused on recruiting and training. Over the past few months, five additional technicians have been added to Aberdeen's existing complement of 50 and the search is on to increase this further over coming months. There are also plans to establish operations in both Leith and Glasgow to extend capabilities and provide a complete electrical offering.
"Within the marine business, we're highly regarded as one of the best at what we do," Jamie continued, and a recent project exemplifies this. "We typically perform general 'day-to-day' maintenance on an array of electrical switchgear and switchboards, breakers and dynamic positioning and communications systems right through to complete overhauls and retrofits on anything electrical on a vessel which could involve dry dock services and even sea trials – but when the need arises we pull out all the stops. In this instance engine fire damage to a vessel at sea resulted in extensive damage to cable runs and we were contracted in to ensure it was out of charter for the shortest amount of time possible. We operated a seven-man team, around the clock, to strip back the damaged cables to the point of origin and replace them to the specification standard and in a time scale that suited the customer."
It's this same level of dedication that's seen Quartzelec engineers sent all over the world to carry out marine and oil & gas tasks, ranging from investigative work to entire studies and delivering projects. There is little doubt in the company's ability to perform and trusted partners like ATB Laurence Scott and Brook Crompton for whom Quartzelec are authorised repairers further underpin this.
"It is our workforce that provides our biggest competitive edge," concludes Jamie. "Customer satisfaction has been at the heart of everything we do and reputation and word of mouth are fundamental. The marine and oil & gas markets are relatively small, close knit communities, so we have to continually provide exemplary customer service; continually improve and ensure the job is done to the best standard and as fast and efficiently as possible – backed up by strong project management."
So when it comes to replacing damaged cables and 'disposable' motors right through to the installation, service and repair of bespoke high value, high voltage electrical motors and generators Quartzelec has the drive, determination and skills to deliver a practical and cost effective solution – empowering the oil & gas and the marine sectors and providing the service and support they demand.
For more information on the maintenance, repair and service of electrical motors and generators for the oil & gas and marine sectors contact Jamie Burns, Quartzelec's General Manager in Aberdeen on 44 (0)1224 593008 or email Jamie.Burns@Quartzelec.com.
For general information on the services available from Quartzelec, please call 44 (0) 1788 512512 or email Jody.Townsend@Quartzelec.com
Quartzelec
Services Electrical engineering