Burning ambition
RAK Gas LLC is the state natural gas utility of the Emirate of Ras al Khaimah (RAK) in the UAE.
It was established in 1984, and in 2007 converted to a limited liability corporation incorporated under the laws of Ras al Khaimah. The company is 100 per cent owned by the Government of Ras al Khaimah, 99 per cent directly and one per cent through the Government's Investment and Development Office.
The organisation's core business is to source natural gas and market it within Ras al Khaimah. In addition, the company has gas processing facilities and a modest portfolio of E&P assets, which includes interests in a number of exploration-stage blocks. RAK Gas is the majority shareholder in two offshore blocks in Ras al Khaimah, and in addition, holds one majority and seven minority interests in exploration blocks in East Africa and in Egypt.
However, gas marketing represents the largest source of revenue and profit for RAK Gas, which buys gas mostly under long-term contracts and markets the gas in Ras al Khaimah. RAK Gas currently sources gas from the Bukha and West Bukha fields in Oman, the Umm al Quwain field in Umm al Quwain, the Dolphin project in Qatar, the Saleh field in Ras al Khaimah and the Sajaa field in Sharjah.
The Saleh field is 100 per cent owned by RAK Gas, and is nearing the end of its economic life with no significant production expected beyond 2009 (although under a new JV, in which RAK Gas has a 60 per cent interest and RAK Petroleum holds the other 40 per cent, RAK Petroleum is studying the possibility of drilling a well in the field to boost production or alternatively re-entering existing wells and revamping production from those wells). Accordingly, Bukha, West Bukha, Umm al Quwain and Dolphin will be the principal supply sources in the future.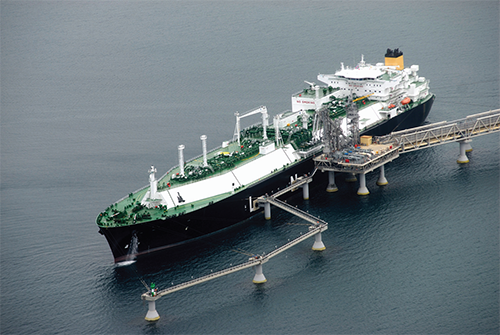 RAK Gas sells gas to a number of industrial and power customers in Ras al Khaimah. Its single largest client is RAK Ceramics, one of the largest ceramic tile manufacturers in the world, and RAK Cement, a major regional cement company. Additional customers include a number of cement companies in the Khor Khwair area, glass and gypsum board manufacturers, and other industrial customers. Two local power plants, the 45MW Al Hamra Power Plant and the 84MW Al Ghail Power Plant, commenced operations in February 2009, which increased gas demand, and RAK Gas has contracted to supply this gas for a period of ten years. The company's sales are centred on the three industrial areas of Al Hamra, Khor Khwair, and Al Ghail.
In addition to its gas marketing activities, RAK Gas has gas processing facilities at Khor Khwair in Ras al Khaimah. This processing plant comprises two separate gas treatment trains, which sweeten, clean and dry the raw gas purchased from the Bukha, West Bukha and Umm al Quwain fields.
The RAK Gas processing plant was originally built in 1984 to process gas and liquids from the Saleh Field in RAK. In 1991, RAK Gas signed a long-term lease agreement for the RAK Gas processing plant with the license holders to the Bukha Field in Oman. Under the lease agreement, RAK Gas processes the gas from the Bukha Field, stripping liquids and LPG. Since the signature of this lease agreement, the process train at the RAK Gas processing plant has been referred to as the 'Bukha Train'.
In 2006, RAK Gas initiated an expansion of the processing plant to add a second train (the 'Atlantis Train') to process gas and liquids from the Umm al Quwain field. The Atlantis Train has been in operation since May 2008.
More recently, RAK Gas has upgraded the Bukha Train to accept gas from the West Bukha field, and introduced crossover capabilities between the Bukha and Atlantis Trains.
As mentioned above, one of the by-products produced by RAK Gas is LPG. This is a mixture of hydrocarbon gases predominantly Propane (C 3) and Butane (C 4) and is popular as a cooking fuel, although it is also used as a fuel in burning appliances in the UAE. It is also being used as refrigerant and as an aerosol propellant. LP gas has unique characteristics that make it a useful and portable fuel.
LPG produced at RAK Gas' facility is extracted from the 'wet' natural gas stream at the cyrogenic unit while processing. RAK Gas has the capacity to produce 120 tons of LPG per day. It is stored in stationary tanks and is supplied through road tankers to bulk consumers. RAK Gas owns six 50-ton LPG storage tanks, apportioned equally between the Bukha Train and the Atlantis Train, and a fleet of two LPG trucks and four LPG trailers delivering LPG to customers in RAK and the other Emirates.
RAK Gas also owns two condensate storage tanks, each of 250,000 barrels capacity, located next to the processing plant. The tanks are used to store condensate produced at the plant, before loading on to tankers through a single point mooring loading system. This system can accept tankers of up to 280,000 dwt in 30-metre water depth and has a throughput capacity of 10,000 barrels per hour.
The mission of RAK Gas is 'to provide the Emirate of RAK with a consistent and secure gas supply and to generate cash for the Government of RAK'. With its forward looking attitude, plans for exploration in Africa and utilisation of state-of-the-art technology, RAK Gas is well on its way to achieving this ambition.
RAK Gas
Products: Gas