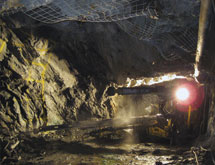 Rambler Metals and Mining PLC
Rambler Metals and Mining struck gold at its Ming Mine in Baie Verte, Newfoundland in 2004 when it began its exploration campaign searching for base and precious metals. The Ming Mine is an underground volcanic massive sulfide style copper deposit with anomalously high gold grades, allowing the small company to become a mid-size mine developer in a short period of time. Copper and gold pricing fluctuate with economic trends.
"When the economy softens, gold tends to be a bit of a safe haven," explains Peter Mercer, vice president of corporate development for Rambler.
Rambler has the ability to generate profit with its Ming Mine's play on copper and gold, giving it an edge over other junior mining companies in the sector. "RAB has the ability to seamlessly switch between pouring gold doré to producing copper concentrate with a gold credit, and vice versa," General Manager Tim Sanford stated.
To cement its position in the mining industry, in 2009, the company bought a gold hydrometallurgical mill at Nugget Pond situated about 25 miles from the Mine site.
In 2011, a copper floatation circuit was built beside the gold mill to handle the copper rich massive sulfides. This new expansion allows Rambler to process all ore from the Ming Mine, as well as surrounding deposits.
Mercer explains that this approach to combine mining and production capabilities of two minerals have given the company an advantage. "Our situation is unique because most small companies either mine for gold or copper," he says. "They usually are not set up to do both."
Partnering for Success
RAB has formed a series of tactical partnerships to ensure its continued success and growth. Earlier this year, the Canadian company brought in a Chinese strategic investor, Tinma International as a stakeholder.
"China of course is one of the biggest consumers of copper in the world," Mercer explains. "If you want to be a big producer, it's always a good idea to align yourself with the big consumers."
Another partnership the company has developed is with Transamine Trading, a Switzerland-based trader of base metal ores and concentrates. RAB has agreed to sell the first 85,000 metric tonnes of concentrate it produces to the company. "We have agreed to sell them our concentrates for the first four to five years of the phase 1 startup. We produce a nice clean concentrate grading between 28 and 30 percent, which is very desirable in the market place," Mercer says.
The first 5,000-wet-metric-tonne shipment of copper concentrate is scheduled to leave the Newfoundland port in October. RAB constructed a storage facility to accommodate their growth and shipping capabilities.
Copper and Gold
For the future development of gold, Rambler has formed a strategic partnership with a group called Maritime Resources. "This company owns a gold deposit called the Hammerdown mine in Newfoundland, and early this year we purchased a 17 percent ownership of the company," Mercer elaborates. "Our vision for Maritime Resources is to have them continue with their exploration drilling and resource definition until they feel the project is at a stage where they would like Rambler to come in and commence the various engineering and environmental permitting studies," Mercer explains.
The goal of Rambler is to establish itself as resource developers, turning projects into mines. "There are a lot of people who can explore and drill," Mercer says. "But there are very few that can take a deposit from a drill hole in the ground through to resources, reserves, engineering and permitting processes and eventually, production."
On the copper side, there is a big expansion that RAB is considering within their own Ming Mine. "Our big project and what originally attracted us to this property is the lower footwall zone (LFZ)," Sanford says. The LFZ is located beneath the massive sulfide reserve Rambler is currently mining. Recently, the LFZ was estimated to contain 261,258 tonnes of contained copper and 52,015 ounces of gold.
"This is a big project and under the right base metal pricing, could move our mine into phase 2," Mercer explains. "It's going to take us two to three years to determine the best way to develop into the LFZ. During that time, we will continue mining the massive sulfides until we see that the timing is right for an expansion."
The phase 2 project would see an increase in staffing from 143 to 250 over the next five years. In the interim, the company plans to continue its growth through investments, acquisitions and strategic partnerships in stable jurisdictions around the world. EMI