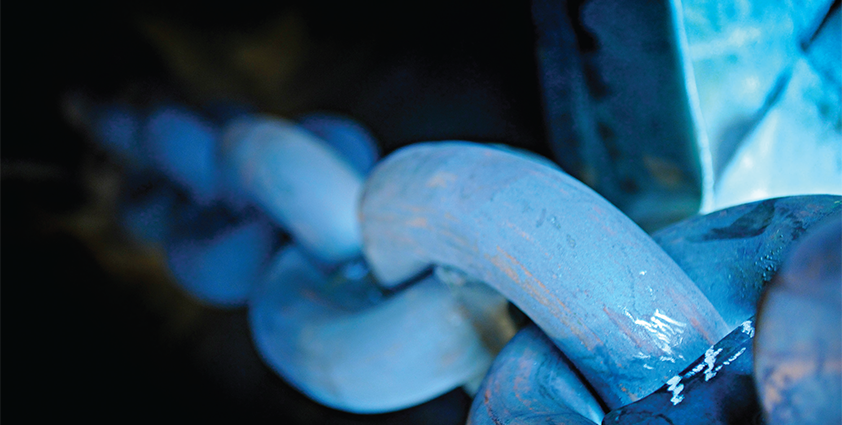 Linked to success
Last year Ramnäs Bruk celebrated its 420th birthday, an amazing milestone for a company first set up in 1590 when the world was a very different place.
Based in Sweden it began forging stud link anchor chains in 1876 and today employs over 100 staff: "We have been in the offshore oil chain business since it started over 50 years ago and now we are working with all the major oil companies and major players within the mooring business," reveals Magnus Westher, managing director of Ramnäs Bruk.
In order to make the best stud link anchor chain on the market, three important factors are taken into consideration during production: materials, welding and heat treatment. Material wise, Ramnäs Bruk only uses steel that comes from qualified steelworks, approved by classification societies and all material is thoroughly inspected upon delivery. When welding the link, linear production is used and micro process controls are applied to record every individual flash butt weld. Finally, during the heat treatment process, furnace and water temperatures, pressure levels and chain speed are continuously recorded so that any non-conformance can be met with corrective action.
Renowned for providing products that are consistently high quality, Ramnäs Bruk is continuously upgrading the dimensions and specifications of its chains and accessories. At the heart of this is an extensive investment programme and to ensure it is always at the forefront of technical innovation, eight per cent of the company's annual turnover is invested back into research and development each year.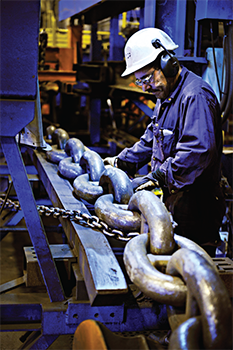 This steadfast approach to bringing revolutionary products onto the market paid dividends in 2010 with the unveiling of Trac ID Systems and a phased array system. Utilising RFID technology, customers can pass a scanner over designated factory expanded studs that have chips safety embedded below the surface to get information regarding the chains' origin, certificate and current status.
The phased array system is an ultrasonic process used to test the complete volume of the stud weld. The probe scans the whole diameter of the link from top to bottom, inside and out and any defects found are displayed on a monitor. This greatly simplifies the inspection of components with complex geometry, like offshore chain, and increases the likelihood of detecting anomalies: "Our technical staff developed this revolutionary method, which we first introduced to some of our customers in 2009. We have now trained a large number of our staff to handle this technology," Magnus says. Major oil companies such as Total and Statoil have since chosen to use phased array technology as a way of meeting regulatory requirements for testing equipment.
As the offshore industry commits more to deep water activities in harsher environments, Ramnäs Bruk is having to refocus product development to meet the changing needs of its customers: "We are developing a new supersonic procedure to perfect an anti-corrosion surface coating as our customers increase their demand for products with longer life spans. We are in constant contact with our clients, discussing what they foresee needing in the future and how we can further improve our products," explains Magnus.
Even in the face of the global economic crisis, 2009 was a very successful year for Ramnäs Bruk and saw the company achieve its best financial result in modern history. The announcement of a sixth year of improved performance in a row was followed by a similarly upbeat first half of 2010. Despite a somewhat sluggish second half of the year, Magnus believes business so far in 2011 shows encouraging signs: "The market is picking up, within the mooring business there are a large number of requests coming through and it seems as if some companies are looking to rebuild their stock levels following the second half of last year when they didn't buy anything."
Looking ahead to the rest of 2011 and beyond, there is definitely a clear desire on the part of Ramnäs Bruk to build on the formula that has kept it thriving for over four centuries: "We have a number of large projects that are coming towards the end of this year, but in the meantime we have work ongoing, predominantly in mooring systems and there are gas projects in Australia we are involved in as well," Magnus concludes: "We aim to remain the leaders in product development in the future and the first step is to make sure we can help provide our clients with what they need as they move into deeper water and harsher environments."
Ramnäs Bruk
Products: Manufacturer of anchor chains