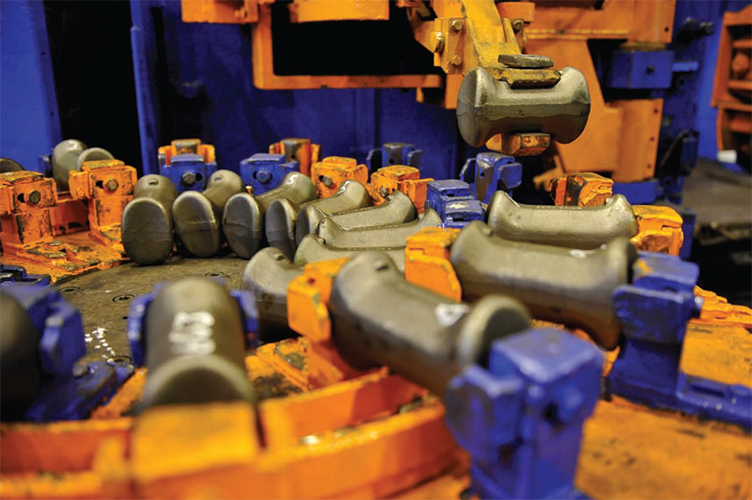 Strong links
Headquartered in Sweden, Ramnäs Bruk AB began forging stud link anchor chains in 1876 and entered the offshore oil chain business since its inception over 50 years ago.
Today the company is a leading manufacturer of quality chains and is the only business in the market to offer a five-year quality warranty for all chain. Such confidence in its products stems from 45 years experience in the offshore sector and more than 25 years without a customer complaint due to mooring line failure.
Providing offshore safety through top quality anchor chains for mooring systems utilised in the offshore industry around the world, Ramnäs Bruk fully understands the importance of safety and ensures quality is a core value at the heart of its every day operations. Manufacturing to the international quality assurance standard ISO 9001: 2008, the company guarantees its customers the best possible service and end product throughout the whole purchasing, fabrication and supplying phase of each individual offshore project.
With a production capacity of 15,000 mega tonnes a year, the company has continuously looked for opportunities to improve the production process to meet new customer requirements; it has also focused on technical developments for automation and inspection as well as cost-cutting methods. Furthermore, co-operating with selected and certified steel works such as Ovako, has led to steel quality improvements and new high-strength steel for larger chain dimensions and higher grades being developed. Both Ovako and Ramnäs Bruk work together to constantly improve steel properties, which ensures ongoing quality enhancement in line with the rigorous quality control system that means every single bar is traceable.
In order to manufacture the best stud link anchor chain on the market, Ramnäs Bruk has developed a unique manufacturing method of controlled stud expansion. The stud expansion fixes the stud and creates a spring effect that improves the fatigue life of the chain. Also, the asymmetrical design of the stud gives equal stud footprints and contributes to a symmetric stress-distribution in the link. This design, combined with Ramnäs Bruk's controlled stud expansion, has been the standard method in Ramnäs Bruk's production process since 1991. The studs stay in place, resulting in a superior quality chain.
On top of its stud link mooring chain, the company also offers studless links that can deliver the same performance in terms of static strength while also saving approximately nine per cent in weight. This is particularly beneficial for deepwater applications, where there is a potential reduction in weight, which offers cost savings. With all material thoroughly inspected upon arrival, Ramnäs Bruk welds the link using linear production and micro process controls are applied to record every individual flash butt weld. Finally, during the heat treatment process,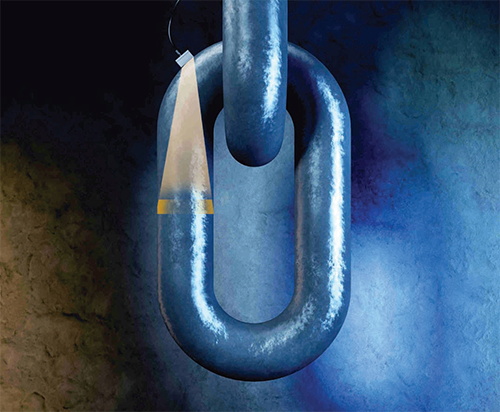 the company continuously records furnace temperature, water temperature, pressure and chain speed so any non-conformance can be resolved with corrective action. Benefitting from a vast amount of experience, the company has developed unique routines, invested in modern equipment and has trained its skilled staff to perform manual inspection and automatic testing.
A pioneer in the development of production, chain grades and quality, Ramnäs Bruk has three ongoing projects: phased array, supersonic corrosion protection and RFID instant traceability. The phased array is a state-of-the-art UT method for offshore chain that guarantees 100 percent inspection of the whole weld volume. First launched in 2010 and approved by all major classification societies, the product uses ultrasonic waves containing a large amount of vibration sources that produce ultrasonic pulses. The phased array method scans the whole diameter of the link from top to bottom, inside and out, with any defects displayed on a monitor. The technique offers tangible benefits such as shorter inspection periods, clear documentation and investigation of most materials. Today, major oil companies such as Statoil and Total use phased array technology as a way to meet regulatory requirements for testing equipment.
As the offshore industry moves into deeper waters and harsher environments, Ramnäs Bruk has been refocusing its product development to meet the evolving needs of its customers. Through developing a new supersonic procedure to perfect an anti-corrosion surface coating, the innovative company can offer its customers products with an increased life span in the most challenging of environments. The supersonic cathodic protection does not require 100 per cent coverage, for example, effective coverage can be obtained even if only 70 per cent of the surface is covered.
As part of its standard range, Ramnäs Bruk offers its customers the option of having an RFID chip installed in stud link chains to provide instant traceability. Utilising RFID technology, customers can scan designated factory expanded studs with chips safely embedded below the surface to obtain information about the chain's origin, certificate and current status.
Always looking at enhancing its products, the company also invests in its equipment and facilities to ensure customers are offered market-leading solutions. One of its most recent investments was a new furnace in May 2013, which has a 30 per cent increase in heat treatment capacity compared to the company's prior furnace. These ongoing developments and the company's dedication to quality enabled it to remain busy throughout the recession and are certain to ensure its success in the future.
Ramnäs Bruk AB
Services: Manufacturer of anchor chains