Gaining ground
One of the world's leading manufacturers of precision engineered stainless steel, nickel alloy, and titanium tubing, RathGibson was formed as a result of the merging of Rath Manufacturing Company and Gibson Tubes in 1999.
The Rath family set up its stainless steel fabrication shop in Janesville, Wisconsin in 1952; and ten years later, Glenn Gibson founded his business in North Branch, New Jersey. Following the merger, a concerted effort was made to expand on the company's welded tubing product line and increase its offerings to the marketplace. In 2006, RathGibson acquired Greenville Tube Company, an Arkansas business established in 1939, which added stainless steel and nickel alloy seamless tubing to its portfolio. The company's most recent acquisition was the purchase of Louisiana-based Mid-South Control Line in February 2008.
Today, RathGibson is a worldwide manufacturer of highly engineered straight lengths, coil, and U-Bend tubing in stainless steel, nickel, and titanium alloys for diverse industries, such as oil and gas, petrochemical, power generation, chemical processing, food and dairy, beverage, pharmaceutical, and general commercial.
RathGibson has an admirable track record in a vast number of downhole and umbilical projects. As Alfredo D'Souza, business development director for RathGibson in the Middle East and India, explains, the company today is very much a global force. "Up until around 2007, RathGibson had concentrated mainly on the North American market. Since then, however, we manufacture tubing for businesses all over the world," said Alfredo. "We now operate in six geographical regions: the Middle East and India, Europe, Greater China, North and South East Asia and Oceania, Central and South America, as well as North America.
"RathGibson works with all the major names in the oil industry, such as Shell, BP, ExxonMobil, Chevron, Petrobras, LLOG, Dominion, Anadarko, Total, Husky Oil, Petro Canada, McMoran, Apache Oil & Gas, China National Oil Co., and Nippon Oil, in addition to major service valve companies like Halliburton, Baker Hughes, Schlumberger and Weatherford," Alfredo continues. "In this region, the big names include Saudi Aramco, Oxy in Oman, DEWA (Dubai Electricity & Water Authority), Qatar Gas and Reliance Industries, BHEL (Bharat Heavy Electricals Ltd.), Larsen & Toubro, and Godrej & Boyce in India."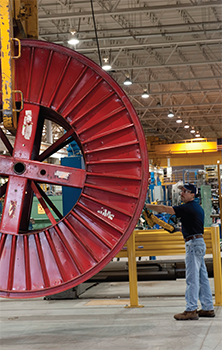 Downhole application products that the company offers include control lines, hydraulic lines, encapsulated conductors, intelligent well completions, and multi-line flat packs. A range of lines and alloys are also available for use in umbilical projects. As Alfredo explains, the company is always looking to increase its products and services to bring more to its customers: "Heavy wall high pressure feedwater heater tubes are the most recent example in RathGibson's expansion and investment in state-of-the-art technologies. Another example is TEC cables. There are plans now in place that will allow RathGibson to provide improved support for that product portfolio."
Alongside the continued growth of its product line, RathGibson is continually looking for opportunities to better assist customers and partake in joint-venture projects: "Recently, the company entered the Caspian region, Kazakhstan, Azerbaijan, Turkmenistan and also Russia, and it is actively pursuing at least one potential joint-venture outside the US," Alfredo emphasises. "Around 25 per cent of the company's business comes from areas outside the US. This is significant, considering that this figure was less than three per cent in 2007.
"India, the Middle East, and China are the most promising markets at the moment. Opportunities are also emerging from other regions, like Egypt and Turkey," Alfredo continues, going into detail about how the company serves the needs of customers in under-supported territories. "First, RathGibson will partner with either an agent, a master-distributor, or a stockist to set the foundations of business going forward. Then it is key to get our people there on the ground to give customers real solutions in real time. This involves personally visiting our customers to help solidify the relationship. Being based regionally also means more effective solutions can be provided in terms of manpower and product delivery."
The first quarter of 2010 kick-started a revival of sorts in the various industries that RathGibson serves. As of April 2011, the company had recorded five quarters of sustained growth: "Market conditions are continuing to expand. There will also be growth in the next several years in Africa, Eastern Europe, and South America," Alfredo states, pointing out that the company is well poised to handle the challenges that it will face as the economy recuperates. "RathGibson's sales and profitability for March 2011 were the highest we have experienced since mid-year 2008.
"In the years to come, we would like to enter new areas like South Africa, Algeria, and Libya," Alfredo concludes. "We plan to offer additional products while further increasing delivery times and hopefully doubling our annual turnover in five years. This may sound optimistic, but with our commitment to providing the finest products and technical service in the industry, this goal is attainable."
RathGibson
Products: Tubing and piping