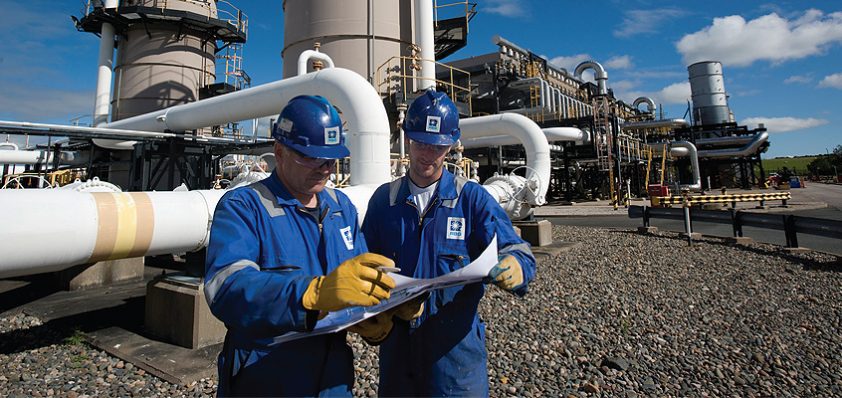 Right first time
Headquartered in Aberdeen, and with a history and track record that encompasses more than 30 years of successful oil and gas projects both on and offshore, RBG Ltd is a leading provider of fabric maintenance, construction support and related services.
Employing around 5000 skilled personnel worldwide the company has developed its service portfolio in order to provide its customers in the global oil and gas market with a wide, yet integrated range of solutions that add value to individual projects.
A key contributor to RBG's success is its dedication to the continued advancement of technology and the introduction of innovative solutions – indeed, the business works hard to promote innovation throughout its whole organisation by actively encouraging each of its employees to contribute to the process of continuous improvement. As a result, not only does the company have an excellent record of delivering exceptional quality, it has been able to increasingly develop and deliver technology-led solutions in close co-operation with its customers in order to meet a specific or unique problem.
Predominantly, these customers comprise of multi-national and independent oil and gas operating companies, national oil and gas operators, owners of drilling rigs, subsea constructions companies and many of the world's leading EPC contractors. Aside from the more traditional applications such as oil and gas production facilities and drilling rigs, RBG has successfully completed projects for oil and gas pipelines, drill-ships and jack-up rigs, storage terminals and depots, and also refinery sites. However, such is the competence and reputation of RBG's service portfolio that the company is also the preferred partner for customers in a number of other industries including civil, rail, defence, marine and commercial.
The company's vast range of services comprises of a portfolio of integrated solutions that make up a complete package for oil and gas clients. In particular, the business is extremely well respected for its fabric maintenance package, which includes fabric maintenance, integrated shutdown management, construction/HUC support, brownfield modification, decommissioning and operational support services.
In this particular area RBG has more than 30 years experience in projects in the North Sea, the Gulf of Mexico, the Caspian region and the Trinidad area. In order to achieve such a successful record the company takes a proactive, integrated planning approach, whilst at the same time developing and maintaining long-term relationships with individual clients.
Notably, since 2006 RBG has been carrying out a programme of ongoing fabric maintenance work for leading offshore North Sea platforms. During three distinct phases of platform development – hook-up and commissioning, operations and maintenance support and planned routine shutdown works – RBG has successfully delivered a range of work that includes crane boom installation, topside structural inspections, vessel inspections, corrosion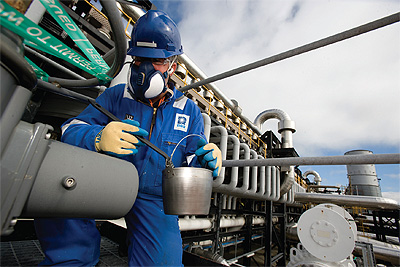 under insulation investigation, concrete inspection and analysis and specialist cleaning services.
Such achievements are only a small part of RBG's capabilities, with the remainder of its service portfolio comprising of marine services, specialist cleaning, mechanical services, electrical and HVAC installation, maintenance and verification, fabrication, manpower solutions, scaffolding, vendor inspection and expediting, durastic flooring, and decking work and rope access.
One of the key distinguishing factors between RBG and its competitors is the prominence that the company places on its personnel. In this sense, not only does it strive to maintain the highest HSE standards for those working onsite, it also provides a comprehensive technical competency and training package. At dedicated training facilities in Aberdeen, Baku and Houston the company offers a multitude of training courses in such demanding topics as vessel entry and self-rescue, confined space awareness, high pressure water jetting, rope access, blasting and insulation, and various assembly and technical subjects. The long-term aim of such courses is to not only enhance and maintain the consistently high levels of quality that have come to be expected from RBG, but to also increase the awareness of each individual's responsibilities in the workplace.
In a recent move to further improve its service capabilities, RBG has commenced the first phase of a £5 million expansion of its operating base in Invergordon, Scotland. The company has been operating from the dock area of Invergordon since the early 1990s, and following a more recent acquisition of further premises at the dock site in 2008, a programme of construction and refurbishment has taken place, which includes expansion of the current office facilities and workshop area.
Discussing the recent development, a spokesperson for the company explained: "This expansion supports our future business plans by increasing our ability to meet demand both in terms of the volume of work we are able to carry out, as well as for allowing for the fabrication of exotic, carbon pipework and very large structures. This has required significant investment, conveying our absolute commitment to Invergordon." Currently employing 200 people, the remaining work at the Invergordon site, which will include renovation of the existing painting and fabrication building, is set to be completed later this year.
This development is sure to further improve the level of service provided by RBG, whilst adding to its excellent reputation throughout the global oil and gas industry. Not only does the company provide a range of services that comfortably and competently surpasses that of many of its rivals, but it also consistently offers clients the highest quality possible. With the motto – 'right first time' – proving accurate in every operation thus far, it is inevitable that RBG will achieve further success for many years to come.
RBG Ltd
Services Fabric maintenance and construction support