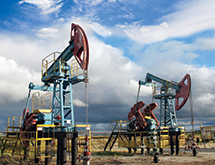 Red Mountain Resources is a newer and much smaller energy company compared to the giants of the oil and gas industry. Despite its modest size, however, the company has an abundance of assets and experience to continue growing.
The Dallas-based company went public in June 2011 and is engaged in the acquisition, development and exploration of oil and natural gas. Its operation is focused in the Permian Basin of west Texas and southeast New Mexico, the central Kansas uplift and the onshore Gulf Coast of Texas, President Alan Barksdale explains. "We are conventional guys with a lot of experience in the Permian, in particular," he adds. "We have raised capital, drilled wells and developed properties."
Red Mountain Resources views its exploration and production in the Permian Basin as low-risk or as low-risk as it gets when working in the oil and gas industry. The area has a number of wells that have been drilled since the early 1900s, Barksdale explains, which means there are established zones that have been producing for 60 or 70 years. "We can come in with new techniques on big horizontal wells or shallow vertical wells because there is a lot of data and history that allows us to develop the areas much better than the newer areas and resource plays that haven't had a lot of historical production and development," he adds.
Plentiful Property
Among the major challenges in the oil and gas industry are finding resources and generating good returns. Fortunately for Red Mountain Resources, it has a very large acreage position in New Mexico, Kansas and Texas. The company has 887,341 gross acres and 310,102 net acres, in fact, which is significant in a capital-intensive business. "Over 97 percent of our acreage is held by production or we own the minerals," Barksdale notes. "That's significant for a small company because we don't have to spend a lot of capital to retain that. Being in an area like the Permian, we have a lot of data to be efficient in finding oil and we aren't under a time crunch with expiring leases."
Red Mountain Resources' inventory includes more than 450 gross potential drilling locations and the equivalent of 3.5 million barrels of oil in proven reserves. In the quarter ending Dec. 31, 2013, the company produced 857 barrels of oil equivalent per day.
Helping to keep production high, Red Mountain Resources has a significant level of technical expertise because its employees have years of experience working specifically in the Permian Basin. "We limit our work to the areas that match our technical confidence," Barksdale says. "We make sure our staff has a significant amount of experience in the areas where we operate. We wouldn't put a guy experienced in the Permian into the Williston Basin. Effectively allocating human resources is of equal importance to traditional capital allocation."
Red Mountain Resources has not ruled out expanding into new territories, but will not do so until it has the experienced personnel in place. "We would look to expand and it's not that the other areas are bad, we just need to stick to what we know," Barksdale explains. "We would need someone with extensive experience in [a new] area." When seeking to expand its development and exploration, Red Mountain Resources will also generally look for sites with repeatable geologic and production characteristics that will enable it to produce sustained production results and reserve growth in both the near- and long-term.
Poised for Success
Red Mountain Resources maintains good relationships and builds trust easily because a majority of its employees have worked in the industry for years and built solid reputations. Its people are known to deal fairly and make quick decisions. "With those types of relationships and knowledge you learn a lot more than simply reviewing technical data," Barksdale explains.
The Permian Basin is highly competitive and because of that, having positive relationships with other companies comes in handy. The area is overrun with energy companies that need to figure out how to work together and maximize value, Barksdale explains. "We have great relationships with our peers and we are a new company, but we are not new people," he adds.
Red Mountain Resources was built by a core group of men with personal relationships that were 10 to 20 years in the making. The company's team of managers, consultants, employees and directors combine to represent more than 300 years of experience in the industry. Its employees have experience as owners, investors, company builders, financiers, operators, geologists, service providers and petroleum engineers. The Red Mountain Resources team has participated in more than 10,000 wells in 20 states and 22 countries.
Moving forward, Red Mountain Resources' strategy is to look to the market for opportunities that are big enough for its size and small enough not to grab the attention of the industry giants. "It's something you have to monitor and make sure you are on the cutting-edge to take advantage of any opportunity," Barksdale says. The central Kansas uplift is an area the company looks to continue to grow and start producing.
The company will continue to allocate its capital wisely to set itself up to be viewed in the market as a valuable investment and then grow from there. In the near future, Red Mountain Resources' plans are to focus on its asset areas and increase its scale and return on capital. "It's hard to have a 10-year plan in this industry and being a small company you really operate day to day," Barksdale explains. "We do have short-term, intermediate and long-term plans, but in the short-term so many things can change the long-term plans."