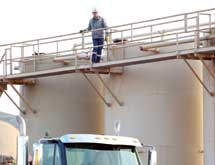 Red Rock Transportation Inc.
Although Red Rock Transportation Inc. itself is a relatively new addition to the Bakken Shale region, its owners and staff bring decades of experience to the company's work. The company formed in 2007 when co-owners Robert "Barney" Pfeifer and Gary Thompson decided to pool their collective 65 years of experience in the transportation and oilfield realms into a new venture. Both men had worked together previously for an oilfield company, and are natives of western North Dakota.
The company provides transportation for crude oil and saltwater production. "We focus solely on the production end, since there are big swings higher demand and movement for drilling and exploration," Thompson says. "On the drilling side, companies have high demand for many units for a short period of time and with those types of demands; we felt we could do a better job on the production end, since the work is more consistent and manageable for us."
Since its founding, Red Rock Transportation Inc. has rapidly grown its fleet from four units to 40 units running 24 hours a day and serving a 100-mile radius of its home base in Watford City, N.D. In addition to Watford City, the company also maintains an business office in Fergus Falls, Minn., and has units based in Beach, Williston, Minot and Tioga, N.D.; as well as in Froid, Sidney and Culbertson, Mont. Some of the company's customers include Whiting, Murphy Oil, Continental, Murex, Wesco, Legacy, Encore, XTO and more.
"In the 30-plus years we've been involved in the oilfield, we have been there when many of these companies were just getting started," Pfeifer says.
Red Rock Transportation specializes in transporting crude oil from production locations to pipeline unloading facilities and rail unloading facilities, and also transports production water to disposal facilities. Red Rock also performs some service work for its customers including supplying vacuum tank services when requested, Pfeifer says.
"We employ experienced field staff who are involved with each job to make sure it's done right with the customers' expectation of service in mind," he adds.
Pfeifer and other personnel pride themselves on a high level of interaction with customers. "We distinguish ourselves by meeting in the field with people," Thompson says.
Staying Efficient
Red Rock Transportation's industry experience goes beyond its co-owners. "Even though our company is only six years old, we have a high percentage of drivers with more than 10 years of oilfield experience and have very low turnover," Pfeifer notes. "That, along with the experience of our owners, really does set us apart." All drivers are qualified to transport hazardous materials and are trained to drive on multiple terrains.
Experienced drivers and dispatchers help the company manage many of its challenges such as fuel costs and operational efficiencies. "Because of our growth rate in the last four years, we're more focused on hiring drivers with experience. Because of this experience, implementing new technology will be much easier and become a better tool," Thompson says. "Our experienced drivers have been the key to our success, because of their experience in western North Dakota oilfields and their understanding our goal of becoming more efficient. They will offer suggestions where we can tie loads together to help maximize available hours and reduce miles when possible."
The company also addresses maintenance and fuel costs through negotiating with suppliers whenever possible. Preventative maintenance is also a high priority as a way to help reduce costs.
Safety First
Safety and respect for the environment are first and foremost on the minds of the company's drivers. "The majority of our drivers live in the communities they work in, so they're familiar with many of the issues we face out here with regard to traffic and road conditions," Thompson says. "We expect our drivers to operate legally within their trucks' weight limits and not contribute to poor road conditions or damage the environment. For most of our drivers and management, the people in the towns we serve are our neighbors, so it's important we keep safety and courtesy as a main focus."
The company enforces a number of internal policies and procedures governing load requirements and hours spent on the road. Drivers are rewarded for being safe through an incentive bonus program.
"We put a lot of money toward our drivers being safe, a driver can earn up to an additional 12 percent on top of their pay throughout the year by operating in a safe and courteous manner and taking the time to do it right," Thompson says.
Each driver participates in a minimum of 40 hours of behind-the-wheel training before going out on the road, regardless of past driving experience. The company also holds safety meetings each month covering topics including tire chaining and driving in mud and snow, weight restrictions, and the dangers that can be encountered on well sites, unloading facilities, as well as traveling on both gravel roads and very busy highways.
Red Rock Transportation dispatchers and managers also support the company's safety initiatives by keeping a close eye on the roads. "If it's a bad winter day with a lot of blowing snow or ice, and we don't feel it's safe for our guys to travel, we will keep them parked until it is safe, and [ Pfeifer ] or our dispatchers will personally drive the roads to make sure they're safe before sending our trucks out," Thompson says.
Pfeifer and Thompson both credit the company's success to the experience of its ownership as well as the hard work of its staff. "From day one, Pfeifer, our operations general manager, has been in the field everyday working with both our customers and employees setting the standards we require our employees to operate by," Thompson explains. "His 30 years in Williston Basin along with the drivers who have been our friends and employees for years helping train the new employees is invaluable."
While much has changed since Pfeifer and Thompson first entered the industry, their commitment to service remains the same. "(In March 2013) I said goodbye to a friend and one of our drivers who retired who started with me driving in the oil patch in 1978," Thompson says. "With our experienced employees, and also through applying new technology to our business, we believe we can become a better supplier to meet the needs of the industry."