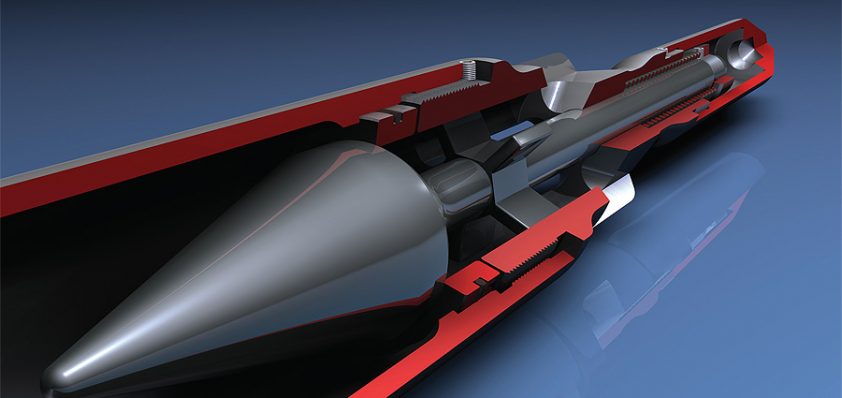 A worldwide web
As a relatively young company in the industry, Red Spider Technology is becoming established in the field of pioneering oil and gas solutions.
Offering a comprehensive range of downhole products and services, the company is gaining a reputation for excellence and dedication. With an all-encompassing goal to extend the life of the global oil and gas industry whilst providing value added products to save clients expensive rig time, innovation is Red Spider's mainstay. The company's team of highly knowledgeable engineers are able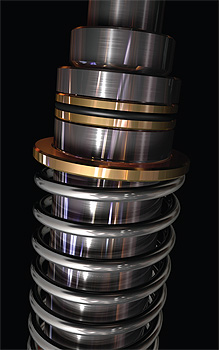 to develop solutions utilising their first-hand experience in the field and passion for new challenges to produce a fast response to a client's problem.
Operating in the key areas of the North Sea, splitting its provision between the Norwegian and UK sectors and the Middle East, Red Spider works with most of the major oil companies such as BP, Shell, Statoil, ConocoPhillips and Maersk. One of the company's key strengths lies in the fact that it takes an integrated approach to field service, with the workshop and field engineers acting as a single team. This means that the technician who tested and assembled a tool in the workshop could be the same engineer who runs it in the field, providing clients with problem-solving abilities and a technician with intimate detailed knowledge of the equipment.
Gary Smith, international business development manager of the organisation, outlines Red Spider's other strong points: "I think our ability to innovate sets us apart from our competition. Historically we have taken a problem from a client and created a it, built and tested it then are able to offer it commercially on the market. We develop our tools and product portfolio as a result of client needs and we work very closely with companies such as StatoilHydro in such a way that they are able give a lot of input during the design of a specific product. This results in a product which has our technical know how coupled with the clients experience of the respective operation. We are becoming more established in the marketplace and I think we have found our niche with the development of our eRED. This product is becoming a cornerstone for future development and has effectively unveiled a part of the market that was relatively untapped until now."
The eRED (electronic remote equalisation device) technology has been continuously developed over the last three years and is typically used in conjunction with a plugging assembly to provide a highly flexible and fully controllable downhole barrier that allows a multitude of tasks to be performed without the need for additional intervention. Using programmable electronics and sensors the eRED monitors and responds to downhole conditions, opening and closing as per pre-determined instructions that are transmitted by applying tubing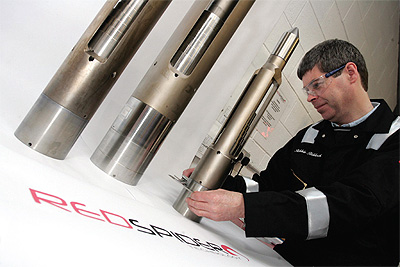 pressure over a defined time span. The technology can distinguish its own demands from other external factors such as hydrostatic or reservoir pressure providing an ingenious solution to unexpected pressure and temperature changes downhole. In effect the tool thinks for  itself. In conjunction with PC software the eRED can be re-programmed right up to deployment, giving a flexibility that other technologies fail to provide. In addition it can be used in a number of alternative applications such as deep set for packer setting and tubing testing, zonal isolation, extended reach or horizontal wells where retrieval of a carrying device may prove problematic, as well as pressure testing of wells prior to fracing or stimulation operations. In recognition of its pioneering capabilities, the eRED was given the prestigious Innovation Award 2008 in the Grampian Awards for Business Enterprise.
When European Oil and Gas last spoke to Red Spider in 2008, the company had a goal to grow its operations in the Middle East. Gary highlights the changes in this key area: "Currently we are supplying a project in Oman primarily with a velocity string packer for enhancing production from watered out gas wells among other services and solutions. We are also involved in a number of operations in Qatar with companies such as Maersk and RasGas for the supply of protection systems used in drilling operations, as well as remote open and close technology. We are happy with our growth here and at the moment our focus is on consolidation – instead of looking at geographic growth we are aiming to target key clients where our technologies can add real value and hence develop our relationship with them."
Since last year Red Spider has quadrupled the size of its facility by moving offices at its headquarters in Aberdeen, Scotland, and still maintains strategic offices in Norway and Dubai to facilitate its consolidation plans. The company's vision for the future is that Red Spider becomes recognised as a leader in remote open/close technology, with innovation and knowledge at the core of its products. Gary notes: "Fortunately for us, when the oil price is low companies invest more in products that will maintain operations at a consistent level and we have had the busiest quarter ever. We want to give customers confidence that they are buying a top teir product that does what it says on the tin – high quality, innovative, reliable and has the ability to simplify their operations."