Setting the standard
Created with two crucial priorities in saving its clients money and reducing risk, Red Spider Technology has made a name for itself in Remote Open Close Technology (ROCT) – downhole computer controlled valves that can be operated remotely, without the need for intervention or control lines.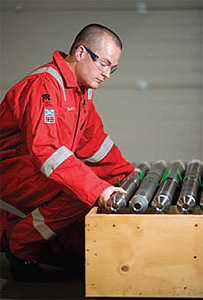 With the need for such specialist research and development (R&D) increasing, and subsequently impacting on the size of the company, Red Spider moved into new purpose built headquarters near Aberdeen in 2008, closely followed by the relocation of its Norwegian operation to a larger premise in Stavanger.
Although this year marks the company's ninth in business, Red Spider remains young enough to still see significant shifts within its operations over the last two years. "The company took a bold decision in early 2010 to secure financial investment with specialist oil and gas investors in order to expedite our technology development and help accelerate our international growth. Together we are looking forward to fulfilling the company's real potential and high ambition. In mid-2010 we also took time to rebrand Red Spider to reflect the change within our business and our specific technology focus, which again shows that we are a progressive company of entrepreneurs who never ever stand still," explains Steve Nicol, chief executive officer of Red Spider.
In light of this specialism, Red Spider has also clarified its strategic markets over the past two years with a focus on the UK and Norwegian Continental Shelf, the US, South America, Africa, and Asia Pacific. The company also retains some business in the Middle East, although this is not a strategic region for Red Spider. "Our products provide the greatest value in subsea deep water applications," describes Steve. "We work for all the major operators as well as a growing number of independent parties in the UK Continental Shelf. Our key strength is our confidence in the fact that ROCT will change the way that the oil and gas industry both intervenes and completes wells. No other company specialises in this area, therefore we are both opening and leading this market.
"The challenges that we face are common in the industry, but we are both lucky and bold enough to introduce products with value propositions that are so compelling that it is difficult not to run them. The industry has been slow to develop new techniques in intervention plugging, and we were bold enough to identify the market and go after it. As such, we have built up a solid track record in our intervention products and moved this experience into completion tools so that our clients are confident in running our latest technology having seen great reliability in the shorter term deployment of an intervention product," he adds.
Although good progress has been made with many of Red Spider's products, it is the uptake of the hRED and eRED technology that has steadily exceeded expectations. In response, the business has placed a strategic focus on these tools developing a greater range based on the same tried and tested intervention-less technology. As such, the ROCT product line now consists of hRED, eRED, eRED-FB, and PowerBall.
The patented eRED valve is a state-of-the-art intelligent downhole flow control device, which is typically run below a plugging assembly and can be remotely opened and closed multiple times to control flow through the tubing. An eRED action is initiated only when a specific well condition or 'trigger' is detected, which are fully programmable using proprietary software.
Keen to elaborate further on the latest developments in this field, Steve says: "eRED-FB goes much further than eRED, its intervention sibling, as a tubing mounted, full bore system which eliminates well interventions during completion placement. In this respect, eRED-FB can easily save 32 hours rig time. We have introduced eRED-FB into the market with a couple of installations in 2011, we followed these installations with another round of development to further increase the robustness of the tools, which has confirmed our confidence in the system with installations planned from early 2012.
"With lessons learned from eRED-FB being used to confirm reliability in this product, PowerBall will also be installed in the middle of 2012. PowerBall is a reservoir isolation barrier that prevents damage to the reservoir by stopping fluid loss during the upper completion phase of well construction. It also provides confidence to operators in that it can be re-opened even in the most hostile of well conditions," he continues.
One area where eRED technology has been successfully implemented is the CNR International operated Ninian field, located in the northern North Sea. In this case, an injector well was side-tracked from an existing well, with the conventional tubing hanger and production packer plugs each being replaced with an eRED. The decision to use eREDs instead of conventional plugs was due to several factors, but primarily; the removal of risk and the reduction in operational rig time, helping to lower the overall costs. Both eREDs, one deep-set and one shallow, were pre-installed and tested onshore prior to shipping to the field.
Offshore, both eREDs were run in the open position, which meant the tubing could self-fill as the completion was run to depth. Once at depth, each eRED was remotely closed allowing the production packer to be set and the tubing hanger to be installed and tested, removing several interventions during the installation. Throughout the operation, both eREDs functioned perfectly, enabling CNR International to remotely close and open, then perform various pressure tests against the eREDs without any form of intervention.
Whilst achieving any sort of change in industry thinking is often slow starting, Red Spider has every confidence that the attributes of its ROCT will be in greater demand for the future. "Every operator is looking to reduce risks, reduce costs, and have reliable products with as little upheaval as possible," highlights Steve. "This is exactly what we provide, so we are well placed to match the market we supply to. Red Spider has invested millions of pounds and thousands of man-hours in developing specialist ROCT products. It is now time to further develop the market and allow these tools to gain the volume distribution they deserve in order to change the way the industry intervenes and completes wells."
Red Spider Technology
Products: Remote Open Close Technology