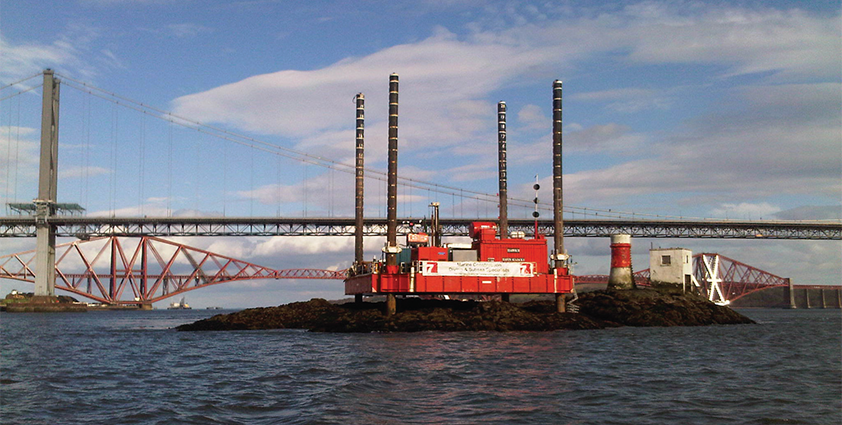 Built to last
Red7Marine is one of the industry's leading providers of offshore, maritime and inland subsea engineering and marine construction services.
Throughout its history the business has retained a large client base across a number of industry sectors, predominantly down to its superior range of services and its commitment to continuous improvement of its health, safety and quality standards.
Today the company has a reputation as a true one-stop-shop for marine services and has experience of carrying out complex operations in offshore, coastal and fluvial environments. From its headquarters site at Wrabness in Essex, alongside other sites in Yarmouth, Ipswich, London and Devon, Red7Marine provides a package that includes marine construction, diving and subsea services, maintenance and dredging operations, provision of marine access solutions and design and fabrication.
In addition, it owns and operates a large fleet of marine plant that includes classed jack-up barges, anchor and spud leg coastal barges and a range of modular pontoons to support construction projects.
The diving and subsea market represents a considerable portion of Red7Marine's overall work, and in this area the business employs a highly experienced team of divers and engineers capable of working with clients at every stage of a project from design through to delivery, and professional commercial advice. In the diving field the company's credentials speak volumes, and it is a full member of the Association of Diving Contractors (ADC) and has IMCA Diving Services Membership pending.
In the diving market Red7Marine provides both inshore and offshore services, with the latter including a range of activities connected to the international oil and gas market, plus the ever-expanding offshore wind energy market. For the offshore sector the business acts as an independent subsea service provider and offers vessel and fixed installation based spreads.
Its capabilities are such that the range of services offered in this area includes platform inspection, repair and maintenance (IRM), subsea well inspection and maintenance, NDT and corrosion control, jack-up leg scour surveys and remediation, mooring and anchor surveys, subsea construction and cleaning, pipeline and umbilical inspection, rope access and hydro demolition and diamond wire cutting.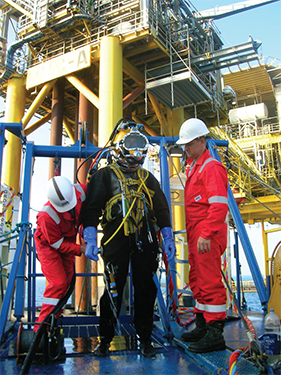 As a measure of Red7Marine's success in the diving field the business was proud to recently report the successful completion of its 1000th commercial dive on one of the company's ongoing projects. Completed at the Greater Gabbard site, which when completed will be the world's largest offshore wind farm, the dive can be considered a true milestone achievement in a particularly aggressive offshore location. With the company's divers carrying out a number of diving works to date, including installation of monopile j-tubes, reference electrodes, messenger wires and anomaly identification and dredging, the project is a testament to the company's absolute commitment to safe and efficient diving operations.
Of equal importance, the Greater Gabbard project also represents Red7Marine's commitment to the growing offshore marine renewables market, which already represents an important growth area for the business. The company has been involved in this area for a number of years, with many members of the senior management team being involved in the construction of the original UK Round 1 sites. The experience within the company's diving team means that it is able to distinguish itself from many of its competitors by offering a tailored package that includes offshore IMCA diving services, trenching and cable burial, j-tube design, manufacture and installation, hyperbaric wet welding and OOS cable clearance and disposal.
In each operation that Red7Marine carries out its experience and knowledge in marine construction is one of its distinguishing factors. This encompasses such areas as marine construction, sea defences and piling, all of which are carried out by capable and highly skilled marine construction engineers with proven expertise in the fields of piling, welding and fabrication, concrete works, steel erection and heavy timber work.
This illustrates the breadth of Red7Marine's capabilities, a fact that is equally demonstrated in the range of marine construction projects that the business has carried out in recent years for numerous clients, including bridge access and strengthening, fendering, piling, marine transportation and the construction of jetties, piers and culverts.
Since its inception Red7Marine has expanded rapidly and successfully, and this continuous growth recently necessitated the need to increase capacity at the company's Ipswich based marine technical services department. Carried out in 2008, this development work saw the waterside fabrication facility and commercial slipway at Ipswich undergo a programme of upgrading. Additions included a new internal overhead workshop crane, improved slipway services and the installation of specialist workshop equipment to support the fabrication, hydraulic, mechanical and electrical services provided. With this in place the business now has the capacity to offer a true one-stop shop service to the entire marine construction industry.
As well as being able to provide a range of services spanning the broad spectrum of marine operations, Red7Marine also offers marine plant hire to its clients, and is recognised as the UK's leading combined provider of classed self-elevating platforms and coastal flat top barges fitted with spud legs or four point mooring systems. In addition, for fluvial, inland and inshore locations the business has established a comprehensive fleet of interconnecting road transportable pontoons and floats.
In this sector Red7Marine's reputation is revered, with leaders in the industry recognising it for its ability to work closely with clients to guarantee the success of the project by providing a suitable technical solution within the budget. The company is one of the founding members of the International Jackup Barge Owners Association, and as such is fully compliant with all of the relevant national and international statutory regulations.
There are few companies capable of offering the kind of complete marine construction service that Red7Marine provides its clients. Through completion of a number of projects in harsh conditions and challenging environments the business has achieved an enviable reputation in the industry. In the coming years the focus is firmly on growing the business, and with the experience and knowledge that Red7Marine has in abundance this should be an easily achievable goal.
Red7Marine
Services: Subsea engineering and marine construction