RedGuard Specialist Services
Blasting off to the future
Now in its second year of operations, RedGuard Specialist Services is a relatively new company, but one that was created out of a joint venture between two of the industry's leading names, RedGuard and Specialist Services. Based in Dubai, the newly formed business specialises in the design, engineering and manufacturing of blast-resistant and ballistic-resistant modular buildings.
Offering proven, highly certified and field tested blast-resistant buildings, American company RedGuard is the world's leading player in the field of blast buildings. Specialist Services, meanwhile, has over 35 years of experience and expertise in the upstream, mid-stream and downstream modular buildings market. Placed together, the joint venture company has the resources at its disposal to provide first class, safe, customisable and scalable products to customers in the Middle East, Europe, Asia Pacific and Africa, in addition to RedGuard's operations in North and South America. "From our 350,000 square feet of manufacturing space here in Dubai we have successfully brought together the specialist manufacturing capabilities of Specialist Services and the design qualities of RedGuard under one roof," explains RedGuard Specialist Services General Manager, John Kay.
In areas where there is a risk of accidental explosions, customers require modular buildingsof the highest quality to rely on for protectingtheir people, equipment and critical operations. RedGuard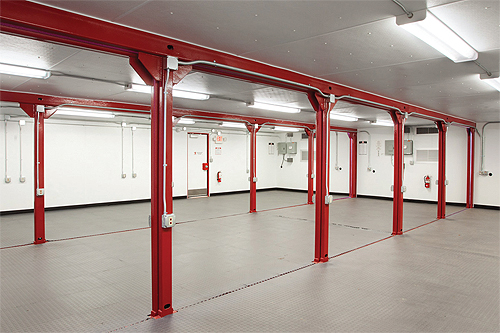 Specialist Services meets these needsthrough three different service offerings, as wellas dedicated aftersales staff, who form part of itsServiceTeam, and are based in facilities in Dubai,Jubail, Aberdeen and Singapore, in addition to RedGuard teams in Houston and Wichita. The company's LeaseFleet is made up of a rental fleet of blast-resistant modular buildings ready for immediate deployment, while its SafetySuite offers a premier line of customised buildings that are purpose built to meet all requirements, from control rooms to administration facilities. Thirdly, CoverSix Shelters are the ultimate solution in keeping personnel, equipment and electronics safe and secure, providing government, military and industrial security customers with a range of different security structures.
RedGuard Specialist Services' LeaseFleet standard range of blast-resistant modules available for sale and hire include modules of various sizes that serve numerous purposes, from refuge shelters and bunkers to engineering modules, laboratories, workshops and more.
In addition to its rental services, countless customers around the world have benefittedfrom the company's ability to build customisedblast-resistant modular buildings that can be purchased and used for the entire life of their desired use. Only RedGuard Specialist Servicesis able to combine all the engineering behind the industry's best blast-resistant modules with the virtually unlimited amenities of a traditionalbrick and mortar office building, such as offices, conference rooms, control rooms, kitchen and dining areas, locker rooms, utility rooms and restrooms. From flooring and wall coverings, to custom cabinetry and restrooms, the company puts the power in its customer's hands, with the only areas off limits being its unparalleled standards of strength and safety.
"All of the units and buildings we construct are certified to the highest of standards when it comes to blast-resistance," John enthuses. "Anybody can build a box or a unit and saythat it's going to deliver certain things, but whatwe have is an unrivalled depth of engineering capability to build structures that we knowmeet and exceed all of the industry's various standards. This provides our customers with an added layer of confidence and ensures that we can move quickly with new, approved projects."
RedGuard Specialist Services
Products: Blast-resistant and ballistic resistant modular buildings