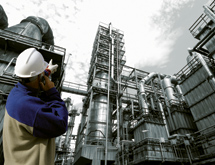 Anytime that you can capture nearly half a market is a good thing, and that is the case in North America for the pelletizing machine refractory maintenance market. Angelo Del Peschio, vice president of sales and marketing for Reftech International, says his company is the largest refractory contractor involved with the engineering, sales, precast shapes and construction installation of refractory materials within the industrial sector coast-to-coast across Canada.
Reftech is now branching out to the United States and Brazil through a division named "Reftech Americas" in an effort to capture and increase market share in the indurating machine market for iron ore mines.
Indurating machines treat concentrated iron ore that has been processed into a fragile ball (known as a greenball). The greenball travels through the induration machine and is subjected to several phases of heat transfer utilizing internal fuel (coke in the greenball) and direct firing of high intensity burners. Temperatures can reach above 2,300 degrees F for sustained periods.
The primary market for pellets is direct charge into a blast furnace. "What we do is we combine practical experience in the design process of pelletizing machine refractory maintenance systems," Del Peschio says. "Reftech International's employees develop a planned maintenance and repair strategy with its customers for their refractory maintenance programs with the goal of reducing costs while increasing expected refractory service life. Depending on different plant strategies, we will identify the different machine components that need to be repaired. Then we have a group of supervisors, bricklayers and skillsets that actually physically go into this equipment, remove what needs to be repaired and reinstall this high heat-resistant material."
Long-time Installations
Reftech International has the capability to install new refractory linings to pelletizing machines but seldom the opportunity. "There haven't been any new equipment startups over the past three to four decades in North America," Del Peschio maintains. "So typically, what we do is we go in and we repair the existing equipment. The scope of that equipment could encompass a complete machine, but that is more an exception to the rule."
Del Peschio estimates 26 machines are in North America, and Reftech systematically maintains approximately 11 of them. In the Quebec and Labrador region, Reftech has 100 percent of the refractory maintenance market.
"We are a group of professionals whose combined experience exceeds 150 years," Del Peschio asserts.
Reftech can respond quickly to sudden equipment outages. "We have emergency response which we can expedite to customer sites within 24 hours to get them back up and open to operation very quickly," Del Peschio says.
Reftech International emphasizes the important of safety in the workplace. "Our employees are by far our most important resource without which we would not exist," Del Peschio stresses. "Hence, their wellness is our fundamental business priority." In many cases, Reftech's safety and environmental standards on worksites exceed those of their customers.
On Aug. 4, 2013, Vesuvius Canada divested its refractory construction assets which were purchased by Reftech International, and is now an independent company that combines research, engineering and manufacturing of precast shapes, sales and construction capabilities under one roof.
Further Expansion
For the future, in addition to its geographic expansion initiatives, Del Peschio sees growth opportunities in innovative installation procedures, advanced occupational health and safety initiatives and accompanying equipment, with particular offerings in the aluminum, steel, agricultural and hydrocarbon process industries.
"Our standards on occupational health and safety, quality, cost, equipment reliability and meeting expected delivery dates during customer outages has allowed us to be successful in today's marketplace," Del Peschio says.
"While today's business challenges increase in complexity – particularly in the current economic environment of global competition, including clients' insistence on cost reductions – success will require even greater innovation at a time that change is constant."