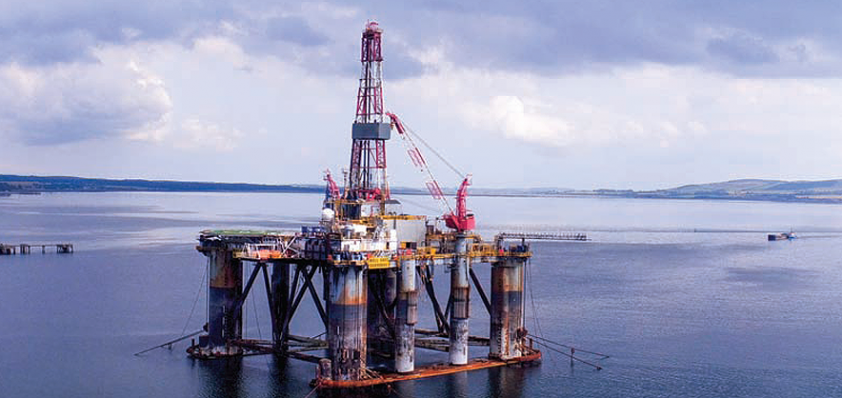 Well-Safe Solutions has awarded two multi-million-pound contracts to continue the transformation of the Well-Safe Guardian, the decommissioning company's first asset, into a bespoke plug and abandonment unit. Well-Safe is progressing in a timely manner with the refurbishment work on the asset which it acquired earlier this summer. As part of the upgrade, Well-Safe will be installing a dive system and the capability to deploy a SIL (subsea intervention lubricator).
Global Energy Group, which has been supporting Well-Safe with marine operations and quayside services since April 2019 has secured the contract to support the upgrades and life extension works at the Port of Nigg.
Global Energy Group will provide quayside services and the paintwork scope while Rigfit7seas will provide accommodation upgrade services.
Phil Milton, Chief Executive Officer of Well-Safe Solutions, said: "The award of these contracts, within the timeframes we committed to, will ensure that this bespoke plug and abandonment asset will be available to the industry in 2020."
Phil added: "We believe we are now a key part of helping the industry achieve its 35 per cent decommissioning cost reduction target. Joint well plug and abandonment campaigns, using our club approach will not only be more cost efficient, but also help build UK supply chain expertise in decommissioning."
Contract extension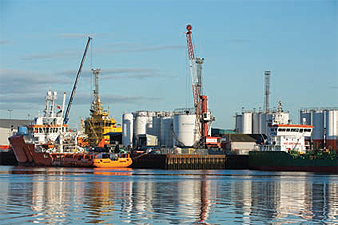 International energy logistics provider Peterson has been awarded a new contract with Chrysaor to grow its current integrated logistics services agreement.
Chris Coull, Regional Director at Peterson, noted how this contract extension demonstrates the strong relationship and trust it has built with Chrysaor over the past 18 months. "We are very excited to be able to continue to support this forward-thinking business," he said. "Our logistics team, armed with our unique technology suite, allow Peterson to constantly identify ways to drive efficiency and resource sharing in the energy supply chain and we are excited to enter the next chapter of working with Chrysaor to continue to deliver this."
The 18-month contract extension, with options for three further one-year extensions, will see Peterson support Chrysaor across all its North Sea assets and includes warehousing, transport and marine services, as well as the recently added provision of eight Offshore Materials Controllers (OMC) for the production platforms Armada, North Everest and Lomond.
To support this contract, Peterson has welcomed nine additional employees, in both onshore and offshore roles, reflecting the company's ongoing commitment to investing in its people.
All tied up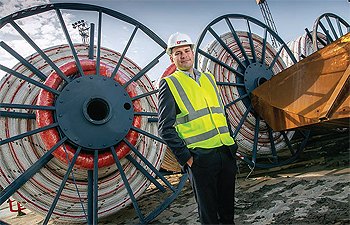 FMS has secured a three-year contract with BP for the provision of mooring equipment for its North Sea operations. Steven Brown, Managing Director for FMS said: "This award demonstrates our capability and capacity to support the mooring equipment requirements for one of the leading operators in the UKCS. This contract award validates our recent investment in terms of both capital equipment/infrastructure and is fundamental to our strategic growth plans. We very much look forward to delivering a first-class service."
Providing expertise in marine, technical, positioning and mooring equipment services, FMS' company-owned fleet of mooring equipment encompasses the latest design and technology available in the industry.
As part of its growth strategy, FMS continues to invest heavily in mooring equipment which will be available to the market for sale or rental
International alliance

COOEC Offshore has formed an alliance with Expro. COOEC Offshore, as a division of COOEC, is a large offshore engineering contractor servicing the full lifecycle of offshore from field development through field decommissioning. With over 22 specialised marine assets, subsea intervention equipment and in house engineering, the venture into deepwater Riserless Well Intervention (RWI) will further strengthen the depth of service offering to industry.
Expro, as a premier well flow management group, already maintains a leading position in subsea landing string and well intervention markets and has recently entered the riser-based intervention market with the Intervention Riser System (IRS). As part of this alliance, RWI system provides a field proven, established and reliable wire through-water integrated solution for carrying out cost effective intervention and/or abandonment operations on all types of subsea well.
Under the alliance, COOEC Offshore and Expro will deliver this new system to market in 2020, tested and ready for service. The system will be deployed off the new state-of-the-art HYSY287 DP3 construction vessel with a dedicated handling and deployment system to facilitate slick and efficient well construction, well intervention and well plug and abandonment (P&A) activities.
Firm foundations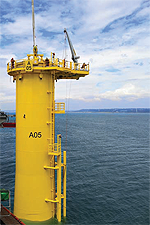 Jan De Nul Group has successfully completed installation of all 20 foundations on the 120MW Formosa 1 Phase 2 wind farm in Taiwan.
The foundations consist of a monopile and transition piece structure with a grouted connection. The monopiles range from 752 to 1230 tons with a maximum diameter of 8.4 metres and a length ranging from 60.1 to 79.5 metres. Each of the transition pieces weigh 465 tons and consists of five internal platforms, an external platform and boat landing.
As part of Jan De Nul Group's EPCI contract for building of the overall Balance of Plant, Jan De Nul Group mobilised the Seaway Yudin to install the 20 foundations.
Over a period of less than a year, Jan De Nul Group managed to complete the fabrication process, the sea transport, the load in and out at the marshalling harbour in the Port of Taichung, and finally the installation of all foundations offshore. With the parallel installation of scour protection, export and inter array cables being well underway, Jan De Nul Group is fast tracking the completion of the project.
In Brief
New deal in China
PetroChina Guangdong Petrochemical Company is to adopt advanced heavy oil processing technology from Honeywell UOP for its integrated petrochemical complex in China. The new facility will have an annual crude processing capacity of 20 million tons, helping to meet a national energy security strategy. Honeywell UOP will provide a range of technology licenses, engineering design, key equipment, and stateof- the-art catalysts and adsorbents, operator training, technical services for startup and continuing operation.
Three-year O&M contract
Orkney-based Green Marine has won a three-year contract to deliver operations and maintenance work for Equinor's Dudgeon offshore windfarm after a competitive tendering process. Green Marine will supply its Damenbuilt 2610 Twin Axe vessel, Green Storm, to assist in the operations and maintenance of the windfarm alongside support from the company's experienced onshore team. Green Storm is a dedicated vessel for the offshore wind industry, providing safe transportation of personnel and cargo to offshore installations.
Slick solution
The Satellite Applications Catapult, leading a consortium of innovative UK companies, has successfully created a system that can automatically detect oil slicks from space and forecast their movement. In what was a major success for the UK-built Earth And Sea Observation System (EASOS) it has already enabled Malaysian authorities to avert a potentially major environmental disaster. The Malaysian team, operating from the Borneo Centralised Monitoring Centre (BCMC), were able to pass information about an oil slick directly to the Johor Marine Department who deployed two vessels to search, locate, contain and disperse the slick before it was able to reach the Malaysian coastline.