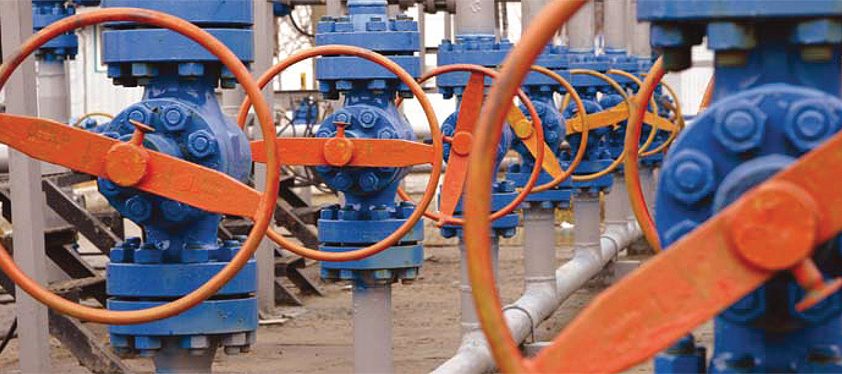 Realising potential
As an independent exploration and production company, Regal Petroleum has appraisal activities in Romania and Egypt, with its main producing assets being based in the Ukraine.
The company was created following reviews of a number of oil and gas projects in the Ukraine between 1996 and 1999. These led to the foundation of an exploration joint venture agreement in August 1999 under which Regal gained a 75 per cent interest in the Mekhediviska, Golotovschinska and Svyrdivske (MEX, GOL and SV) gas field areas in eastern Ukraine.
Following investment of over $8 million in identifying, assessing and developing the project, the joint venture reached initial production in 2002, at which time Regal raised £10 million through institutional placing and was admitted for trading on the Alternative Investment Market (AIM) on the London Stock Exchange. In 2004, the business was awarded the 100 per cent interest production licences for the two MEX-GOL and SV gas and condensate fields, each for a period of 20 years.
In addition to these two major assets, Regal has a 100 per cent interest in the Barlad licence in north-east Romania, a 50 per cent interest in the Suceava licence in north-east Romania, a joint venture with Aurelian Oil and Gas and a 25 per cent interest in the East Ras Budran licence in the Gulf of Suez, Egypt, following a joint venture with Apache Khalda Corporation LDC. The company is open to new exploration and production opportunities, as well as potential joint ventures with compatible interests.
The organisation is founded on an independent basis, headed up since early 2008 by an extremely knowledgeable and experienced board of directors consisting of a chairman, three executive directors and four non-executive directors to ensure no one individual or group dominates the decision making process. The most important component of the business structure is the shareholders, to which the board recognises it is accountable and holds open communication with to constantly inform of the company's performance and current activities.
All of Regal's operations are tailored around the company's overall vision to become the most highly valued and respected mid-tier oil and gas exploration and production company in the London market. To this end, the company has recently completed an impressive turnaround plan that has led to improved governance, top tier advisers, an injection of $310 million of fresh financing, the application of new technology and last, but not least, it has finally concluded the long running FSA/AIM enquiry into the business historical activities in Greece, thereby bringing an end to this Greek tragedy.
As one of its more recent investments, Regal is cautiously optimistic of the potential in its Romanian interests. The Suceava and Barlad blocks are located to the east of the producing oil and gas fields and infrastructure in the Carpathian Mountains on the Moldavian platform. These blocks cover over 4103 square kilometres and 6285 square kilometres respectively, though they require significantly lower drilling costs to the Ukrainian fields as objectives are relatively shallow, ranging between 500 and 1500 metres.
On the Barlad licence three exploration wells have been drilled, one of which discovered gas that was tested at a maximum rate of 105,900 cubic metres per day, while the other two were unsuccessful and have been abandoned. On the Suceava licence the Dornesti well, which was drilled by Aurelian as part of the joint venture, discovered gas and was tested at an average of 24,840 cubic metres a day. It is hoped that as a result of these discoveries there will be a possibility of early production from these assets.
The company is targeting increased production in the Ukraine through its comprehensive and strategic field development plans, which include drilling to deeper targets with the hope of quantifying and unlocking potential reserves. Following the resolution of legal issues in December 2006, in relation to its former partner, and the transformation of the management team, Regal is looking to develop its Ukrainian gas and condensate interests following equity fundraising of over $310 million in 2008 and 2009. This fresh financing has been used to acquire two brand new top-drive Lewco 2000 high performance rigs, contracted from Saipem S.p.A. that are able to reach depths in excess of 6000 metres and both rigs are currently actively involved in the company's development drilling programme.
Currently these rigs are employed in drilling a series of 'new generation' wells that are intended to establish enhanced production from the proven Visean aged reservoirs and to review and develop the deeper Tournaisian and Devonian aged reservoirs. The first of these new generation wells is producing at a steady rate of 75,000 cubic metres of gas per day and 12 cubic metres of condensate per day from the upper sands only, while the second has been completed to a depth of 6309 metres, perforated and flared at surface and is currently undergoing production testing. The third new generation well has reached a depth of 5150 metres, while the fourth is at a depth of 2600m; Regal strives for constant development and progress and the continuous improvement in drilling times is impressive.
Indeed, evidence of such impressive investment and advancement is difficult to find in an industry that has been hit hard by the global economic recession. However, 2009 has been all but plain sailing for Regal with there being real uncertainty in the company's long-term plans for the gas and condensate fields in Ukraine at the start of the year. A lack of reasonably priced debt capital or positive partnership proposals posed a real threat and frustration to the business, which resulted in the decline of share prices. In order to come out of the recession positively, the organisation focused firstly, on safeguarding the continuation of drilling new generation wells and secondly, on the implementation of measures to cut costs and defer essential expenditure.
These moves have been fundamental in maintaining continued growth and the overall outlook for the end of 2009 is highly encouraging, with improved earnings predicted for 2010. Even throughout tumultuous times, Regal has worked assiduously throughout 2008 and 2009 to ensure it delivers on its promises and set a goal of increasing production from an average 1170 boepd (barrels of oil equivalent per day) to over 2500 boepd by the end of 2009. With its additional drilling activities producing positive results, the future for Regal Petroleum is looking increasingly promising.
Regal Petroleum
Services: Drilling and production