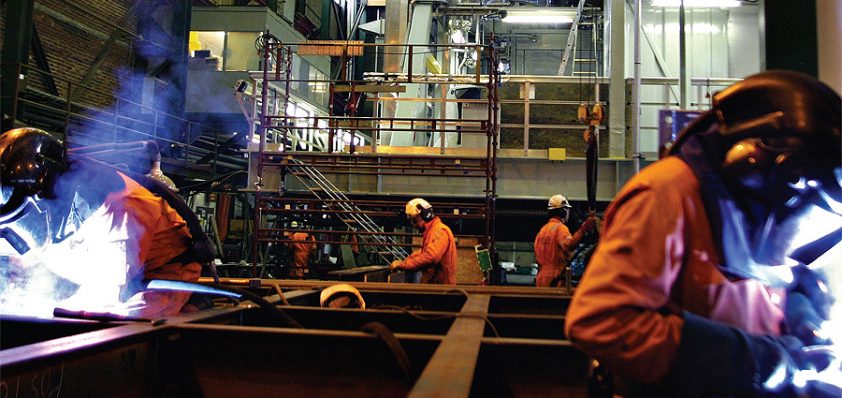 Norwegian vision
Reinertsen AS is experienced in providing engineering solutions for the oil and gas industries.
Formed in 1946, the company primarily focused upon completing civil design and engineering contracts, before becoming involved in both offshore and onshore energy industry constructions in 1980. Today, Reinertsen employs over 1500 people, and its divisions contributed to a turnover of 2.1 billion NOK in 2006. With its main offices in Trondheim, the company also has sites in Orkanger, Oslo, Bergen, Bodo, Gothenburg, Stockholm and Stenungsund, as well as recently opening a new office and site in Murmansk, Russia. Reinertsen promotes the image of itself as an engineering, procurement, construction and installation (EPCI) contractor, offering complete design and fabrication services and solutions to its customers.
Business development director Geir Tore Suul elaborates on the progress the company has made: "In 1996, the organisation focused purely on engineering, employing around 200 people. Since
then, Reinertsen has developed into a full EPCI contractor, with a team of 1500 – quite an impressive development in such a small time." Indeed, the demands of modern engineering have encouraged the business to invest in IT and material management operations.
Alongside Reinertsen's expanding oil and gas operations exists its large base of civil contracts and services, itself contributing an annual turnover of 1 billion NOK and employing 650 people. This division is one of the largest civil contractor in Norway, completing work on buildings, water supplies and sewerage, industry, and transportation infrastructure.
Geir explains the development of the company's focus: "Within oil and gas projects, Reinertsen operates in three market areas: subsea pipelines and systems; process systems; and maintenance and modifications operations (MMO). The last two markets focus upon onshore and offshore facilities. Reinertsen has been involved with subsea pipeline systems since the early 1980s, and one notable project includes Ormen Lange, where the company was responsible for the 'subsea to beach' pipeline design. Reinertsen has worked on the Orman Lange project for Norsk Hydro since 1998, and it also completed the Snøhvit project for Statoil. The publicity from these projects brought about contracts with Petrobras, Brazil and Woodside, Australia."
Geir expands upon his company's projects: "Reinertsen's largest clients are Statoil and Hydro, and it also works for Shell, BP and Conoco Phillips. A major contract currently underway for Statoil is the topside modification on the Kristin platform to accommodate the subsea tie- back of the Tyrihans field. This involves a 300 tonnes manifold module. It is an interesting and challenging project, involving direct electric heating on the pipeline system, and subsea pumps for seawater injection. Another major project is for Norsk Hydro, for whom Reinertsen is building a new power generator on the Heimdal platform. The power generator module will weigh at least 350 tonnes, and will require an estimated 200,000 man hours to complete."
The company is keen to highlight its HSE programme alongside the efficiency of its completed and concurrent contracts. Reinertsen is committed to ensuring zero accidents on all its projects, alongside being the best contractor available, with the emphasis on continuous improvements. This is mirrored in the company slogan 'safe to build – safe to use'.
Receiving contracts from international companies has expanded Reinertsen's potential for growth, and encouraged the company to open up a fabrication facility in northwest Russia. Geir elaborates: "The company has great expectations for its development in Murmansk. Reinertsen prefers to maintain control over its contract and subcontract work, and has created its own facility in Russia so that projects taking place there are supervised by the company. The benefit of this expansion is that the business now has a good location in regards to the emerging Russian market.
"At the moment, the Murmansk site employs around 100 people," Geir continues. "In a year, the size of the site and the amount of people employed will have doubled. Now, this facility can develop steadily, and its Norwegian roots make it not totally reliant upon the local Russian market. The Russian regional Governor and the Norwegian Prime Minister opened the facility, which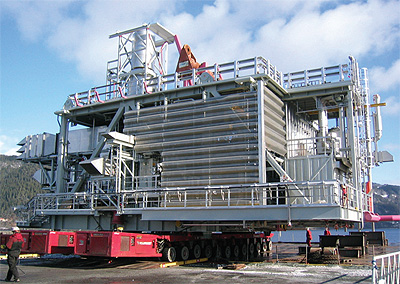 demonstrates the government's focus upon the expansion of northern Norway. Reinertsen is a perfect example of Norwegian business development, explaining the appearance by the Prime Minister."
This recognition of the company's status has been building steadily over time. Geir highlights some major factors in this growth: "First of all, Reinertsen is privately and family owned, which makes it different from a distant, internationallyowned company. Equally, the owners are very operative and involved in the day-to-day running of the business. The strategic thinking of the management is always focused on long-term goals, and the involvement of the owners makes it a lot easier to make snap decisions. Reinertsen also has a very large engineering department, and therefore our strength lays in our engineering abilities."
In terms of what the future holds for the company, as well as the EPCI oil and gas industry, Geir responds candidly: "I feel there are lots of opportunities for Reinertsen in the future, yet there are also concerns. The market is very heated at the moment. There are lots of modification contracts being awarded to Norwegian companies, yet there are no major oil discoveries being made."
Yet the future looks promising, as Geir is keen to state: "I would like to see the company maintain its strong position within the subsea pipeline and process facilities markets in Norway. I also see heavy involvement in developments in both the Norwegian and Russian sides of the Barents Sea. In addition to this, the company will continue to focus on pipeline design projects in Brazil and Australia." Reinertsen's careful and measured expansion over the past decades has ensured the company's status as one of Norway's largest ECPI contractors, and the development of the Murmansk site ensures future success."
Reinertsen AS
Industry: EPCI contractor for civil and oil and gas industries