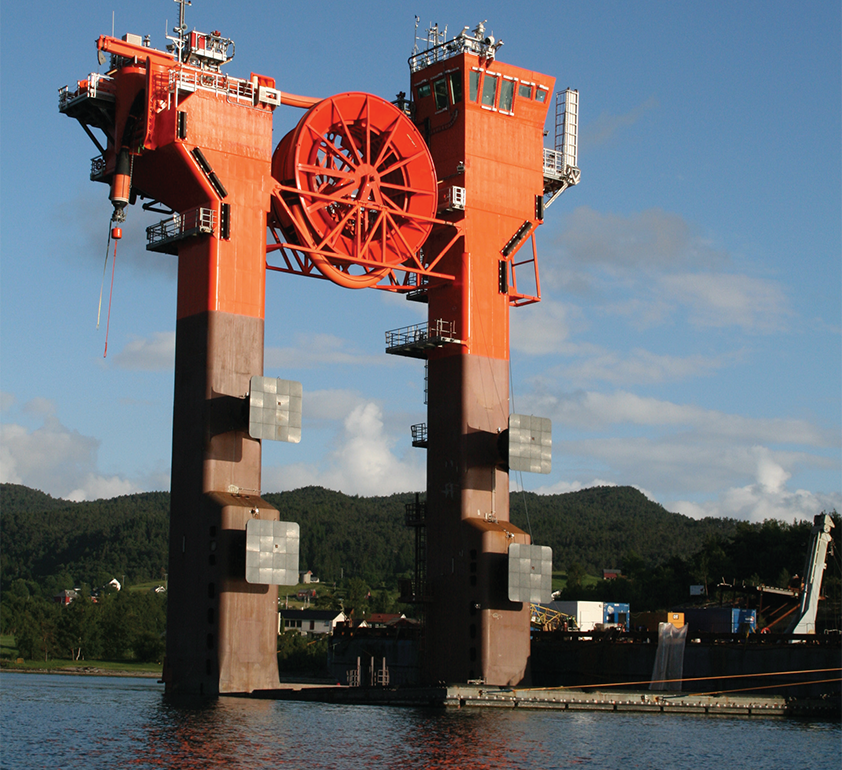 New kid on the block
Growing in recognition as an innovation leader in the oil service arena, Remora looks to provide the international market with offshore oil loading technologies from its headquarters in Stavanger and a branch office in Houston.
Founded in 2002, the company's business model is based on the same principles as a ship-owner focusing on building, owning, leasing and operating its core technologies. Highly knowledgeable staff ensure the competence of the company's three main product solutions that are based around the HiLoad concept, which utilises the basic laws of nature for the offshore loading of oil products. Developed over a period of ten years, initially within the Hitec Marine organisation from which Remora is derived, this revolutionary solution has some key industrial owners like; Hitec Industries, Stena, Skeie, Kongsberg Group and DSD Shipping.
From the offshore loading of crude oil, turret mooring of FSOs and FPSOs to mobile propulsion or dynamic positioning (DP) systems for seagoing vessels such as barges and floating rigs, HiLoad is able to cater for a broad range of demands. Spanning the four main solutions of HiLoad DP, HiLoad MV, HiLoad MVD and HiLoad APU, the core HiLoad technology is built on Remora's patented HiLoad Attachment System, which is based around a suction cup principle, which that attaches the HiLoad and the connected object. The natural forces of hydrostatic
pressure and friction combine with the common flat bottom and straight side design features of all tanker vessels to enable HiLoad to dock onto and provide station-keeping to any non-dedicated tanker or barge without any need for modifications to the hull structure.
Peder Farmen, chief executive officer of Remora, explains the key elements of HiLoad: "Essentially, this system is an L-shaped floating docking unit, or like a floating fork lift in shape, that connects to the relevant. The attachment area utilises suction attachment fenders to connect with the vessel's bottom and become part of its very structure without adding any extra pressure, while three 40 tonnes azimuth thrusters add to its strength. The vessel requires no modification and the HiLoad can accommodate any size of tanker. While this is a modern technology its design is inspired by one of the world's oldest creatures, the Remora fish that employs suction to attach itself to larger predator such as sharks."
Differentiated from any other available solution by the fact that vessels need no outfitting to accommodate it and no extra pressure is forced onto the hull, HiLoad also has the potential to reduce the number of tugs and equipment needed to load or offload regular vessels. The HiLoad DP is an offshore loading system specifically designed with dynamic positioning (DP) capabilities for tankers, while the HiLoad MV is a moored version (MV) offering flexible turret mooring systems for FSOs and FPSOs. The third solution is the HiLoad APU (Attachable Propulsion Unit), a 'mini-version' of the HiLoad that makes it possible to quickly add propulsion to any type of floating unit.
All of these solutions have been designed to meet the needs of various oil and gas operators. In November 2010 Remora will be showcasing its capabilities at a sea trial in Norway which include, connection, disconnection, station keeping, manoeuvring and other tests developed together with several of the oil companies participating. The event will be a key milestone for the organisation with over 18 leading oil and gas companies confirmed their attendance. The company is keen to show that the HiLoad can be put into operation in any field, has no depth limitations and can among others replace costly deepwater CALM buoys.
One other important Remora technology that is developed is the HiLoad MVD. The project has included close collaboration with Stena Drilling over a three-phase engineering, procurement and construction (EPC) contract for an innovative disconnectable turret mooring system that will be used on the world's most advanced drill ship, the Stena Drillmax Ice. This project is a vital example of the unique and varied possibilities for the generic HiLoad concept. The second phase of the project was completed in September 2010, and it included a complete basic design package covering DNV approved drawings, diagrams and analysis. As with all of Remora's contracts, this project is groundbreaking for the industry and as works move into phase three, the company looks forward to rising recognition in line with its constant focus on innovation.
As it awaits final commissioning for its latest HiLoad DP vessel and certification to operate worldwide, Peder highlights the vision for Remora's future: "The interest in our solutions is increasing by the day and we foresee a great deal of market potential including hiring our patented HiLoad solutions out on charter. As a brand new entity in the industry we are highly ambitious about our technology and are looking forward to final testing and certification, before entering into customer sea trials with 18 oil companies present. As we are targeting industry leaders for business, it is important that they witness our solution in action and we look forward to further penetrating the oil and gas industry and expanding our assets."
Remora ASA
Products Innovative offloading technology