The actuator specialist
Remote Control Sweden designs, manufactures and markets high-quality actuators for standard and special valves.
The company has more than 45 years of experience in the development of pneumatic, hydraulic and electric actuators. Furthermore, the organisation's products are suitable for a number of applications where the demands are high when it comes to safe operations and reliability. Naturally, this places high demands on flexible design andchoice of material. As a result, Remote Control
continuously works on developing its actuators in order to meet its customers' high expectations.
With headquarters in Sweden, the business has offices in the UK, Germany, Singapore and the US. Lars Ersson, sales manager for the organisation comments: "Remote Control Sweden undertakes all the design, development,manufacturing and marketing of our products and the offices around the world carry out the sales activities. These sales offices also have the skills and their own workshops, which allows them to modify actuators to customers' exact requirements, therefore reducing delivery times for our clients."
The high technical performance of Remote Control's products is one of thecompany's main strengths. However, it is just as important for the organisation to assist its clients with outstanding customer service. This also includes adapting solutions to meet specific requirements. Furthermore, Remote Control boosts many other strengths including building excellent relationships with its customers, providing quick and reliable delivery times and developing competitively priced high quality products.
All of these strengths are greatly appreciated by the company's customers, as Lars explains: "A few years ago we carried out a survey, which asked our Scandinavian clients, what they thought about Remote Control. As a result of this, we received great feedback. The main factor, which arose, was how pleased they were with the high quality of our products and our competent sales force. Furthermore, they also appreciated our ability to develop customised solutions, provide quick delivery times, and build close relationships with clients."
In addition to the strengths the company's customers identified, Remote Controlcontributes greatly to sustainable development by rationalising its use of resources and reducing negative effects on the environment, whilst constantly working to reduce environmental impacts. The business takes into account current legislations and customer demands when developing Remote Control products, therefore providing solutions, which can handle many different challenging environments.
As evidence of this, Remote Control's pneumatic quarter-turn actuators are ideal for use in corrosive environments, especially within the oil and gas sector. A common problem with applications in some environments is that the actuators often break down due to corrosion. This means that unplanned and costly shutdowns of production are regularly experienced.
Remote Control's pneumatic quarter-turn RCT series have a special coating for maximum corrosion protection. Amongst the advantages of an RCT actuator is that it has the same low weight as a standard aluminium actuator and is offered at a price well below the cost of a product made from steel or stainless steel.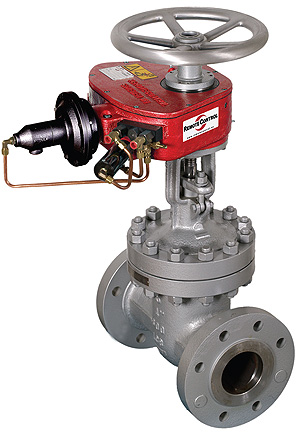 Since 1993, RCT actuators have been used on the Troll oil field in Norway. Approximately 96 units of RCT240 to RCT280, both double-action and single-action, are mounted on ball valves for water treatment in this area. An inspection on the oil platform in 2003 showed that the actuators were free from corrosion. Furthermore, all RCT products in this field are still in operation today.
Another important product within the company's range is the Remote Control Twin Power (RCTP) actuator, which is a reliable and proven product with a recognised reputation in the oil and gas industry. The RCTP actuators are often supplied to offshore, refineries,petrochemical and process industries. These environments can be contaminated, explosive or have extreme temperatures. The actuators can be supplied in several different designs depending on customer requirements.
RCTP's compactness is often a significant benefit as space for actuators is very limited on platforms and in process plants. The products' modular design makes it very flexible and adaptable to the most varying demands. For choke valves the RCTP is equipped with stepping functions with an accuracy of 27 steps per turn. For instance, a valve with 18 turns, from closed to open position, can have a resolution of 486 steps for the full operation.
Remote Control places great emphasis on the role its employees play in the continual development of its products. All workers within the organisation share the business' responsibility for the quality of its products and services, and for its impact on the environment. The company is dependent on each individual actively contributing to their professional skills and working as a team to help achieve Remote Control's long-term objectives. As a tool for attaining this, the business has developed a functional management system, which maintains high quality and environmental sustainability. Consequently, Remote Control's employees are consistently aware of the company's operational policy and the objectives of the management system.
Since the organisation was established in 1961, the business has grown rapidly and today Remote Control products meet the high demands of its customers, with regards to operational safety, functionality and service life. Lars comments: "In our first year of production we manufactured approximately 500 actuators. Today we manufacture around 35,000 annually. Although we have experienced great growth rates over the last few years, we are still a relatively small player in the actuator market. Our main vision for the future is to continue to grow and increase our market share, and build on our main strength – to deliver high quality solutions, which are developed according to our customers' requirements."
He concludes: "The profits we have made from our growth has enabled us to invest in our activities and at the moment we are investing in our production facilities. For example, we have acquired a new robot line, which will be delivered in spring 2008. At the moment we are operating to full capacity. With the introduction of this new equipment we have secured our present production and also provided ourselves with better capacity for future expansion."
Remote Control Sweden AB
Products and Service Actuators