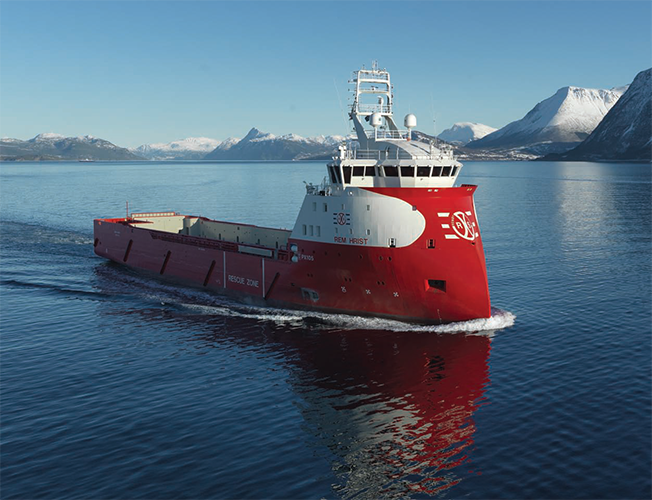 Reaching out
Remøy Shipping AS has a long history dating back to the early 1900s, when the company was closely involved with Norway's busy fishing industry.
The Remøy Shipping brand was established during December 1975 and today it is active within the offshore, seismic, coastguard and chartering markets with strong ties to the oil and gas industry. The company is based in Fosnavåg, Norway and currently operates nine vessels including platform supply vessels (PSVs), seismic and seismic support vessels and a coastguard ship. Remøy operates in accordance with national and international laws and regulations, paying particular respect to health and safety, environmental and quality assurance (HSEQ) practices. It is ISM compliant and holds ISO 9001-2008 (quality management) and ISO 14001-2004 (environmental management) certification in accordance with the Norwegian classification society Det Norske Veritas (DNV).
The majority of Remøy Shipping's operated fleet is PSVs, all of which are currently servicing operators on a number of contracts. The company's Rem Stadt, Rem Hrist and Rem Mist are all on multi-year charters with Statoil. A final PSV, Rem Eir, is currently under construction with Kleven Maritime, valued at 70 million USD and is expected to be delivered in Q3/2014. This large PSV has been designed for operation on the Norwegian continental shelf and will be LNG powered with environmental friendly operation in mind. The vessel will undertake a three-year charter with Statoil upon completion. Commenting on this new vessel and the company's relationship with Statoil, Remøy CEO Karsten Saevik says: "The new vessel will be operating on the Norwegian continental shelf as our client requires. Statoil has an aggressive goal to reduce its carbon dioxide emissions. One such step towards doing that is to charter more vessels, driven by environmentally friendly LNG energy instead of ordinary fuel."
In addition to PSVs, Remøy Shipping also owns and operates two seismic vessels, the Ocean Odyssey, a seismic source vessel and a seismic support vessel, Geco Scorpio, which both are on long-term charters to WesternGeco.
Remøy Shipping is also the manager of three third party owned vessels, the latest one being the Blue Guardian, which is currently also chartered to Statoil. Prior to this the vessel had been signed to service the jack-up rig Maersk Giant during the drilling of two wells for Ross Offshore on behalf of Det Norske Oljeselskap and Repsol. The vessel is an Ulstein PX121 and has been modified slightly for operation on the Norwegian continental shelf with an extra bow thruster, exhaust gas cleaning, as well as other minor additions The two other third party owned vessels, Blue Fighter and Blue Prosper, are PSVs chartered to Apache and operating on UK continental shelf.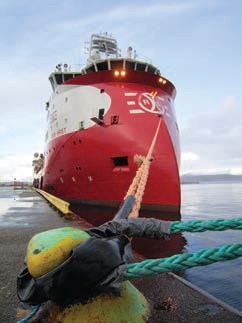 The world's increasing need for energy solutions has meant that exploration and extraction drilling operations have become increasingly important in recent years, creating a buoyant market for offshore oil and gas. While energy operators work to bring more products to the surface, the support services provided by Remøy and its PSV fleet remain in constant demand. However, like all markets the sector can be volatile and subject to fluctuation, which is a challenge that Remøy is able to negotiate in the face of ongoing global economic uncertainty, as Karsten elaborates: "With our vessels on long-term charter contracts, changes in the market do not have as much influence on our operations. If we had more vessels in the spot market we would be more sensitive to fluctuations in the overall market, but we have quite a steady and firm cash flow with our long-term contracts. The one vessel we have in the spot market is, of course dependent on market conditions and while that has been slightly improving this year, we hope this will remain the same for next year."
Having moved into the offshore sector to coincide with the global demand for energy and the increase of activity on the Norwegian shelf, with the delivery of its first PSV the Rem Stadt during 1996, Remøy has adopted the standards of the oil and gas industry and works to ensure first-rate operating standards. To ensure that the company is able to meet the expectations of the oil and gas sector, Remøy Shipping maintains high levels of training and works to retain experience within its business as Karsten explains: "We started in the offshore sector during the mid 1990s and we were one of the first companies in our region to qualify for the ISO and ISM certifications. By 1997 we were fully able to reach the new safety standards and received the ISM certification, it was a change because there was quite a different approach to HSE in this sector in comparison to how this was for instance within the fisheries where the company originated from.
"We are pleased to say that have very good personnel on board our ships; they are very well trained and have been involved in many different types of operation. A lot of our crewmembers have experience from working with the fisheries and working in harsh environments in the Antarctic. The company operated amongst others a shrimp trawler before entering the offshore market, in challenging areas such as Greenland and Svalbard so through this it has gained a lot of competency in these environments. Competency is and will be a major issue for us to focus on," Karsten continues. "People train and stay with us a long time on long-term contracts, working with Statoil and Apache for example, which gives the company a lot of experience. Statoil and Apache are demanding customers and their efforts in being best in class also increase our competency by expecting high levels of service."
To help develop the skills that are necessary to drive a successful business supporting the offshore oil and gas industry, Remøy Shipping works in collaboration with other companies operating within Norway to develop training facilities that will help current personnel remain up-to-date with current practices and teach the next generation of offshore workers. "We are part of a small community working with other ship owners to establish an offshore simulator to train our crew members in all facets of shipping and offshore operations," Karsten explains. "It will be a new simulator that five shipping companies have joined forces as part of a collaboration to invest in. We all have the same needs in this area so it is something we can co-operate over instead of compete. This should be complete next year and will be located in close proximity to a new hotel currently under construction in Fosnavåg, at the mid West-coast of Norway. It has been a joint effort to support the local community and to ensure that we have access to this accommodation and training facility."
Remøy Shipping has a proven track record in operating in harsh environments in a number of different industry sectors. Its current focus within the offshore oil and gas industry has proven to be a challenging market, but one that the company has been able to expertly adapt to. With its newly expanded fleet, well trained and experienced staff and its collaborative work to improve the region's skill set, Remøy Shipping can expect an exciting and buoyant marketplace over the coming years. "I started last year in the company so I am quite new as managing director," says Karsten. "Since that time I have focused on trying to work out a strategy plan and have been in discussions with the owners of the company where we focus on where we are going and at what speed. There has been a lot of activity recently, so it has been a very interesting time for me to join the business."
Remøy Shipping AS
Services: Offshore supply