Clariant, a world leader in specialty chemicals, has signed a joint research agreement with ExxonMobil and Renewable Energy Group (REG) to evaluate the potential use of cellulosic sugars from sources such as agricultural waste and residues to produce biofuel, which has the potential to play a role in reducing greenhouse gas emissions.
The new agreement with Clariant allows ExxonMobil and REG to further optimise REG's bioconversion process using previously tested and benchmarked cellulosic sugars created through Clariant's sunliquid process. The companies' ultimate objective is to combine Clariant's and REG's processes into a seamless cellulosic biomass-to-biodiesel technology.
"Over the past three years, our work with REG has led to important advances in genetically improving REG's proprietary microbes for a beneficial use in facilitating the conversion of cellulosic sugars into biodiesel," said Vijay Swarup, vice president of research and development at ExxonMobil Research and Engineering Company. "Applying Clariant's expertise and knowledge will help us better understand and advance a key stage in the overall cellulosic conversion process, and hopefully lead to the development of scalable biodiesel technology."
"We are committed to innovation and R&D, together with a focus on sustainability, as main pillars of Clariant's strategy. Our sunliquid technology platform is a key outcome of this commitment. We are proud that two strong allies in the biofuels industry have selected Clariant as their partner and are excited to work with them on further leveraging this unique technology for converting cellulosic biomass to fuels and chemicals, including biodiesel," said Christian Kohlpaintner, member of Clariant's executive committee.
Subsea success
In a contract award from TOTAL, Airborne Oil & Gas B.V. is to supply a TCP (Thermoplastic Composite Pipe) Jumper for a deepwater project in West Africa. "This contract award demonstrates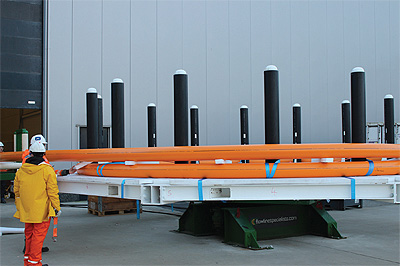 our success in the subsea market with our TCP technology on the basis of a compelling business case, field proven and robust materials, and a thorough qualification programme," said Paul McCafferty, Vice President Europe & Africa at Airborne Oil & Gas.
Under this contract, Airborne Oil & Gas will provide TOTAL with a 5.2" ID, 370 bar design pressure TCP Jumper for water injection. The TCP Jumper is intended to be terminated in country and installed using a subsea pallet, deployed from a small vessel. The TCP Jumper is non-corrosive, lightweight, flexible, spoolable with a small minimum bend radius and can be terminated at any location along the pipe. This provides the end user with project value in lower total installed cost through cost effective transportation, and removing the need for metrology, while de-risking the project schedule. The TCP Jumper can be manufactured and shipped in long continuous lengths, stored onsite and when required for the project, cut to length and terminated within hours, ready to be deployed.
Digital fuel sales platform
OnlineFuels, a leading B2B online fuel sales platform in the UK, and Shell Deutschland Oil GmbH have entered into a joint venture in Germany, creating OLF Deutschland GmbH, launching a fuel sales platform for the German commercial B2B market. OnlineFuels Deutschland intends to co-operate with other oil and energy companies in the country.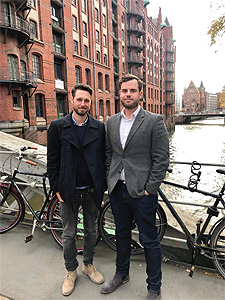 The go-live is planned for the first half of 2019, and the company's headquarters will be in Hamburg.
Commenting on the deal, Jörg Debus, Shell Commercial Fuels Manager Europa/Africa, said: "With an online platform we want to give our B2B customers the opportunity to order products around the clock to mitigate potential exposures. In addition, the platform aims to make the oil purchasing process as simple and efficient as possible for our clients."
James Stairmand, founder and CEO of OnlineFuels, added: "Germany is the largest fuel market in Europe – an ideal place for us to expand our online offerings."
US solar market presence
Cubico Sustainable Investments (Cubico) has agreed to acquire five solar projects totalling 580MW from Cypress Creek Renewables (CCR), located in South Carolina, North Carolina and Texas. Ricardo Diaz, Head of Americas at Cubico said: "We are very proud of having reached this ground-breaking milestone to enter the US market that further consolidates Cubico in the Americas, after having created one of the leading renewable energy platforms in Latin America. We now plan to continue consolidating our presence in the market supporting developers to achieve their clean energy ambitions in the country."
The first project in the portfolio to start construction is Palmetto, located near Orangeburg, South Carolina, which reached financial close at the end of December 2018. U.S. Bank provided the tax equity and HSBC & National Australia Bank provided the construction financing and back leverage.
The remaining four projects will all reach financial close throughout the first half of 2019 immediately prior to the start of construction. In addition to the tax equity and debt, Cubico will invest up to $165 million of equity to construct all the projects in the portfolio with them all becoming operational by Q4 2020.
Oliver Alexander, Head of USA at Cubico, added: "We are delighted to have closed this large-scale portfolio acquisition with a leading developer like CCR, it gives Cubico a diversified US solar market presence across multiple states and a range of offtake structures."
Middle East expansion
Manufacturing and service provider Cokebusters has expanded its business into the Middle East for the first time, after securing a 7.5-millionpound contract in the region as part of the company's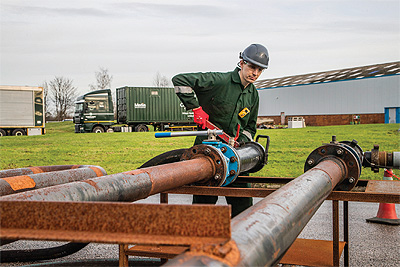 strategy to grow its global presence through exports. The company, a world leader in decoking and inspection operations, currently exports to over 20 countries including the USA, UAE, Saudi Arabia, Chile, Greece, Kuwait, Italy and Spain, with its skilled engineers travelling to oil refineries across the world.
This new five-year contract in Abu Dhabi with Abu Dhabi National OilCompany (ADNOC) will provide pigging and de-scaling services for steam generators and boilers in the Middle East worth in excess of £7.5 million.
Commercial Manager at Cokebusters, Duncan Cully, said: "We're very proud to sign a major contract in the Middle East. You can only grow so much in a limited market which is why we have focused our growth overseas. We're looking forward to expanding our business into even more territories as we continue to develop our machinery.
"Cokebusters continues to grow and is always looking to penetrate new markets abroad. As a world leader at inspection technology, we are also planning to update our software in the near future, which will provide us with more opportunities to expand our export services even further."
Wind portfolio acquisition
Foresight Group has completed the acquisition of the 45 MW Krackow and 5 MW Seubersdorf windfarms, respectively located in Mecklenburg – Western Pomerania (north-east Germany) and in Bavaria in southern Germany. Foresight has made this acquisition in partnership with Korea Investment & Securities (KIS).
The two windfarms have been acquired from a subsidiary of wpd AG (wpd), one of Europe's leading wind energy developers and operators, who managed the original development, financing and construction of the sites. Both projects benefit from ongoing operational management services provided by wpd windmanager, a wholly-owned subsidiary of wpd, and receive 20-year, fixed revenues under the German Renewable Energy Act (EEG).
Energy support for Lithuania
The European Commission has approved a measure to support the production of electricity from renewables and electricity-heavy industrial consumers in Lithuania, a move that positions the largest of the three Baltic States as the region's leader in meeting the European Union's 2020 and 2030 energy directives.
The EC's support package to Lithuania worth €1.24 billion came into effect on 1st January 2019, and will run until 2029. The Commission says that it will financially support producers of renewable-sourced electricity across Lithuania through a levy paid by the final user. As part of the package, the Lithuanian government also announced that it would give energy-heavy industries a reduced electricity levy of up to 85% they paid on the previous year if they are able to show an electro-intensity rate of 20% or more.
The EC's decision to issue this support package is the latest in a series of renewable energy-related moves in relation to Lithuania ahead of 2020.