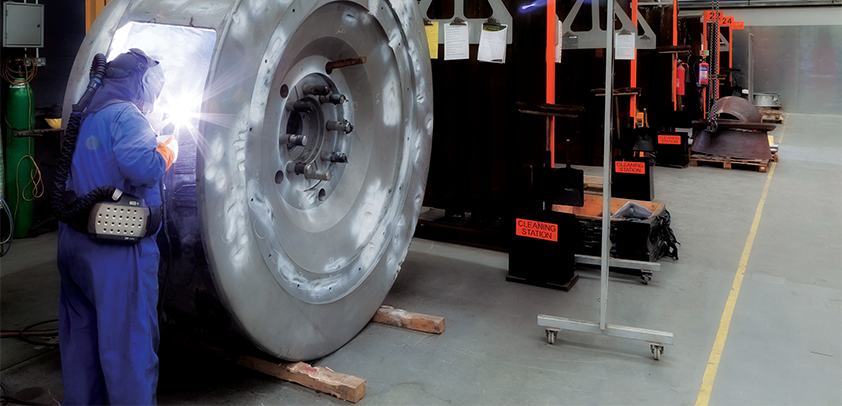 Responsive Engineering Group
Ready to respond
When it comes to approaches to business, Responsive Engineering Group considers its model to be one rarely replicated elsewhere.
From one point, customers can access the latest generation of CNC machining, specialist welding and fabrication, pressing, assembly and hydraulic and pressure testing. The company also boasts modern water jet and laser cutting equipment for profiling.
The Group was founded in 2000 as the result of a merger of three separate companies with complimentary services. This brought together a number of different skills – a move that has seen it experience significant growth in recent years. In its present trading year it is projected to achieve £18 million in turnover. Responsive Engineering is dedicated to providing the latest technology for contract and sub-contract manufacturing on behalf of original equipment manufacturers (OEMs) across the energy sector. This includes oil and gas service companies and power generation, as well as for clients the specialist engineering sector.
Specifically, the types of equipment where Responsive Engineering plays a role in the oil and gas supply chain includes ROVs, stab plates, artificial lift equipment, intervention equipment, managed pressure drilling systems, and numerous other applications where quality is critical to the long-term performance of subsea systems.
Each set of processes from machining to pressing is embedded within its four divisions – Precision Machining, Specialist Welding and Fabrication, Cutting and Profiling, Pressing Assembly and Testing. Clients can interact with a single division, or all four, depending upon the needs and complexity of their project. The divisions benefit from a common culture and comprehensive control systems, and are closely located across three sites within the Team Valley Trading Estate, Gateshead, Tyne & Wear, UK.
Taking each division in turn, the machining division has extensive facilities with the latest equipment for high precision CNC milling, turning, and EDM. This has been bolstered by a recent £2.5 million investment programme, which includes machinery like a 5 axis Mazak Integrex e420 with three-metre bed, two Mazak Integrex J400, a Mazak VTC 800 5 axis vertical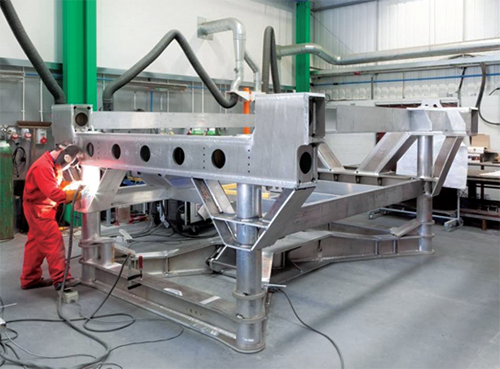 machining centre, and a large Mazak CNC lathe with 1m diameter by 3m long envelope together with a Mazak HCN η8800-2 high accuracy horizontal machining centre. Three new HAAS VF355 machining centres have also been introduced to the portfolio.
Responsive Engineering's welding and fabrication division is internationally acclaimed for its expertise in high integrity fabrication, specialist welding, reclamation welding, and site projects. Accredited to the advanced welding standard ISO 3834, the company operates one of the best facilities in the UK at present following the move of the division into a dedicated new factory. For specialist welding projects, Responsive Engineering has built up a large range of procedures over the years that enable it to undertake many critical tasks that other companies cannot attempt. This includes the welding of specialist valves and pumps in high-hardness alloys, as one of only three companies in the world currently qualified to do the work.
Having been the first waterjet cutting business in the UK, the cutting and profiling division has worked hard to maintain its technical leadership in advanced cutting processes by combining years of experience with the latest technology. Laser cutting is carried out with high performance Trumpf machines that can cut materials up to 25mm thick within a four-metre by two-metre envelope. Likewise, Bystronic waterjet cutting machines are utilised to accurately cut almost any material, including the toughest alloys, of up to 150mm thickness within the same envelope. Responsive Engineering's ability to offer a cost effective and quality service is further complemented by the pallet changing and multiple cutting head machines it also operates.
In addition the Group also has an assembly, test and pressing division. Predominately the assembly is of mechanical products, but also includes electromechanical systems, which is complimented by bespoke testing such as gas and high pressure hydraulic testing. It also has a versatile pressing facility with capacity up to 250 tonnes, and its own machining, welding, forming and cutting facilities. For a number of years, this division of Responsive Engineering has been involved in several development projects from prototype to finished product into a sustainable and scalable production phase.
The culture of Responsive Engineering means that the Group is not only focused on what it does, but how it does it. As such, core values remain important to the business from integrity to an open customer relationship, and the aspiration for continuous improvement. In accordance with this, Responsive Engineering delivers dedicated project management within its own facilities and throughout the supply chain, as well as the wide use of lean manufacturing techniques such as Six Sigma.
As a business that doesn't stand still, key account management is fundamental for Responsive Engineering to remain abreast of its clients' changing needs in order to shape the business accordingly. Likewise, the use of Group KPIs to monitor quality and timeliness means that the company continues to just keep getting better in living up to the tagline 'engineering expertise you can rely on'.
Responsive Engineering Group
Services: Multi-discipline service provider