Tank commanders
On the 18th November 2009, Royal Vopak reached an agreement with Fluvia Holding BV and North Sea Petroleum Holding BV on the sale of its terminal in Basle, Switzerland. As from that date, the new owners continued the activities of this Swiss terminal under the name Rhytank.
The tank terminal – with a capacity of 350,000 cbm and a throughput of one mm tpy – is one of the largest independent storage and transhipment facilities in Europe for the import/export and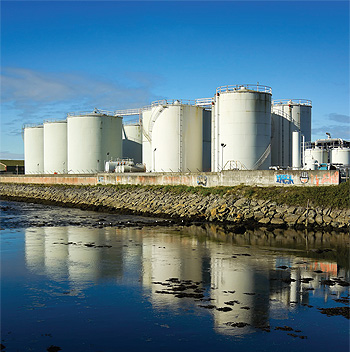 distribution of petroleum products (gasoline, fuel oil, diesel and jet fuel) and chemical products (methanol, toluene, MTBE and RBHC).
As reported on www.fluvia.nl, Peter Nohlmans, CEO of North Sea Petroleum stated: "Switzerland is an important market with growth potential. The takeover of the terminal in Basle is therefore a logical next step in our international expansion strategy. Our total storage capacity now exceeds 700,000 cbm. This expansion provides economies of scale and a reinforcement of our market positions."
Rick van Westenbrugge, CEO of Fluvia added: "The tank terminal in Basle strengthens the already good market position of Fluvia with respect to oil import logistics in Switzerland. With this tank terminal, we can now offer to our Swiss clientele new logistics solutions in combination with our fleet of barges and tank containers."
Acquiring Vopak Terminal Basle will allow Fluvia, an operator for the inland tanker shipping and storage of edible and mineral oils and chemical products, and North Sea Petroleum, a logistics services provider with trading and sales activities in the downstream oil market, to expand their activities and further strengthen their position in Switzerland, which has been defined as one of their key (growth) markets. Fluvia and North Sea Petroleum are both already established companies in the Netherlands.
North Sea Petroleum is one of the largest physical trading companies of (bio)fuels in the west European oil market. The activities comprise trading, wholesale and storage of petroleum products and biofuels. Established in January 2009, North Sea Petroleum came into existence as result of the merger between Van der Sluijs Groep and FNR+ (Frisol, North Sea Petroleum, Reinplus Vanwoerden). The company has activities in ten countries, 300 staff and achieved a gross revenue of 8.2 billion euros in 2008.
Since its foundation in 2004 Fluvia Holding has made several acquisitions, and as a result it has realised substantial growth in the European market for bulk liquid logistics. Fluvia's strategy is to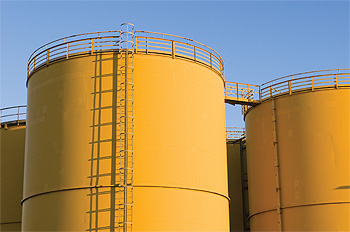 develop sizeable positions in European niche markets of the international 'liquids in bulk' logistics industry. Today Fluvia operates a fleet of 50 inland tanker barges, 1400 tank containers, a liquid bulk terminal and a tanker-chartering unit. The company has offices in Rotterdam, Antwerp, Basle and Hamburg and employs 180 staff. Total sales in 2008 increased to 34 million euros.
As new owners Fluvia and North Sea Petroleum will strive to maintain and develop the high quality standards on safety, health and environmental care that are already in place at Rhytank. Safety, health and environmental care are already an integral part of its activities, and it has an ambitious target to achieve – zero incidents and no damage to the environment. To pursue this requires that safety, health and environmental regulations are strictly adhered to and seen as an absolute minimum, and that every employee must contribute to creating a working atmosphere that supports this attitude. Safety, health and environmental care are everyone's responsibility and therefore this policy extends from shop floor to board room – the company's management is committed to supply the appropriate resources and training and to monitor the performance in order to achieve its goals.
Rhytank will also benefit from North Sea Petroleum's 30 years of experience in the sector, which have given it a solid worldwide reputation. The company is constantly monitoring the oils markets both physical and futures, thus ensuring the most appropriate tailor-made price quality for its customers. In addition, specialised independent laboratories constantly monitor product quality and as a result its products meet the highest industry standards.
Rhytank is heading into an exciting new phase. Its previous owner may have been the world's largest provider of conditioned storage facilities for bulk liquids, but its new parents have grand plans for the facility, including new strategies, products, customers and marketplaces. The company can look forward to a bright future, and the next few years look set to contain both challenges to overcome and new growth and changes to embrace.
Rhytank
Products: Tank terminal