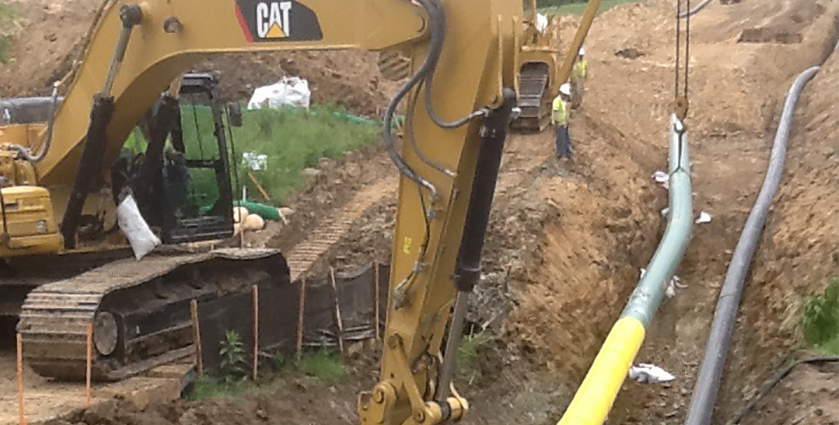 Rice Midstream Partners LP
Rice Midstream has an edge with its third-party services.
Some companies rely on the tried-and-true methods, but Rice Midstream Partners LP operates with a culture that is open to using new methods. "We rarely get resistance from doing things a new way, so it's made it easier for us to build a company that goes about solving problems in a unique [fashion]," Senior Vice President, COO and Director Robert R. Wingo says.
Based in Canonsburg, Pa., Rice Midstream is a limited partnership formed by Rice Energy Inc. that focuses on owning, operating, developing and acquiring midstream assets in the Appalachian Basin. Rice Midstream's operations consist of gathering, compression and dehydration assets, as well as fresh water delivery and produced water hauling in Washington and Greene counties, Pa., that serve producers in the dry gas core of the Marcellus Shale.
Wingo, who also is the senior vice president of midstream and marketing for Rice Energy, notes that the company got its start in 2007. Toby Rice and the Rice family founded the firm out of his apartment in downtown Pittsburgh.
"They were looking to get into shale plays," Wingo says, noting that Rice Energy looked across the United States and zeroed in on the Marcellus formation. In 2009, the company made its first acreage acquisition of 615 acres in Washington County.
"At that point, the company was off to the races," Wingo says, noting that Rice's brothers, Dan and Derek Rice, joined the firm to help its growth. "All three brothers were running the entire company by themselves until they drilled their first well in 2010, at which point they started hiring other employees."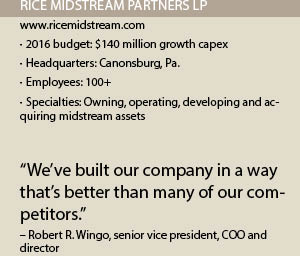 In November 2012, Rice Energy acquired 33,500 acres in the Utica Shale in Ohio, "which is just a hop, skip and jump from Pennsylvania," Wingo says. "It was easy for us to expand into that new play."
Although Rice Energy had assets in Washington and Greene counties, and Belmont County, Ohio, the brothers knew midstream assets were important to their success. "They made the decision early on to do our own midstream [work]," Wingo says, noting that Rice Energy initially had a small midstream team.
"We started by building pipelines pad to pad in Washington and Greene counties," he says.
Building a Team
When Wingo joined Rice Energy in 2013, its midstream team had one employee and a gathering throughput rate of 125 million cubic feet a day. "It was pretty small, but when I came on, we started to build a team from the top down," he recalls.
This included hiring heads of engineering, operations and business development for Rice Midstream, as well as establishing basic systems and processes. After making those changes, "We were ready to start growing, and by the end of 2013 we were ready to take the midstream to the next level," Wingo says, noting that the company ramped up its drilling activity at about the same time.
Today, "We've got over 300 miles of pipe," he says, noting that it plans to add 70 more this year. Rice Midstream employs more than 100 workers and has close to 7 billion cubic feet (BCF) of gathering capacity.
Rice Midstream also has two large-scale freshwater delivery systems in Ohio and Pennsylvania. "Those combined have access to about 22 million gallons a day of freshwater, which we deliver to pads for our completion operations," he says.
Open to Technology
Wingo, who began his career in 2002, says Rice Midstream has a very young culture focused on innovation. "That's from the executive management down," he says, noting that the average age of all employees in the company is in the 30s.
"They're very smart, they learn quickly and are open to new ideas," he says, noting that this helps when implementing new technology. "Our younger team really embraces technology much more easily than what you might find at companies with an older average age."
Rice Midstream successfully implemented Workforce, an application that allows it to track the locations of its field employees and give them assignments. "We can assign a task to somebody that's a mile down the road instead of someone who is on the other side of the county," Wingo says. "We've had a really easy time rolling out new applications and find our employees are usually the ones pushing out innovative ideas."
Working Together
Rice Midstream's operations is in constant communication with its parent company's Upstream operations, which enables better communication between both entities. "Usually, upstream and midstream companies don't want to share competitive information," Wingo says. "It makes it hard to plan and stay ahead of development."
But both firms have eliminated the bottleneck through operational transparency. "For example, when the Midstream group has detailed knowledge of the Upstream's development plan, we know what pads are behind that," he says.
"We can start planning on a higher level to get pipe there so they don't have to wait to start production," he says, noting that this gives Rice Midstream more confidence in Upstream's projections. "If we were spoon fed information about one or two pads at a time, it would make it harder to plan at a higher level."
Upstream also owns a portion of Rice Midstream, which actually benefits the company, Wingo says. "When you give Upstream a share of the Midstream economics, it helps prevent Upstream from pushing for unnecessary expansion based on overly bullish projections," he says.
Having both companies integrated also helps them develop relationships with landowners. "It makes it easier," Wingo says. "They're often dealing with landowners that have an interest in getting gas produced."
Key Differentiators
Rice Midstream sets itself apart from other producer-sponsored midstream companies with its third-party business, Wingo says. "We already had a very compelling story with just Rice Energy production growth," he says. "We've been able to juice that with third-party business."
Approximately half of the company's total dedicated acreage is from third parties, Wingo says. "We have a business development group that does nothing but focus on third-party opportunities," he says, noting that it expects to continue to grow its acreage position as it pursues third-party business.
"We think we'll be successful in doing that for a few reasons," he says, noting that these include Rice Midstream's upstream expertise. "We can
make more informed decisions on customer plans and how to project volumes. We don't have to rely on third-party consultants."
Another advantage, Wingo notes, is Rice Midstream's surplus capacity on its gathering systems. "When we designed the systems back in 2013, we made the decision to upsize the capacity because it was a relatively low incremental investment for us," he recalls.
"We felt it was a cheap way to give us more option value and put us in a position to be successful," he says, noting that it upsized some of its trunklines from 24 to 30 inches. "It turns out the investment has paid off. It's one of the reasons we've been successful in getting third-party business."
Rice Midstream also has interconnectivity to all the major take-away pipelines in southwest Pennsylvania and eastern Ohio. "So when we compete for business, being able to offer customers access to those markets is extremely important," Wingo says. "Having those in place gives us an edge to be sure."
Its water business also gives it an edge, Wingo adds. "We can bundle freshwater delivery service with our gathering systems," he says. "That makes us a one-stop shop from a customer's perspective."
The company's fifth advantage is its level of customer service, which has earned it a positive reputation, Wingo says. "It's one of the reasons we've been able to grow our relationships with existing customers like EQT and Gulfport Energy [Corp.]," he says.
"Both of those relationships started out smaller than they are today," he recalls. "They've grown because we've been able to provide greatcustomer service for them."
The service, he notes, often reflects the company's culture, organization and efficiency. "It's hard to provide good customer service if you have a poor culture or your company isn't organized or efficient in the way it runs its business," Wingo says.
"We have a great culture here," he asserts. "We've built our company in a way that's better than many of our competitors and reflects the service we're able to provide."
Often, Wingo says, these differentiators come down to such steps as staying engaged with the customers or being proactive on issues. "It's those little things that go a long way with the customers," he says.
A Major Force
Rice Midstream's recent initiatives include Strike Force Midstream, a joint venture it has formed with Gulfport Energy in the Utica dry gas play. "Our relationship with Gulfport started with an upstream joint venture we had with them in Belmont County, Ohio, back in late 2013," Wingo recalls.
Together, the two companies developed a dry gas gathering system. "When they went to bid out gathering for the rest of their acreage, we were advantaged, so we agreed to form a midstream joint venture," he recalls.
"It was great for both parties," he continues. "It allowed Gulfport to participate in the midstream economics and it increased Rice's inventory of drop down candidates. It also helped increase the relationship with Gulfport, which is one of the top operators in the Utica."
Rice Midstream stands as the majority owner and operator of Strike Force, Wingo says. However, "Gulfport also dedicated 75,000 acres to the joint venture and they continue to expand their position within the dedicated area," he says.
CONSOL Energy Inc. (CNX) also has dedicated 13,000 acres in Monroe County, Ohio, to Strike Force. "They recently announced plans to resume drilling in that acreage," he says. "RMP plans to spend $550 million on the Strike Force build-out through 2021 which will be used to build gathering and compression infrastructure into Belmont and Monroe counties.
"Those pipelines will give Strike Force access to the markets in the Gulf Coast as well as other markets in the Midwest, Canada and Northeast," he says, noting that today Strike Force can access the Rockies Express Pipeline, the Texas Eastern Pipeline and Dominion East Ohio. "In the future, it will be able to access ET Rover, Leach and Mountaineer Xpress."
A Good Partnership
Rice Midstream also recently completed a $375 million equity investment with EIG Global Energy Partners, a provider of institutional capital to the global energy industry. "This transaction will give EIG a preferred equity investment in Rice Midstream Holdings," Wingo says.
EIG also will have an eight and a quarter percent limited partner interest in Rice GP Holdings. "[This] holds all of Rice Energy's common units, subordinated units and its incentive distribution rights in Rice Midstream Partners," he says.
"The transaction provides Rice with attractive equity capital," he says. "It also aligns us with a premier investor with an excellent reputation and track record in the equity space. It's a good partnership for both companies."
Wingo notes that Rice Midstream had specific criteria when looking for equity partners. "Obviously, being able to bring attractive equity capital is important, and having a partner who has a good track record and knowledge of the business," he explains. "We want a company that understands the space and can bring value to the relationship and EIG does that."
Solid Service
Rice Midstream also values the work of its vendors, which include Exterran Corp., based in Houston. "Exterran is very price competitive, and we have bought a lot of compressor, dehydration and other vessel equipment from them," he says.
The company provides strong service even when times get tough, Wingo says. "Through the downturn, they have been a great partner and put a lot of effort into providing good customer service," he states.
Branching Out
Rice Midstream plans to continue staying successful as it grows within its core footprint, Wingo says. "We've done a great job of building a consolidated acreage position," he says.
"We will continue to pursue opportunities around our footprint," he says, noting that the company has its eyes on West Virginia. "We can connect our Ohio gathering systems to our Pennsylvania gathering systems by building across West Virginia."
This would give producers access to the markets in both states, Wingo says. However, "It will probably be another 12 to 24 months before we would really start designing and building the system," he says.
High Priorities
Rice Midstream Partners LP focuses strongly on the safety of its operations. "We make it our priority to ensure that our facilities, equipment and processes meet the highest safety standards to protect our people, partners and our community," it says.
"We monitor the operations of our pipelines, which are designed, installed, tested, operated and maintained in accordance with all applicable federal and state requirements," it says. "Rice Midstream has safety representatives in the field 24 hours a day, seven days a week, to ensure the ongoing safety of our operations."