Making waves
Ridderinkhof's proud tradition of building and supplying the most reliable winches started in 1900.
Over the past 110 years the company has evolved into a supplier of high quality, robust and innovative winches, and its focus has never wavered from winch systems, thus enabling it to continually expand its range, refine the technology and support end users in the best possible way.
Today, Ridderinkhof designs, produces and services winch systems for offshore applications, pipe-lay vessel winches, anchor handling winches for AHTS vessels, large dredging winches, winches for civil waterworks and custom built winch systems. In addition, the company manufactures the world's most dynamic escort winch, called Wave Winch, which is used for LNG terminal towing, sea towing and harbour towing.
The Wave Winch is the amalgamation of what today's technology can offer. It can hold very violently moving loads under control without the danger of breaking lines, with any type of drive.
It originated for LNG tanker escort towing, to keep the line tight during all operations and movements of the tug. The newest offshore LNG import and export terminals are situated in challenging offshore conditions, and the berthing operations for tugs with unsuitable winches are a costly exercise if you take into account waiting time for better weather and/or dangerous situations such as breaking towing lines, which could cause uncontrollable tankers getting very close to LNG jetties.
With a normal drive system, a movement or roll of the tug near to the tanker, can cause line breaks because the hauling speed of a normal escort winch drive system is too slow to follow. Therefore, Ridderinkhof's typical Wave Winch hauling and veering speeds are over 130 metres per minute, enabling it to automatically follow any unpredicted movement of the tug (on the waves) or any intended movement of the tugmaster towards or away from the tanker whilst keeping the line tight.
The master can set the desired max line force proportionally on his panel, because not all tankers are capable to withstand the (high) line forces that the tug and winch are designed for. Wave Winch types are available for 140, 105, 75 and 50 tons dynamic full continuous hauling/veering pull. The range is available with electrical frequency drives or with Wave Winch hydraulic drives. The system is fully automated – the winch follows what the master or waves are doing to the tug. This is a big advantage because the tug can quickly move to a new position to tow.
The basic laws of nature and physics that has caused many breaking lines – slow winch speeds, slack wires, capsizing tugs and loss of towed vessels – have now been examined, understood and worked around in the Ridderinkhof Wave Winch design. Owners will gain confidence when their masters testify to much safer and easier work with their tug, while at the same time the tug is available for many more hours because it can operate in more harsh weather circumstances.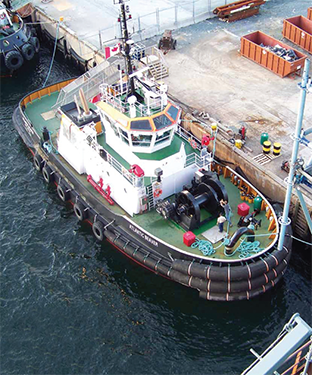 The basic six advantages of every Wave Winch are:
No slack lines
No broken towing lines
No hands on the winch handles during operation
Fully automatic working
No tug capsizing
Able to work in waves up to 3.5 meters high
Although the Wave Winch was initially designed to provide tugs with a winch to operate safely in harsh and dynamic environments, with a little imagination, its technical possibilities can be used to solve all kind of dynamic move and hold tasks. For example, at a hoisting or drilling rig, it can hold the suppliers barges, which move up and down in the waves, close and tight to the rig, to enable safe unloading the cargo with the crane. Wave Winches can also be used as active tugger winches to horizontally control and hold cargo steady, when hanging in a crane on a drilling rig. In addition, Wave Winches are used as shore based mooring winches to hold vessels tight to a jetty or harbour quay where tide and (un)loading differences of 30 metres are be compensated and the five to ten seconds roll of the vessel is absorbed.
The principles and advantages of the Wave Winch are not restricted to the type of (existing) primary power or drive, whether that's an electrical or hydraulic motor, or a diesel motor. The special facilities that enable the dynamic Wave Winch advantages are concentrated in the advanced gearbox; the special control loops and couplings will do the work, not the motor.
Such are the advantages of the Wave Winch, that the economic life of tugs can be improved significantly by replacing an old winch with what the newest technology can offer, eliminating the need for expensive rebuilds. To nlthis end Ridderinkhof provides a variety of Wave Winch upgrading solutions.
Appreciating the need for strict adherence to health and safety and complete confidence in such a revolutionary product as the Wave Winch, Ridderinkhof manufactures the product to strict criteria. The same man who assembles each winch will service it after sales. He is available 24/7, anywhere in the world, in case any maintenance or repair is requested. None of the component parts are sourced in low wage countries – the design and production of winches and spare parts is all concentrated in the factories fully owned by the company.
In fact, Ridderinkhof has trimmed its internal processes down in order to stay highly efficient in making winches, thus being able to supply the Wave Winches for acceptable prices. The owners, managing the company on a daily basis, have used their very short chain of command and hands-on mentality to focus everybody on making top quality winches at competitive prices, and creating superb client relationships. Every day, all its decisions and actions are directed to improve and expand this way of working and add to the tradition of making the world's most robust, reliable and advanced winch systems.
Since its foundation, Ridderinkhof has put the special requirements of its clients at the centre of its decisions and actions. The company's dynamic growth of recent years will be further powered by applying all its acquired knowledge, understanding and ideas into pre-planned research programs, and in applying order-driven solutions.
As a result of this new approach, Ridderinkhof continues to surprise customers with innovative winch applications that extend existing technological capabilities.
Ridderinkhof
Products: High end winch systems