Keeping cool
Having started life just five years ago, RigCool Ltd has already grown into a leading supplier of heat suppression safety systems to the oil and gas industry, which are designed to reduce the force of radiated heat created during offshore flaring operations.
These systems primarily utilise water to protect installations and personnel from the potentially harmful effects of the radiated heat. Originally the concept of rig cooling dates back to when oil rigs first began well testing operations, with the first systems being developed by the operators and well test companies themselves. However following performance improvements and developments in cleaner burning to reduce emissions, which subsequently increased the temperature of the flare, it became apparent that more advanced solutions were required. With fully operational bases in Australia, Malaysia and the UK, RigCool sets itself apart from other cooling companies on the market through its advanced technology solutions.
These include the state-of-the-art patented Smart Nozzle Technology, which has revolutionised the rig cooling industry by helping to maintain system integrity and maximum transmissivisty levels during flaring operations. "Historically, working with nozzles has been challenging due to their tendency to become blocked," explains Ian Garden, global operations director of RigCool. "Our Smart Nozzle Technology has been developed with a smart cleaning design feature which utilises our pumps pressures and volumes to clear blockages whilst the system is operational, which therefore increases efficiency." The Smart Nozzle Technology heat suppression safety system is available in both triple and single nozzle boom systems, with the capability to be supported by a secondary rig side system. RigCool has also introduced a third barrier in the form of reflective covers, which reflect 90 per cent of the thermal radiation.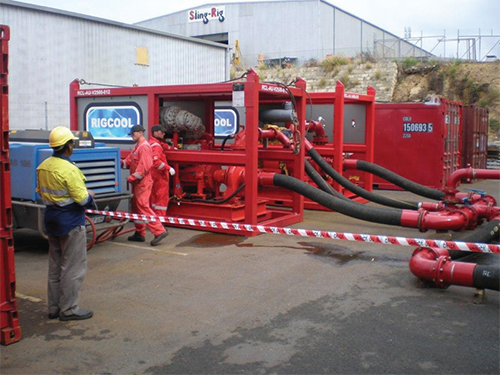 In order to ensure the effectiveness of its heat suppression systems, RigCool designs and operates all of its systems to meet, and in many cases exceed, the requirements in the APII 521 standard. This legislation states that the safety parameter for continuous exposure to thermal energy for personnel wearing appropriate clothing is 500 Btu. However during a well test, without a cooling package, this thermal radiation can be anything up to 10,000 Btu. RigCool can adapt its systems to accommodate a variety of installation requirements, the starting point for which is a rig survey to establish the installation's own cooling capabilities. This enables RigCool to determine whether a complementary integrated package or a stand-alone system is the most suitable solution.
These systems range from a small integrated package, or full portable integrated package, which utilise the installation's own pumps, up to a full portable stand-alone package consisting of Smart Nozzle boom system and pumps, complete with secondary barrier in the form of a rig side system. Once the system is operational, using thermal imaging cameras, surface temperature guns and a calibrated Btu meter, RigCool can monitor and collect data to ensure the integrity of the system and the safety of personnel during operation. In line with RigCool's commitment to operational safety, the company has produced a safety DVD identifying the safety issues associated with world class flaring, including heat stress, noise and glare. This is complimented by an easy reference series of safety cards, which can be handed out to personnel prior to flaring operations.
In September 2010, RigCool was acquired by James Fisher & Sons, a leading provider of marine services – a move that has proved beneficial for the business: "Being part of James Fisher & Sons means that we are able to take the services and knowledge we have in the rig cooling industry further and into new regions," explains Ian. "At the same time we are continuing to maintain our small company approach of high quality of service and client interaction. We also have access to additional resources, and strong financial backing, which means more investment in equipment, training, and further advancement of technology. The biggest thing for us is that we can now offer clients a one-stop-shop through a partnership with other companies in the James Fisher portfolio, such as ScanTech Air Supply, which offers air compressors, steam generators and associated equipment to the well test market. As the global market begins to see signs of an upturn, we are working with James Fisher to identify which areas will have the highest demand for services, and target these with equipment and personnel."
Another key advantage RigCool's new parent company brings with it is its global reach, which compliments RigCool's own ambitions for worldwide expansion. In terms of RigCool's strategy for achieving this aim, Ian concludes: "At present we are working with Halliburton in Malaysia on a project for Shell, and within that we are using local personnel. ScanTech is doing the same thing in Africa, and this is something that we are looking to implement across the business, so that we are providing a complete local service, with a base on the ground and local personnel. Over the nest few years I would like to see the company continue to maintain its high levels of service, whilst expanding into new markets. As well as strengthening our Australian activities, I want to grow our position in Singapore and move into China and Brazil. Africa is another key focus for the business, and we already have equipment on the ground in Ghana, with long-term projects underway. Certainly our ambition is to become a truly global company, capable of servicing a client's requirements anywhere in the world."
RigCool Ltd
Products: Heat suppression safety systems