Riise Underwater Engineering
Deep thinking
Riise Underwater Engineering (RUE) is a significant provider of subsea inspection, maintenance, and repair (IMR) services to operators in the offshore sector.
With over 15 years experience, and employing many individuals with extensive knowledge of the industry, RUE is adept in completing underwater construction projects, such as replacing modules. Equally, the business has worked extensively in both the fields of deep sea diving and ROV services.
Since 1999, RUE has offered clients total project management solutions, whereas prior to this date, the company primarily focused on hiring out service such as divers and dive vessels. The
organisation has considerable pedigree within the subsea construction and exploration sector, and has worked with Statoil, Stolt Comex Seaway, Sub Sea Dolphin, the Norwegian Pollution Control Authority, and the Norwegian Institute for Water Research. Following the company's restructuring process in 1999, RUE modernised its entire vessel, dive equipment and ROV system capabilities. This move resulted in an increase in projects, most notably the undertaking of a long-term contract with Statoil for the inspection, repair and maintenance of Statpipe gas landing tunnels, and the jetty facilities at the Kalstø gas terminal north of Stavanger, as well as IMR work in West Africa.
Managing director and CEO Per-Allan Røsand reiterates the origins and structure of the company: "Riise Underwater Engineering was founded in 1993 by Stein-Inge Riise, who is still with the company as operating manager of the inshore department. The employees own 51 per cent of the business, with the remaining shares owned by an investment company called Cinclus. Our main interest within the offshore industry is both manned and unmanned underwater operations, including project management, engineering, logistics, diving, ROV, and the supply of vessels. We have always been involved in diving, which is an area of the industry that has fluctuated since the 1990s. We still complete a number of diving projects, and we have a number of new builds under construction that will be allocated to the diving, ROV and module handling operations, as they are specially designed for these applications."
Per-Allan continues by elaborating on some of the clients RUE currently works with, and the type of services it can provide: "The key customers for Riise are all the major players in the field subsea construction – companies like Acergy, Subsea 7, and Technip. We work as a subcontractor for these organisations, and in addition to this, we are active in regards to operators. So it's a mixture of different approaches within the industry. RUE completes a number of IMR and ROV projects for customers, ranging from cable repairs, to installation support, and the inspection of existing platforms. Our scope is vast – we offer tailored solutions to each customer, and we enjoy meeting the challenges of our wide scope of projects. RUE is a small company, and this means we are flexible enough to respond to the many needs of clients in the industry."
One of the primary concerns of all operators within the offshore industry is the health and safety of employees working in the field. RUE prides itself on its approach to HSE, as Per-Allan is keen to point out: "We receive the most positive feedback from the health and safety associated with all our projects, particularly in regards to boats and diving work. We are always interested in developing and safely applying the latest technological developments to our solutions, and this belief underpins all of the offshore market areas in which we operate. The safety of a project initially concerns the basic requirements of the task at hand – once these have been ascertained and understood, then we can further apply our HSE processes. Oil companies have their own interpretation of a project's requirements, so we must take these into consideration, making communication a vital factor. The result is a process that is a combination of our health and safety methods. with the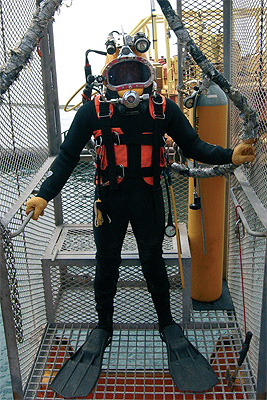 procedures of the client we are working for. All of our operations are based on the North Sea HSE&Q standards, and we have also applied these to our work in West Africa."
To strengthen its position in the oil and gas sector, RUE has invested in two new vessels to add to its fleet. Per-Allan describes the development: "We currently have two new vessels under construction, the first of which is due to be delivered in May 2009, with the second arriving at the end of that year. Once these vessels have been contracted, we will decide what the next step will be – we are contemplating marketing the first vessel quite strongly in West Africa, to be used in offshore projects that are emerging around Nigeria. This geographic location offers strong potential in the future, and we are optimistic that we can provide a full range of solutions for operators in this market area.
"I'm optimistic in regards to the market at this time – the new way of developing oilfields using subsea installations and FPSOs provides us with many opportunities," Per-Allan states. "There will always be increased problems for divers in harsher and deeper environments, but there are new ROV developments that are aiding RUE in exploring new areas. A combination of diving and ROV services will be the way forward for the company, and the demand for the services we can offer clients operating in this field means we will certainly be busy in the future."
However, there will be challenges in the future, as Per-Allan is keen to acknowledge: "Getting the right people working for RUE will always be a challenge – particularly personnel who have an extensive knowledge of the industry. There is a limit to the amount of people out there who have the relevant engineering capabilities, so the human aspect of our business is a critical factor in our success. Young people perceive the oil and gas industry as cyclic nowadays, with companies constantly expanding and decreasing in size – so the challenge for all of us in the industry is to demonstrate the amount of opportunities that are available. Of course, the high demand for equipment within the sector means we must also concentrate on reducing lead times in regards to delivery, which puts pressure on the entire supply chain."
Per-Allan concludes by underlining the company's global intentions: "Over the coming years, I would like to see RUE have several vessels in operation across the world, especially in the West African region, as well as other emerging locations."
Riise Underwater Engineering AS
Products and Services: Subsea IMR