The gas detectives
Gas detection and monitoring equipment expert, Riken Keiki Co. Ltd uses its years of experience to protect precious lives and valuable assets
In the sectors where gases are generated, manufactured, separated, consumed or stored, there is always the everpresent danger of a leak. At the basest of levels, this is a waste of resources, but bring health and safety into the equation and vulnerable workers and the wider environment are at risk of exposure to what could be a dangerous and toxic situation.
Therefore, in the modern working world, ensuring safety and monitoring for toxic gas leakage in workplace environments is a top priority, and that is where the market-leading products of Riken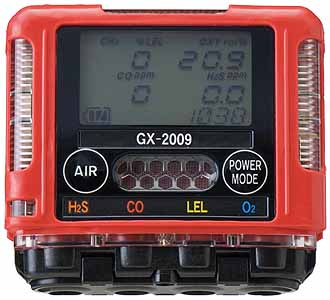 Keiki Co. Ltd come in.
Founded in 1939, Riken Keiki Co. Ltd is a specialist manufacturer of proprietary gas detection and monitoring equipment, as well as various gas sensors; to monitor for work space and facility safety in locations such as semiconductor and LCD factories, petrochemical plants, iron works, tankers and other vessels, oil storage bases, underground gas facilities, and even volcanic mountains.
Following almost eight decades of existence, Riken Keiki is now able to offer a very extensive range of products offering reliance and safety to various fields. They include Fixed Detectors (indicator units, detector heads, and stand-alone gas detectors), Portable Detectors (single gas, combustible, toxic, oxygen, and multi-gas) and Surface Analysers.
Ryoya Masumura of Riken Keiki Co. Ltd introduced the range, and highlighted their benefits: "Our products offer a safe environment for workers," he stated. "There are three main types of gas to measure – combustible, toxic and oxygen. All these three gases are invisible, so our detectors make them visible and measurable, which improves workers' safety by preventing explosion, harm from toxic gases and oxygen deficiency.
"We manufacture not only the gas detectors but also the sensors, and our equipment can now detect over 10,000 different gases. By making our own sensors we have created a very flexible approach for all of our processes including production, quality control, troubleshooting and so forth. As a result of our approach, we can combine some of our instruments into an overall system, which reduces our clients' production costs and increases their efficiency."
Ryoya continued with details about Riken Keiki's latest product launch. "This is the portable multi gas detector GX-6000, which can include up to six sensors in one unit and can detect over 650 gases. This is a flexible device and can be used for various purposes. Some of our clients use it for risk assessment because it can detect a lot of gases in one unit, while others replace gas tubes with it, to reduce their working time and procurement costs. We are working with Oil Majors in the US with the GX-6000 product, and again in the US, we are working with a mining company with another product – the GX-2009 portable multi-gas detector."
Strong assets
Given Riken Keiki's highly respected reputation for creating exceptional products, it is no surprise to learn that it works with bluechip clients. Ryoya agreed that Riken Keiki is happy to offer support to such clients and highlighted a project in Malaysia as an example of its capabilities. "As a result of our work, there are over 800 stationary detectors installed in their plants, and we continuously support the customer with maintenance, problem solving and for any new requirements," he said, before elaborating further on what attracts companies to Riken Keiki: "Our long history in the industry combined with our highquality, reliable and stable products makes us an attractive proposition. We are also happy to propose optimised solutions from a variety of our sensor products, all of which are supported locally by our global network."
This network is one of Riken Keiki's strongest assets, as it enables the company to offer local support to its clients, as well as ensure that its distributors are trained and regularly senton refresher courses on new products. "We have created our global network so that users throughout the world can continue to use our gas detectors with no concerns even after sales," Ryoya stated. "We have 40 distributors (including subsidiaries and affiliates) and intend to expand our aftersales support network, as we believe that it is one of the significant pillars that supports our corporate philosophy – creating a safe environment for workers."
This expansion plan is well underway, with the latest addition being in Malaysia. "The new Malaysian branch is an affiliate of R K Instruments (S), which is one of our subsidiaries in Singapore. We decided to purchase RK Instruments stock this year in order to enhance our co-operation with RK Instruments and to expand our market share in south-east Asia," Ryoya explained. "We are also planning to add new distributors in some countries where we are not yet represented," he added.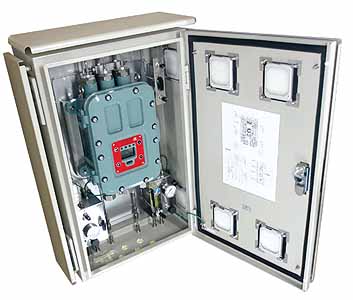 Virtuous cycle
Improvements to the network are not the only way that Riken Keiki is continuouslyenhancing its operations. "In 2015, we established our new factory in Kasukabe in order to strengthen our relationships among our departments and create a smoother management structure," highlighted Ryoya. "And our new head office in Tokyo will be completed in 2018, which will also provide a range of benefits to the business."
Since it was founded, Riken Keiki Co. Ltd has worked closely with the Private Research Foundation Institute of Physical and Chemical Research (currently known as the National Research and Development Institute); and it has now been utilising scientific knowledge from the institute in the development of its state-of-the-art products for almost eight decades.
"We are committed to research and development to pioneer new ways to create safe working environments for people," confirmed Ryoya. "Here at Riken Keiki wepledge to ensure the safety of the public in working environments. In light of this, we have zero tolerance for compromises in quality in any of our manufacturing processes. Furthermore, when we go to our customers' premises, we research their requests and demands and try to reflect their needs in our new products. By combining this approach with our network, we can make this a virtuous cycle."
Continuous improvement
Riken Keiki's product development philosophy is an integral part of the company's overall environmental agenda, combined with a thorough, on-going commitment towards undertaking its corporate activities with minimal ecological impact. Certified to ISO 14001, Riken Keiki selects only environmentally-friendly materials for its research, and applies integrated manufacturing systems to contain all generated waste and contaminants. The organisation is dedicated to reducing the use of energy and natural resources, minimise waste, cut emissions and observe all related environmental statutes and public standards. It not only develops products that contribute to environmental protection, but embraces a green approach throughout its operation, with clear goals and actions stated by management and made known to all employees, with the overall aim to raise environmental consciousness whenever possible.
As part of its stated 'Environmental Ideology' Riken Keiki recognises that preservation of the environment is the basis for the 'continual development' of mankind on earth. With this in mind, it continues to base its corporate activities on the balanced management concepts of 'customer satisfaction' and 'service to society.'
Riken Keiki Co. Ltd
Products and services: Manufacturer of gas detection and monitoring equipment