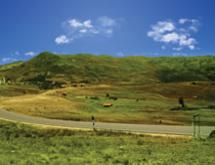 After a few centuries, the Gold Rush is still on. Granted it's not located on the western coast of North America, but in Lima, Peru. It is here that Canadian incorporated but Lima-based Rio Alto Mining Ltd. is developing the La Arena project. La Arena consists of 20,673 hectares in 44 concessions and is located 480 kilometers north-northwest of Lima and 18 kilometers from the small town of Huamachuco. Situated on the eastern slope of the Western Cordillera, close to the Continental Divide, the project lies within a multimillion-ounce gold district that includes the Lagunas Norte mine, Comarsa mine, La Virgen mine, Shahuindo gold-silver exploration project and Tres Cruces gold exploration project.
According to CFO Anthony Hawkshaw, Rio Alto won La Arena through an auction from international mining company IAMGOLD Corp. in late 2007. Rio Alto planned to go public in 2008, but Hawkshaw explains that due to the global financial crisis the public offering failed and the company looked for other ways to complete its acquisition of La Arena. During this search, Rio Alto identified Mexican Silver Mines Ltd. as a potential partner. "Mexican Silver was cashed up and looking for proven mineral resources," Hawkshaw says. Mexican Silver Mines concurrently struck a deal with IAMGOLD for La Arena and bought out Rio Alto, changing the company name to Rio Alto Mining Ltd.
Hawkshaw explains that through its deal with IAMGOLD, Rio Alto has an option to earn into and eventually acquire the La Arena gold-copper project from IAMGOLD, and to further explore and develop the project. The initial option cost was $1 million, which IAMGOLD elected to convert into shares of Rio Alto. At this time, IAMGOLD holds 8.6 percent of the shares of Rio Alto. During the option period, Rio Alto may earn up to 38.7 percent interest in La Arena by incurring $30 million on the project to bring a gold oxide mine into production.
Talented Team
A national highway accesses La Arena, and current infrastructure at La Arena includes an exploration camp and access tracks. Rio Alto expects all future mining, processing and support activities to take place at the project site.
Hawkshaw notes there is a great deal of talent working for Rio Alto on the project. "Our people have a lot of experience in operating, building and developing mines as a group," he says. "In Peru, we have a strong development team." The Board of Directors for Rio Alto includes Chairman Dr. Klaus Zeitler, President Feisal Somji, COO Alex Black, Director Daniel E. Kenney and Director Dr. Roger Norwich, as well as Hawkshaw.
Rio Alto estimates approximately 720 hectares of surface lands will be required in total for the gold oxide dump leach, which is the first phase of development for La Arena. "We are focused on developing the 1 million ounce gold oxide resource and expect to produce approximately 50,000 ounces in 2011 expanding to an annual rate of about 100,000 ounces in 2012," Hawkshaw says. "The second phase will be to commence a feasibility study on the 3-billion-pound copper and 3 million-ounce gold resource."
Smooth Mining
Hawkshaw says there have not been any difficult technical or community challenges at La Arena, and relatively speaking, the project has gone smoothly. "There are always delays, problems, glitches and things that have to be worked out, but we have built enough of a contingency factor into the development plan to factor in what may happen," he explains. "And be able to maintain the schedule."
Although Rio Alto is focusing this year on getting gold oxide into production, Hawkshaw says ultimately the real goal is developing two additional resource areas – copper and moly sulphide. "As mentioned, our next step is a feasibility study for that," he says. "During which, there are at least a half-dozen other prospects to explore within the nearly 21,000 hectare property."
A surface rights acquisition program is ongoing at La Arena, and with nearly 600 hectares acquired there is a balance of about 120 hectares left. In 2008, Rio Alto engaged independent engineers Coffey Mining Pty. Ltd. to complete an NI 43-101 technical report on La Arena, which its estimates of gold and other resources is based on. Coffey is working on an updated 43-101, which will provide new ore reserve numbers and an economic evaluation of the project.
Power and Water
The nearest power supply to La Arena is the Trujillo Norte — Alto Chicama 138,00-volt transmission line approximately 18 kilometers from the project. The concessionaire of the transmission line is Compañia Transmisora Andina SA who, Rio Alto notes, is obligated under Peruvian law to allow third parties the use of its electrical facilities and systems. Third parties, such as Rio Alto, must pay to the concessionaires a compensation for the use of facilities and bear the costs of any improvement or upgrade required in the transmission lines as a result of its usage. Rio Alto is engaged in discussions with Compañia Transmisora Andina SA and other energy providers to secure power for La Arena.
Water for the project will be extracted from groundwater, adjacent water courses and through recycling and reuse of water wherever reasonably practicable. Also, the company notes there are numerous potential locations for waste dumps and dump leach pads, a processing plant and other infrastructure, which will be subject to further studies on irrigation.
Ready to Trade
Rio Alto has announced it has begun trading on OTCQX, which it calls the premier tier of the U.S. over-the-counter market. Rio Alto says it understands that liquidity is an important decision factor for investors, and with the company trading on the TSXV, the Lima Bolsa, the Frankfurt and now the OTCQX, it believes it has helped to provide shareholders with liquidity within familiar trading markets for investors from around the world.
Law firm Hodgson Russ LLP will serve as Rio Alto Mining's principal american liaison on OTCQX, and will be responsible for providing guidance on listing requirements. Hodgson Russ has offices in Toronto, as well as New York state.
​