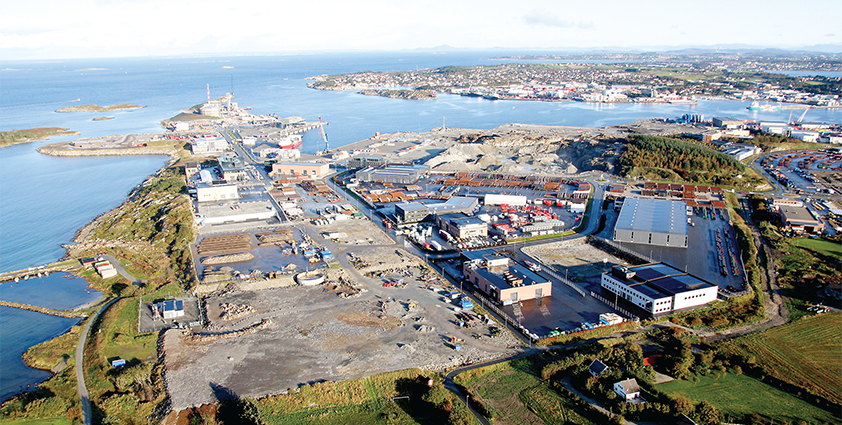 Testing times
Risavika Gas Centre DA (shared responsibility) is an international, third party test centre established in 2005 through a joint venture between Statoil, Norske Shell, Lyse, the International Research Institute of Stavanger (IRIS) and the University in Stavanger.
It offers research, development and large-scale equipment testing of various components for sustainable production and the usage of natural gas, as well as integration with renewable energy sources.
Also amongst the centre's offerings is the design of tests, as well as the design of connections between test units and technical infrastructure. Furthermore, the company can provide site preparation, connection, commissioning, operation, monitoring, decommissioning and dismantling of test units.
The centre has an outdoor test area for pilot plants, as well as an indoor test areas specifically designed for experiments and pilot test. Each test area has access to highly skilled operational staff, and the supply of personnel for testing 24 hours a day, seven days a week. Risavika Gas Centre also offers the design of tests for its customers should they need it, as well as the arrangement of meetings and seminars.
Sigurd Gaard, business development manager at Risavika Gas, elaborates upon how his company's operations have developed in recent times: "Our focus now is largely upon the production, transport and use of natural gas – everything that relates to the gas value chain. Through our supply pipeline (Rogass) we are directly connected to the Europipe 2, meaning we are able to obtain 190-bar pressure gas at our facility. This is being further supported as we continue to look into new applications for natural gas, CO2 and other acid gases."
Risavika Gas Centre takes measures to ensure that its operations remain as environmentally friendly as possible. Sigurd explains why this is an important part of the company agenda: "One of our key aims as a business is to contribute to the development of environmentally-friendly energy supply, through the use of natural gas and integration with renewables, even though natural gas is not considered as environmentally friendly in Norway. The reason for this is a domestic perspective where natural gas is compared with renewables and not the positive contribution in a global perspective. The perception is to some degree understandable as renewables are supply more than 99 per cent of Norwegian electrical energy need."
This is just one of many of Risavika Gas Centre's key strengths, according to Sigurd: "We also maintain very high health and safety standards, and our proximity to the LNG plant nearby makes it very easy to swap gas and LNG for LNG testing purposes or using LNG as cold sink in relevant tests.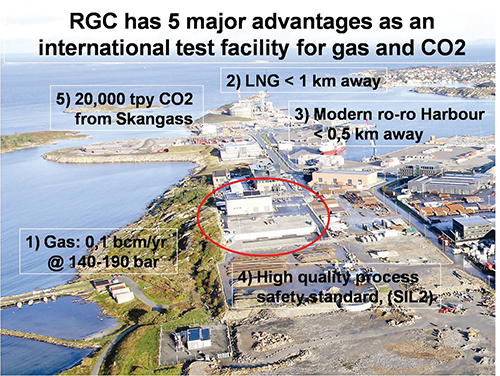 "Another strength, or opportunity, is that the LNG plant, which will start up in 2010, needs to remove the CO2 before liquefaction of the natural gas in order to avoid it freezing and clogging the system. We have acceptance from the operator to plan for utilisation of that CO2, 20 000 tpa, which means that we are in a position to offer tests on pure CO2 relevant to CCS, or blend CO2 and natural gas for tests relevant to the biggest natural gas reservoirs in the world. Additionally, we plan to put H2S into the stream to a level, which does not increase risk exposure in the area."
The company also benefits from a 100-metre square industrial test hall, which is ideally suited for equipment tests that require safe operation conditions and high-pressure gas up to 48-bar. Powerful ventilation, heating and soundproofing ensure the most comfortable and practical working environment, whereas all operations can be orchestrated from a modern control room.
To remain competitive R&D is an important part of the company's operations, as Sigurd reveals: "Our capacity to help develop new technology is a vital part of our business strategy and we are always looking to contribute by continuously improving the R&D activities of our customers. We are working with the largest research companies in Norway, as well as various universities, as we continue to expand our expertise in this vital business area."
Risavika Gas Centre's outdoor test area is comprised of a 5000 square metre test ground covered with a mixture of asphalt and gravel, and includes nine individual test areas. The centre also has its own combined heat and power (CHP) hall, which is designed for equipment that needs connection to the power grid or the district heating grid.
The company also has its own turbine combustion laboratory, where it has a 100 kWe gas turbine with external combustion chamber for combustion temperature surveillance. The power produced by the turbine here can be exported to the power grid, whereas the heat is exported to the district heating grid. The turbine is currently being utilised by IRIS and the University of Stavanger for investigations of combustion and performance when mixing natural gas and biogas. Furthermore, the company has recently acquired a 1.85 MWe gas turbine for testing purposes and to be used as an environmentally friendly flare. Together with the University of Stavanger a test and research programme is currently being developed.
"We are considering tests such as performance, noise and emissions and corresponding remedies for NOx reduction, steam injection integration with renewables, off-gas combustion; (high CO2 content in fuel), re-circulation of exhaust gas, combined cycle, steam turbine, H2S rich fuel gas, NG – H2 combustion, LNG fed turbine for marine propulsion, improved anti-icing systems, oxyfuel turbine tests, and finally vibrations, monitoring and control," says Sigurd.
"Continuously running turbines on natural gas spiked with hydrogen will not be a problem at our site as we are starting production of hydrogen during autumn 2010. The hydrogen reformer will be fed by natural gas and will produce hydrogen to a quality of 5.0 (99.999 per cent). The capacity of the reformer will be 50 Nm3/hr and the hydrogen is planned for use in the new ro/ro harbour that will fuel one terminal tractor and two fork trucks on hydrogen in order to avoid air pollution in vessels. The reformer will also produce syngas (H2 and CO), which will be use for fuelling the reformer. The syngas (H2 and CO) can also be rerouted so that the reformer can be fuelled by natural gas and the syngas (H2 and CO) can be utilised for testing purposes. The reformer will be a source of fairly pure CO2 so it can be used for tests on biogas by blending CO2 and natural gas to obtain synthetic biogas."
Risavika Gas Centre has an impressive but almost unknown track record in CO2 capture. The centre ran the two first European pilot tests on post combustion, except for the CASTOR project in Esbjerg (Denmark). In 2007 the Cansolv pilot was tested at Risavika as a part of the Norwegian Halten CO2 project. In 2008 Risavika Gas Centre worked with the Norwegian company Aker Clean Carbon in the testing of a pilot plant for post combustion CO2 capture, offering its facilities and support to help Aker qualify its pilot plant. Sigurd elaborates upon this project: "We have been helping Aker Clean Carbon run its mobile test unit within our site, and also our people help train the operators. The mobile test unit was an impressive piece of engineering and we would very much like to have such a unit back at our site for testing. We believe that it is the right size for technology development and demonstration, and are looking for two strong stakeholders or investors that are interested in a flexible test site for CO2 post combustion capture before we can apply for public funding for realisation of project. The absorber of the mobile unit was raised in three hours, which means that it is feasible to establish a test facility where the vendor can bring their own chemicals, their own prefab absorber and stripper if requested."
Currently Risavika Gas Centre is running tests for the Institute for Energy Technology (IFE) and CMR Prototech, for which it tested an energy station based on integrating fuel cells with a reformer system. The company has also delivered tests for the upstream part of the gas value chain. In 2008 it partnered Easywell – Halliburton, for which it tested packing material under safe, high-pressure conditions.
"We hope the upstream part of the gas value chain will visit our site more frequently, particularly as we are extending our test options," Sigurd explains. "We have an approval from CLIMIT-Gassnova (Norwegian public funding within CCS) for a pre-project on Efficient CO2 Pipeline Transport, which comprises major Norwegian R&D institutes and is quite multitudinous – it covers well reservoir coupling, through to full scale tests, pipeline operation and integrity, considerably increased pipeline capacity and full scale tests.
"We also have a separate project proposal on CO2 compression, which will presumably reduce energy needs for CO2 compression by ten to 30 per cent. The system will also be very interesting to CO2 shipping, which is required to transport CO2 in ships in the pressure range between ten and 20 bar. We are also looking for partners for this side of our business, although some have already embraced the project proposal and joined. CO2 projects are maybe the most exiting for engineers within fluid dynamics as they can deal with all three phases – liquid, gas and solids."
Risavika Gas Centre DA
Services: Natural gas test site, and CCS application