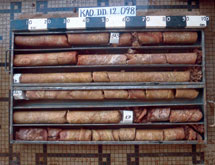 Riverstone Resources Inc.
When Vancouver-based Riverstone Resources Inc. started exploring in Burkina Faso in West Africa in 2003, the country's potential for gold development was evident. It had the same highly prospective geology of gold-producing countries such as Mali and Ghana, but was relatively unexplored.
Today, Riverstone is nearing that potential, advancing its flagship Karma property past PEA to the cusp of production. Senet (Pty) Ltd. is currently performing a definitive feasibility study focused on the mining and processing of an indicated in-pit resource of free-leaching material containing 1.03 million ounces of gold in five closely spaced deposits.
"Karma is the perfect heap-leach project for a company such as Riverstone to advance and develop ourselves," President and CEO Dwayne Melrose says. "The project carries low capital costs, low technical risks and low operating costs. We are looking at a price tag under $150 million to achieve near-term production of about 100,000 ounces a year, and the project is further supported by long-term exploration potential."
Recently, Riverstone merged with Vancouver-based Blue Gold Mining, and now includes directors, executives and technical team members with an impressive track record of success. Together, they have discovered, capitalized and advanced a broad portfolio of deposits globally.
Global and local expertise
Melrose has more than 30 years of experience in the mining industry and has spent the last 15 years working for different companies around the world. Executive Chairman Mark O'Dea – who was founder, chairman and CEO of Blue Gold – has created well-financed companies built on quality projects. He was president and CEO of Fronteer Gold, a development-stage gold company sold to Newmont Mining in April 2011 for $2.3 billion, and is founder and chairman of Pilot Gold and Oxygen Capital Corp.
"We have a very successful and proven management team to take this company forward," Melrose says.
"We have people that have built accomplished projects worldwide," he continues. "We have been successful in exploration and development, and we have the personnel to construct mines and operate them."
Riverstone is well capitalized, and has financing in place to advance Karma through feasibility while driving further exploration at Karma and Liguidi, another highly prospective exploration property in Burkina Faso. Riverstone Resources' portfolio encompasses more than 2,020 square kilometres at four project sites, representing a significant investment in a country called one of the most mining-friendly in Africa.
Giving Back
Although the management team is mainly from Vancouver, the company recognizes the need to foster development in the communities where it operates.
"We have over 50 people from Burkina Faso," Melrose explains. "They are great workers with a great attitude and a great desire to work. I've learned over the years that in order to be successful operating in a foreign country, you have to develop the country and the people."
To that end, Riverstone is planning on building and sharing a water dam on the Karma project. "We will use some of the water for our mining operations and we will share it with the people in the area, so they can use it for agriculture and livestock," Melrose explains.