A global leader
R&M Wholesale Electric LLC is a fully-fledged joint venture partnership between R&M Electrical Group (UK) and Wholesale Electric (US).
Together the companies are able to offer a vast range of products from both European and US manufacturers, thus ensuring satisfaction for all its existing and new customers.
R&M Wholesale Electric LLC has been firmly established in the UAE since 2007 and offers the definitive solution in the distribution and supply of electrical equipment to major oil and gas, power, and construction projects across the region. Working with some of the world's leading manufacturers, its scope of products covers NEC and IEC specifications.
Jim Graham, regional director for R&M Wholesale Electric, gives more information about the organisation's services: "We specialise in upstream and downstream oil and gas projects, power and petrochemical projects across the GCC, Iraq, Afghanistan and Africa. With a dedicated team of professionals, R&M Wholesale Electric not only offers expert advice but also excels in service quality. Our customers receive the highest standard of customer service backed by excellent knowledge of the products enabling us to provide first class technical support.
"R&M Wholesale Electric LLC combines the geographical strengths and capabilities of two of the world's best electrical distributors to offer a service and capability that is unique in the Middle East.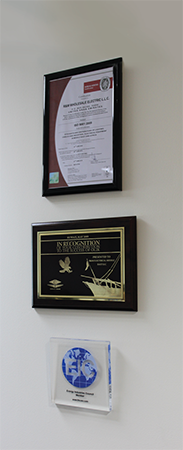 "Our newly formed projects department has been trained to offer the complete electrical solution for projects on either end of the scale, with expert technical knowledge on hand for our clients. This bespoke service enables our clients to save on downtime and get the best-in-class service with a guarantee of quality products for the duration of the project."
Jim explains: "Although part of a joint venture we operate in many ways as a separate entity and it, R&M, is one of our partners along with Wholesale Electric Supply in the US, which has been an expert in the industry for over 60 years. We have excellent support from both partners, which are very much involved in the operations here. This close partnership gives us an enhanced global reach and we are able to best serve our customers through our shared channel partners."
R&M Wholesale Electric has seen great progress since it was established and has recently had to move its head office, as Jim explains: "We have brand new premises for our directors, accounts, marketing, sales, projects and HR departments. The warehouse is located in Jebel Ali Industrial Area close to the region's largest port, with over 3000 items of stock readily available in Dubai. We have excellent logistics partners that complement our own logistics team ensuring just-in-time deliveries. With plans for further expansion we are in the process of opening up a branch in the capital of the UAE, Abu Dhabi."
He continues: "We have started to penetrate emerging markets throughout the Middle East, for example in Afghanistan and more recently in Iraq. We are dedicated to the region and also have dealings throughout Africa."
In order to continually address the needs of its clients, R&M Wholesale Electric is constantly marketing new products on behalf of its suppliers. "Having launched the VMI (Vendor Managed Inventory) initiative in 2009 with MIS in Sharjah, this has expanded to providing the same solution to Kentech for the Delba project and this month, we are signing a two-year supply agreement with Specialist Services in Dubai," says Jim, shedding light on the company's recent new products, services and initiatives. "We now offer ATEX training to contractors and this initiative will be rolled out before the start of 2012. We are also looking to launch a range of R&M branded lighting aimed at the commercial sector for Afghanistan and Iraq that will compliment our other offerings to these markets."
He continues: "We continually work with our manufacturing partners when launching new products to ensure the maximum impact with our customer base. We are great believers in providing solutions rather than just products and believe that working closely with our suppliers raises the profile of both parties with our clients ensuring maximum exposure."
Jim also highlighted the new developments that R&M Wholesale Electric expects to deliver in the coming years: "We want to create a product library on our website to enable customers to browse the full catalogue of items and place orders online," he says. "In 2012 we expect to launch an assembly workshop to enhance our product offering. This will include the assembly of junction boxes and control stations thus reducing delivery times and ensuring customer demand is met."
He concludes with his view on R&M's position for the future: "With a team of experienced individuals and experienced engineers I feel that we are well placed to serve the industry for many years to come. I believe we will continue to expand, and guarantee our clients the 'best-in-class' service they have come to expect from us."
R&M Wholesale Electric
Services: Electrical distributor