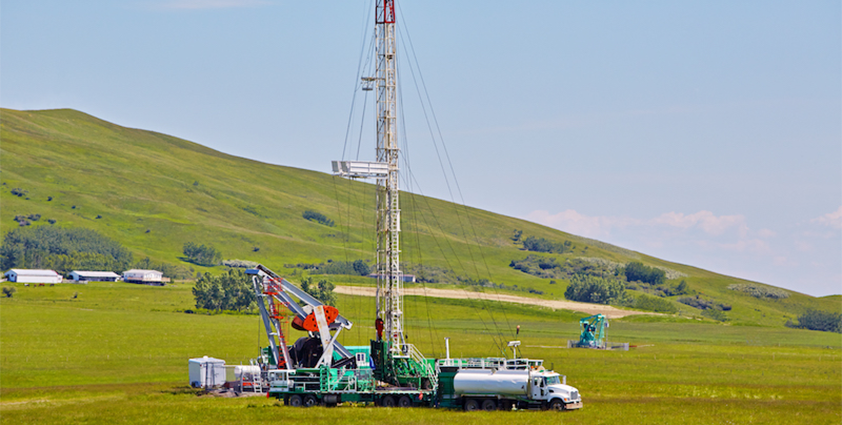 Robertson Petroleum Group
Robertson Petroleum Group strikes the basin of success.
Robertson Petroleum Group may not be a giant firm, but it's a fast-growing consulting business with expanding territories and a mushrooming portfolio.
Since its inception in 2016, the Lubbock, Texas-based company has grown by leaps and bounds. "We've gone from four employees to 60," President Matthew Robertson says. "And we will continue to grow. I think we will double in the next year, both from headcount and workflow."
Robertson Petroleum offers consulting services dedicated to the enhancement and execution of petroleum industry operations throughout the United States. The company prides itself on expertise and experience in all domestic basins that allows it to provide operators with unmatched consulting services, from the planning to post-execution phases.
"Our expertise and experience levels are higher as a whole," Robertson says. "We don't hire off the street. Most of our engineers are very operational and most of our operations guys are very good engineers."
The firm's contractors are meticulously vested to reach the same long-term objectives that Robertson Petroleum is known for: Creating value for the operator, creating value for the company and creating value for the individual.
When hiring, Robertson Petroleum seeks candidates with more than 10 years of experience in the industry, primarily from a fracturing service company, that worked their way from "a frac tank guy" to a service leader.
Ready For Production
Robertson Petroleum has made a name for itself as a completion group. This principally involves preparing the bottom of the hole to the required specifications, running in the production tubing and its associated down hole tools as well as perforating and stimulating as required.
"Our largest portfolio is in Oklahoma and West Texas, and we are gaining tracking in the Rockies and the Northeast," Robertson says. "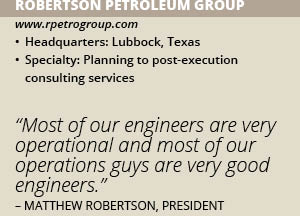 The firm has experienced executive consultants who serve as liaisons between the service company and operator. They are trained to follow procedures that include toe prep, hydraulic fracturing, wireline, Drillout, workover and recompletion. They also have experience with the absolute majority of fracturing service companies, sleeve/plug service companies and chemical providers.
If needed, they can offer expert advice on N2, CO2, Gel, XL Gel, Slickwater, Oil-Based and HVFR. The firm also employs quality control consultants that are responsible for fracturing or cementing quality control standards.
In addition, Robertson Petroleum also can supply multiple operators with contract "completion engineers" for short-term projects and act as exclusive "completion engineers" for several relatively small operators requiring expertise in completions.
Finally, it can supply multiple operators with regional vendor lists, conduct bidding and vendor selection. It can work with an operator to apply viable options to induce viable options for economics and manage those vendors during awarding, execution and post execution phases.
"We've always been considered a completion group," Robertson says. "That's the largest chunk of our business. But a lot of people don't know that we offer other services."
Drilling and Production
Robertson Petroleum also specializes in drilling and production services. Its drilling services include construction, drilling execution, drilling design and procedures and AFE preparation. It can:
*Manage construction of facilities, batteries and grassroot location dirt work.
*Manage drilling operations from pre-mobilization logistical preparation, to execution of mobilization, onsite drilling operations, downhole diagnostics, directional drilling, pre-completion (pipe), cementing and demobilization.
*Provide geological and legal representation for drilling/fracturing planning. Services include completion tubular design, legal assessment and procedural planning of onsite management.
* Prepare relevant AFE cost estimates according to work scope, geographic basin and current vendor market.
The company's production services include consulting for pump issues, fishing, cleanouts, well prep, both vertical and horizontal completions. Assistance with recompletions of work includes P&A, drillout and refrac, cleanout, replug and perforate, refract and pump replacement. Contract pumping services are available for every domestic basin the United States.
The Beginning
When founding Robertson Petroleum, Matt Robertson gathered a group of consultants to create what he considered an elite force. "It was time to set up our own firm," he says. "We were being asked by oil companies to do it. Those good relationships helped us get going."
Prior to founding the firm, Robertson worked as a field fracturing engineer for Halliburton Energy Services. While there, he perpetuated and grew Halliburton's technology advances in fluid chemistry, completion design, operational culture and became known as one of the leading innovators in the industry.
He served as the lead field completion engineering representative for Devon Energy, BP America and Shell. By the time he was transferred to other basins, he was leading Halliburton's acidizing and fracturing operations throughout the Pinedale/Anticline, Wachatie and occasionally the Big Horn Basins of the State of Wyoming.
In 2005, Halliburton promoted Robertson to district technical manager of the Piceance Basin of Colorado and the Williston Basin with Halliburton. At Piceance, he redeveloped internal local systems corporately to handle major overhauls in respect to folds of work activity increase.
Halliburton then moved Robertson to Williston Basin as its lead technical manager. During his tenure with Halliburton, Robertson developed many training curriculums for incoming engineers that are still used today in many basins.
Today, Robertson Petroleum is the proud operator of its own frac school that teaches the ins-and-outs of hydraulic fracturing. "Our frac school is definitely going to become a part of our driving edge," Robertson says. "It's designed even for people who have been doing this for 30 years. Things change very quickly in our industry. And there are few technologies that we have not seen or don't know about."
Safety First
Robertson Petroleum places a high emphasis on safety.
"We are completely a safety-oriented organization of consultants that understand the work environment," Robertson says. "We are compliant through ISNetworld, safety programs and the majority of our consultants hold their well control certifications."
Aside from being members of ISNetworld, a safety services organization, the company also participates in PEC Safety certification classes. Recognized for world-class safety orientations and training, PEC has trained more than 1.3 million workers through its network of more than 2,500 authorized instructors.
"We are very focused on safety," Robertson says. "We do the PEC classes and well control, but we also meet all the safety standards big operators are looking for. About 80 percent of our clients are small, but we will work for a handful of big guys who appreciate us."