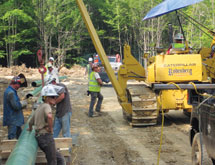 Rodenberg Diversified LLC
For Rodenberg Diversified LLC, there is no larger secret to its success than good, old-fashioned common sense, President Chas. Rodenberg says. "One of our mottos is, 'Safety through knowledge and knowledge through experience,'" he states. "It's hard to fake the experience."
Based in Carrollton, Mo., Rodenberg Diversified specializes in pipeline construction and maintenance, along with other services, including anomaly cut out and repair and hydrotesting. Rodenberg says his family has a long legacy in the pipeline construction and maintenance business, starting with his father, Charles Sr. ,who began working in the industry in 1956.
The younger Rodenberg, however, grew up around it and went on to work for various contractors as a superintendent. He later started his own business in 2002, with a hauling contract he had with the Carrollton Municipal Utilities.
Today, Rodenberg Diversified employs more than 100 people and enjoyed $6 million in sales last year. "We had a great year [in 2011]," he says. "We had no insurance claims and hit all our schedules. Our customers are happy."
He adds that the company is off to a good start for this year. "We have a job on the books now [that is worth more] than $10 million," he says. "We've been working some smaller projects as well. We hope to do in the neighborhood of $24 million this year."
Proving Itself
Another key to Rodenberg Diversified's success, Rodenberg says, is how it keeps its operations safe. "We want all our employees to go home with all their fingers and toes to their family," he says.
"[Safety also] directly affects our bottom line," he continues, adding that the company's take on it is different than some competitors. "There are a lot of people in this industry [for whom] it's all based on price. Our take on it is that you can be the cheapest in the front, but you may not be the cheapest in the end."
With Rodenberg Diversified's expertise, the firm's employees have proved to clients that they can complete jobs safely time and time again. "Once you've proved that two or three times, you have [their] trust," he says.
This has allowed Rodenberg Diversified to have a strong rate of repeat business. "We've had a lot of strong demand from the people we work for," he says.
With the demand of its loyal clients, Rodenberg Diversified also has not had to venture too far from its Montrose, Pa., Marcellus office area, Rodenberg says. "We've had really intense interest right here," he states.
Good Stewards
One of Rodenberg Diversified's largest challenges is the regulation of its work in regards to the environment. "There's been some things done wrong [in the industry]," Rodenberg admits, but asserts that the company has a strong record.
To make sure it follows environmental codes as it works under the watchful eyes of others, Rodenberg Diversified has emphasized to its workers that they are representatives of the company. "The environment is at the forefront of that," he says. "We have to be good stewards or we won't be around here."
More in Maintenance
Rodenberg predicts the firm will establish a permanent divisional office in the Marcellus Shale. "[We will be] focusing on the midstream sector in construction, primarily," he says. "I also see us starting to center our maintenance division in the Midwest."
He notes that he and Superintendent Kevin Ekleberry have great experience in rehabilitation, maintenance and hydrotesting. "This is the type of work that more will need going forward," Rodenberg says. "We look forward to providing this service in a timely, safe and economical fashion for our customers." EMI