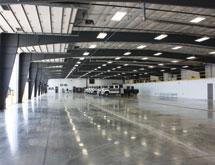 Roers Construction Inc. – Roers West LLC
North Dakota's Roers Construction Inc. has been leading projects in the upper Midwest for more than 30 years. Along with its new affiliate, Roers West LLC, the organization is in position to build on its status as one of the region's top general contractors for many years to come.
"From a construction point of view, Roers' bread and butter has been eastern North Dakota," explains Shane Roers, president of Roers West. "We started Roers West so we could expand in the western part of the state, and today we work throughout North Dakota, eastern Minnesota and northern South Dakota."
The company has a design/build philosophy with on-staff engineers, architects and surveying teams, as well as the ability to construct and manage. The company created the Roers West sister company in 2010 to seek out opportunity in western North Dakota. In addition to Roers West and Roers Construction, other affiliates include Roers Construction Inc. – Fargo, Roers Development, Roers Property Management and Keller Williams Roers Realty.
This extensive portfolio of companies and services allows the Roers network to provide services at every step of the process, if needed. The various parts of the organization's footprint can work with clients from development to design and from construction to property ownership and management.
"We've been heavily involved in commercial and residential projects, and the biggest thing we bring to the table is the fact that we can provide turnkey services to clients," Roers says.
Black Gold
One of the market conditions in North Dakota that Roers West has been adjusting to is the ongoing oil boom in the state. Some estimates indicate that North Dakota could have more oil than the Persian Gulf. The result of this has been a massive spike in projects related to exploration and development, and an influx of workers that has led to a housing shortage.
"When we came to Dickinson [N.D.], the biggest need was housing," Roers says. "Many oil companies came to us about their housing needs, single-family and multifamily. We've worked on residential projects to help those companies help their employees find housing."
Roers Construction and Roers West have also worked on some oil field construction projects, such as a $20 million project in Minot with the oilfield services company Baker Hughes and a 100,000-square-foot project for Wyoming Casing Service. But the main way the organization is serving the energy industry – along with the entire community – is by working on the various ancillary projects that have popped up as a result of the oil boom.
"To date, we have provided 500 homes [multi- and single-family] in Dickinson with plans for about another 250 to start this summer," Roers explains. "That project includes multifamily units, 80 acres of retail space, hotels, a travel center and facilities for smaller retail and service industries. While we do work directly for energy companies, most of the work we've done is to support these growing communities through housing and retail developments."
Handling Growth
At the same time, the organization has had to make decisions to support its own growth. Part of this means retaining some of the housing it has developed for its own employees, as well as employees of its subcontractor partners.
"The only way you can get people to work here is to provide them with housing options," Roers says. "We have to bring in key employees, and nothing comes cheap in oil country."
Other challenges Roers West and Roers Construction have to deal with include the ripple effect of the oil boom. In addition to the influx of people and the lack of housing and services, everything from land to subcontractors has gotten more expensive.
"There is pain associated with growth, but there are a lot of opportunities now," Roers says.
As the company pushes ahead with its plans for the future, it is looking for land and working with various municipalities to be sure infrastructure investments are made. On the construction side, the company is doing what it can to ensure it has all the equipment and staff it needs.
Roers West has also benefitted from the fact that it is connected to Roers Construction and has access to materials in the eastern part of the state. Roers West has already seen significant growth since it opened up shop in 2010, and the company expects that activity will continue to progress fairly quickly in the months and years ahead.
"We came to Dickinson because we see it as a hub for the oil industry," Roers explains. "Many large oil companies are setting up shop here, and we feel that Dickinson's location on the interstate will mean this area will have a lot of staying power even if oil industry activity slows." EMI